Get all the data you need to make a CNC Router purchase decision in one place
Note:  We are currently updating the Buyer's Guide with all new information.  If you purchase today, we'll send you the current edition, and when we're finished updating, we'll send you the updated edition too.
Here's Your CNC Router Information Handbook
In order to create this Buyer's Guide, we extensively surveyed the CNCCookbook audience and analyzed their responses to our survey.  This gives you objective information on what real customers think of their CNC Routers.
Then we added a ton of research by compiling the pricing and specifications for all the most popular CNC Routers.  We even added helpful information for Beginners about specialized Tooling and Software for CNC Routers.
I compiled all of this hard-to-find information in one helpful 65 page eBook so you can have it at your fingertips to help you with your CNC Router decision.
Who Should Buy the CNC Router Buyer's Guide
The name says it all.  If you're thinking of buying a CNC Router, you need this information resource.
CNC Router's are awesome, no doubt about that.  But like any complex product, some are better than others.  Our Buyer's Guide takes a look at what real customers think of their CNC Routers.  We've compiled customer satisfaction scores based on that so you can see which Routers made their customers the happiest.
Plus, there is a lot of information involved in comparing CNC Routers.  We've compiled specs and pricing info across all the routers offered by each manufacturer.
Lastly, we tell you what the specs mean.  Should you prefer a belt drive, rack and pinion, leadscrew, or ballscrew drive?  If you don't already know, we'll hook you up with all that.
Are you budgeting for Software and Tooling to go with  your new CNC Router?  Let us walk you through the basics so you know what to expect.
Take a look inside the book…
Here's a sample of the specifications we've compiled for you on each router.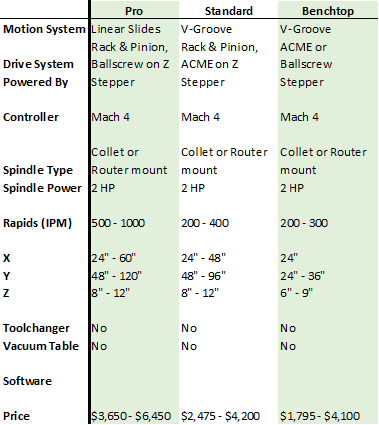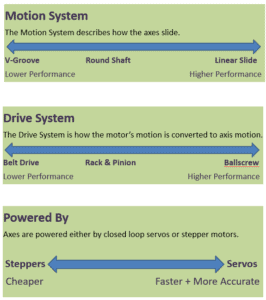 Get Help Understanding the Features…
CNC Routers are complex beasts.  They use a variety of technologies.  We'll help you understand which technologies are best for your needs.
CNC Router Buyer's Guide
just
$19.99
Immediate PDF download after checkout.