Well that didn't take long–thanks all who participated. We got to not quite 300 responses, which should be a statistically interesting number of participants. The 2010 results were drawn against about 200 responses. In just a few days we accumulated what took quite a long while back in 2010 in terms of the number of responses–apparently our audience has grown.
It's always difficult to know how to group these packages. You can't exactly put a higher-end package like Mastercam up against a hobby-class package and get a meaningful comparison. OTOH, I have made the mistake of suspecting someone was a professional machinist only to discover they were a hobbyist with a big budget (expensive CAM, Mori Seiki CNC Mill and Lathe) when I got to know them a bit better. Still, most people shop in some kind of price range, so I've decided to try to group the results in that way. Therefore, I've got results in three categories.
High-End CAM Software Market Shares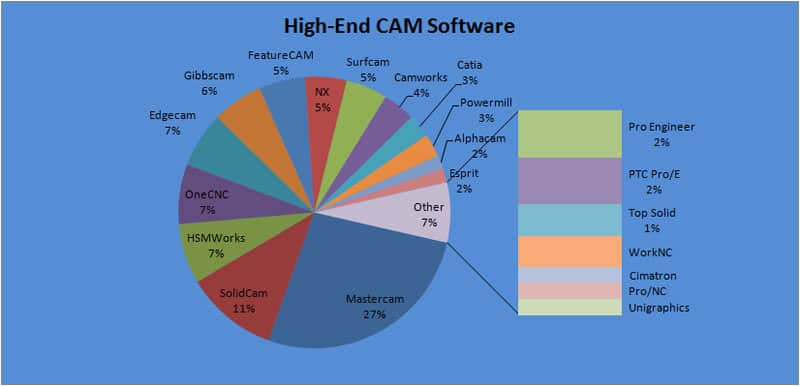 High-End CAM Software Market Shares in 2012…
If we compare to the results 2 years ago (I reported them almost exactly 2 years ago in December 2010, as a matter of fact), here's what has changed:
– The biggest move came from HSMWorks, which has gone from 1% up to 7%. Their free HSMExpress product no doubt accounts for a lot of that, but it is an impressive move nonetheless.
– Mastercam still the biggest, but their share fell slightly from 29% to 27%
– OneCNC moved from the #2 spot to #4, with share falling from 15% to 7%
– SolidCam went from #3 to #2, and their share grew from 11% to 14%
– Edgecam is up from 2% to 7%
– The rest of the 2010 players are pretty flat to very slightly down.
Interesting to speculate on who may be taking share from whom, but it seems like HSMWorks really got cranking. It will be interesting to see whether their new owners at Autodesk can keep that momentum going. There was a lot of negative feedback from owners who were worried about what would happen to what had been a SolidWorks-based product after Autodesk got done with them. It'll be interesting to survey again even at the end of 2013 to see what may have changed.
Tier-Priced CAM Software Market Shares
Most CAM packages have multiple modules of one sort or another, but the middle tier is particularly interesting because they span a range from fairly cheap to (in some cases) all the way up with the Higher-end tier. To be in the Tier-Priced category, the most inexpensive Mill module had to be available for less than $2500. We have a good group of players here, all familiar names: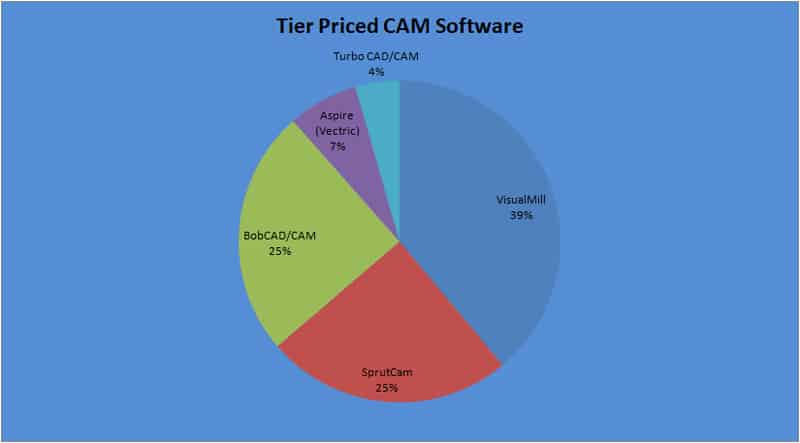 Tier Priced CAM Software Market Shares…
Visual Mill is actually all of the Mecsoft products, so it includes Visual Mill, RhinoCAM, and the rest. It's a versatile platform that shows the value of being able to embed the offerings into various CAD packages. Over the course of the last 2 years, we've seeing the following market share moves:
– In this category, the Visual Mill products have pulled away from this pack versus where they were in 2010.
– Aspire is way up in this audience, which I suspect is due in part to there being a lot more CNC Router users participating than there were in 2010.
These are all very feature-rich packages and well worth checking out.
Low Cost CAM Software Market Shares
Here is the breakdown for this group, which had to be under $1000 to participate: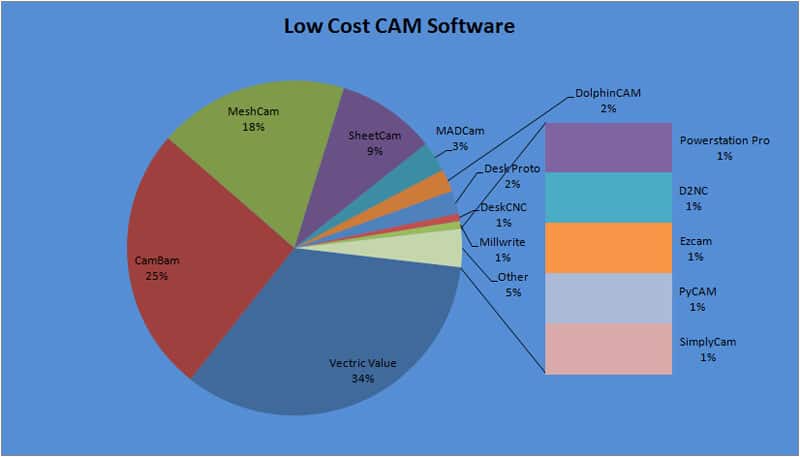 Low Cost CAM Software Market Shares…
There are lots of different low cost CAM packages available at great prices. Here are changes since the 2010 survey:
– "Vectric Value" refers to Vectric's VCarve, PhotoVCarve, and Cut2D products. They've grown in share enormously since 2012, and their popularity with CNC router users I think also accounts for a lot of this difference from the 2010 survey. Our CNC Router audience has grown tremendously in the last 2 years.
– CamBam still ranking well among the inexpensive products as it did in the 2010 survey after the Tiered products are taken out. What's changed is the Vectric value products are all over this category. If we add them up from 2010, their share has gone from about 1/3 of what CamBam had to now being quite a bit larger.
– MeshCam is showing huge growth as it had less share than SheetCAM and was at about 1/3 the share of CamBam in 2010. Robert builds great software and has been a guest poster here a couple of times, so I am not surprised.
– SheetCam looks to me like it is holding its own. I haven't had the pleasure of playing with it, but I know it has a devoted following.
The other programs are jockeying for position with one another, but haven't really moved significantly in share.
Like what you read on CNCCookbook?
Join 100,000+ CNC'ers!  Get our latest blog posts delivered straight to your email inbox once a week for free. Plus, we'll give you access to some great CNC reference materials including:
Our Big List of over 200 CNC Tips and Techniques
Our Free GCode Programming Basics Course
And more!
Just enter your name and email address below:
100% Privacy: We will never Spam you!
Bob is responsible for the development and implementation of the popular G-Wizard CNC Software.  Bob is also the founder of CNCCookbook, the largest CNC-related blog on the Internet.