The results are in for our Manufacturing Competitiveness Survey, and they're fascinating to say the least.
Here's what we found out:
Are Shops Investing or Standing Pat?
Every single shop that participated in the survey is investing during the coming year.
What Specific Goals Are Shops Investing in Achieving?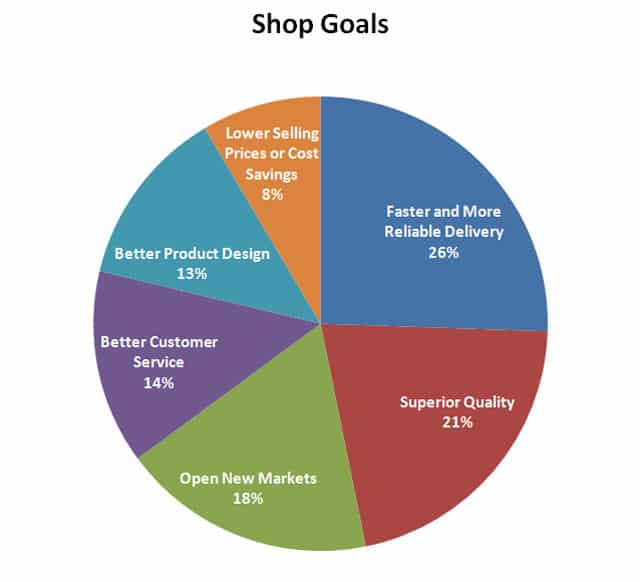 Here's what Shops are trying to accomplish with their investments…
The investment goals are quite interesting. The top three are Faster and More Reliable Delivery, Superior Quality, and investing to Open New Markets. To me, these kinds of goals reflect businesses that are confident and looking to expand. Also, Faster Delivery and Superior Quality seem tailor-made to address the weaknesses of offshoring. It only makes sense that shops that are still around and still investing are well aware of what they have to do to compete with lower cost labor markets.
How Do Existing Versus New Investments Compare?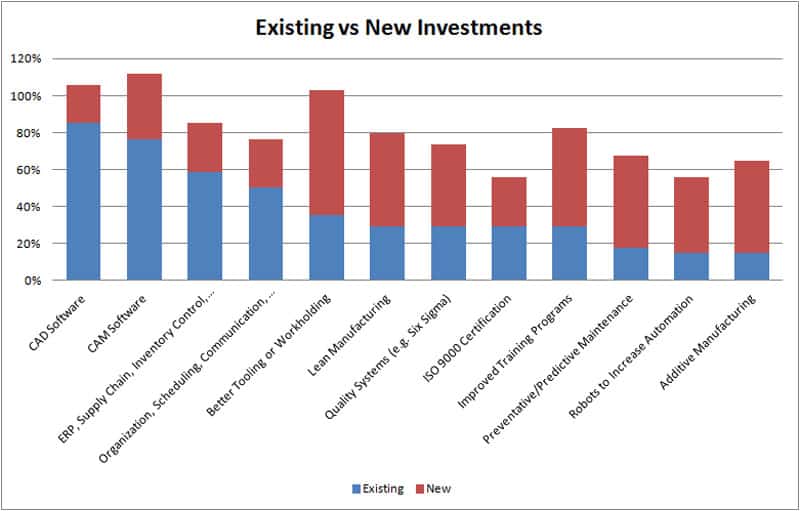 Existing versus New Investments going forward…
Comparing existing versus new investments gives us some unique insights. First, the data are sorted in order of the popularity of existing investments. So, CAD software is the most common investment among our audience while Additive Manufacturing is the least common. The red bars stacked on top reflect intent to make new investments, and we can see the popularity of the new investments reflects some changes in the landscape. Let's sort the data so we can see what it looks like after the new investments are taken into account: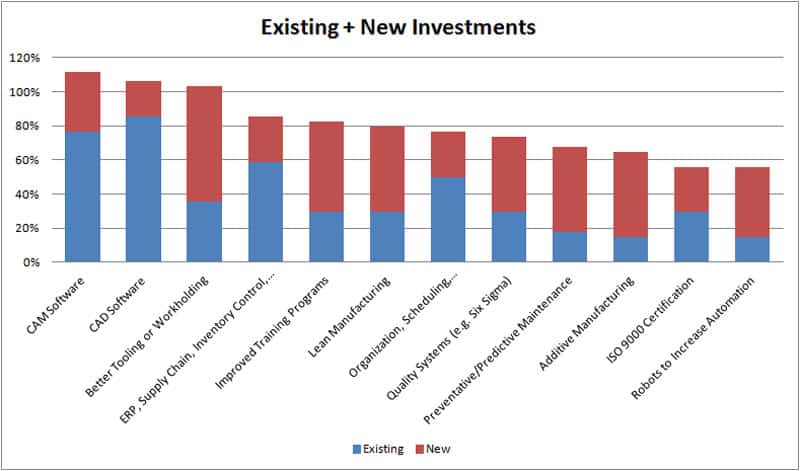 Sorted to Reflect Existing + New: This is where firms are doubling down…
This graph makes it more obvious where firms are doubling down by giving credit to both the existing and new investments. As we can see, CAD and CAM continue to be very popular investments, though CAM has moved ahead of CAD. This is perhaps reflected by the fact that about 12% of firms were looking at bringing in entirely new CAD packages while 24% of firms were thinking of investing in new CAM packages. That's quite a difference in satisfaction with the existing investments.
Other key areas getting more than their fair share of existing plus new investment include:
Better Tooling and Workholding: There's always more productivity to be found in these kinds of investments.
ERP, Supply Chain, Inventory Control, and Purchasing: Tough to make strong investment decisions without the analytics and controls needed to provide good data.
Improved Training: There's been widespread consensus that it's hard to find enough skilled labor. The logical thing to do is invest in the labor you've got with more training.
Lean Manufacturing: This is one that I think would be hard to see except looking at it as the sum of existing and new investments simply because neither prior nor future is a standout. But taking them together shows sustained investment in long-term Lean Manufacturing initiatives. That's not surprising as it often takes quite a while to absorb all the different aspects of Lean Manufacturing but the results make it worth the investment. Be sure to check out our Lean Manufacturing page if you'd like to learn more.
Organization, Scheduling, Communication, and Shop Floor Management: This is another one that I think is a bit of a sleeper. Yet, I see it as a crucial set of tools for enabling Lean and Agile practices in the workplace. It's difficult to get the maximum productivity until you can get everyone pulling the oars in the right direction at all times.
I was surprised that robots aren't figuring more prominently. There's been an almost continuous hullabaloo from many in the press about how robots are going to eliminate all the jobs before too long, but apparently it'll be a little while yet for the shops participating in the survey.
Like what you read on CNCCookbook?
Join 100,000+ CNC'ers!  Get our latest blog posts delivered straight to your email inbox once a week for free. Plus, we'll give you access to some great CNC reference materials including:
Our Big List of over 200 CNC Tips and Techniques
Our Free GCode Programming Basics Course
And more!
Just enter your name and email address below:
100% Privacy: We will never Spam you!
Recently updated on February 23rd, 2023 at 03:40 pm
Bob is responsible for the development and implementation of the popular G-Wizard CNC Software.  Bob is also the founder of CNCCookbook, the largest CNC-related blog on the Internet.