Saint-Laurent-de-la-Salanque
This is the little village where we stayed.  We flew in and out of Barcelona and St Laurent is a 2 hour drive.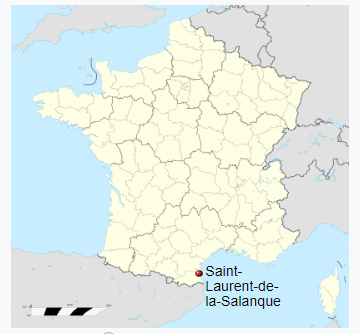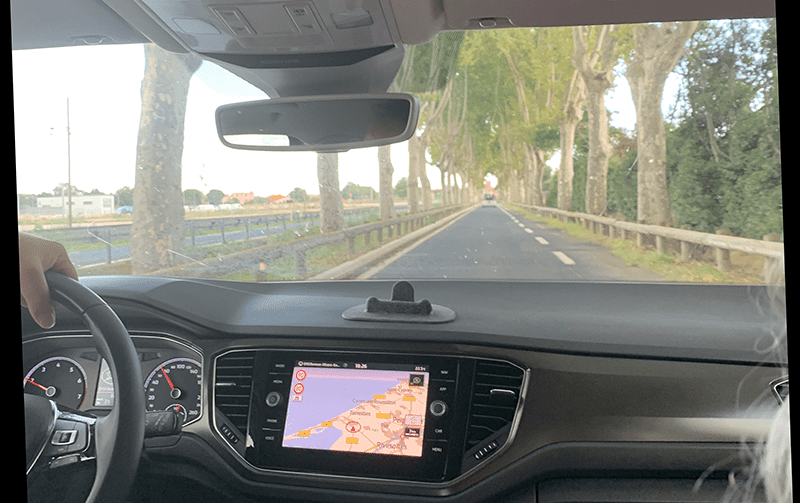 The road into town under a canopy of trees.  But, no trees on the road out of town!
Chateau 7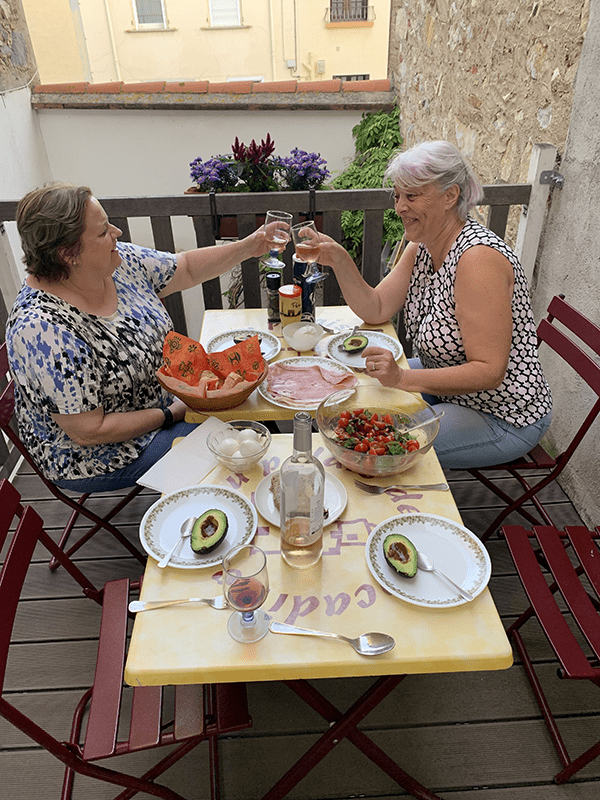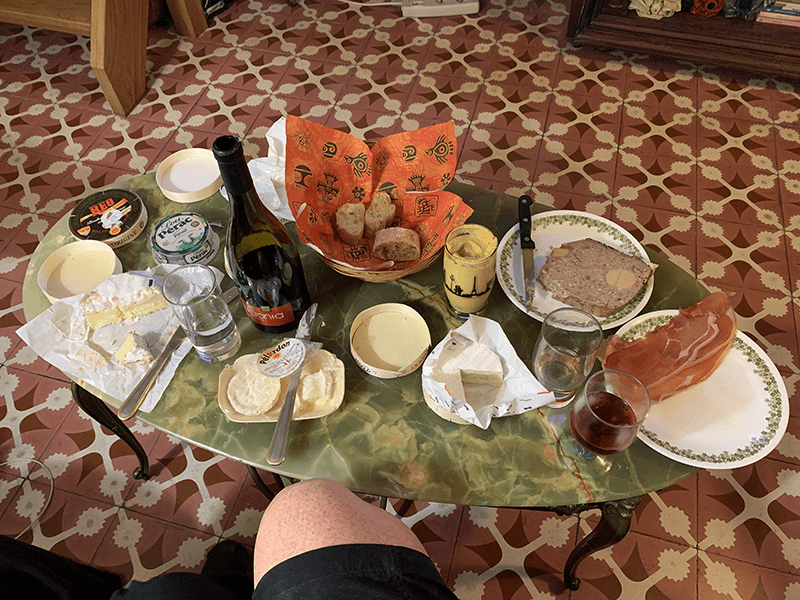 Typical dinner of fromage and charcuterie on fresh baguette…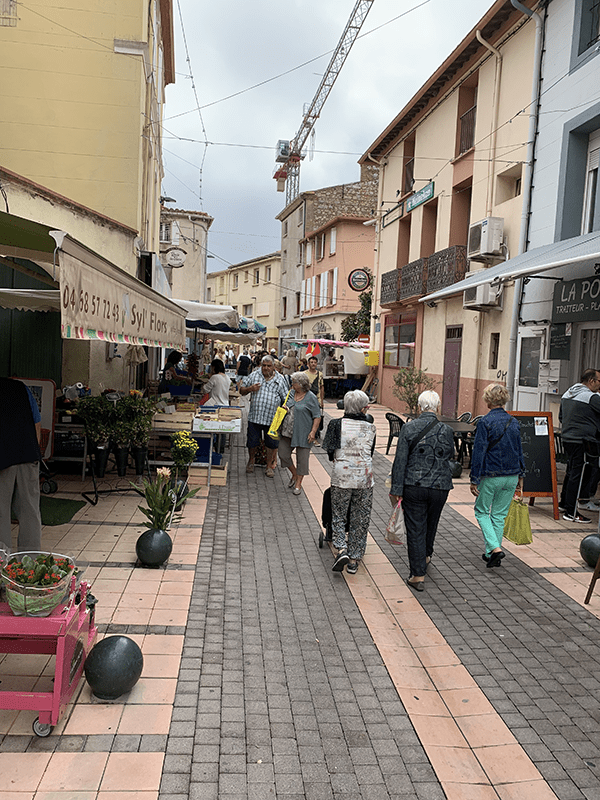 Farmer's Market is just down the street…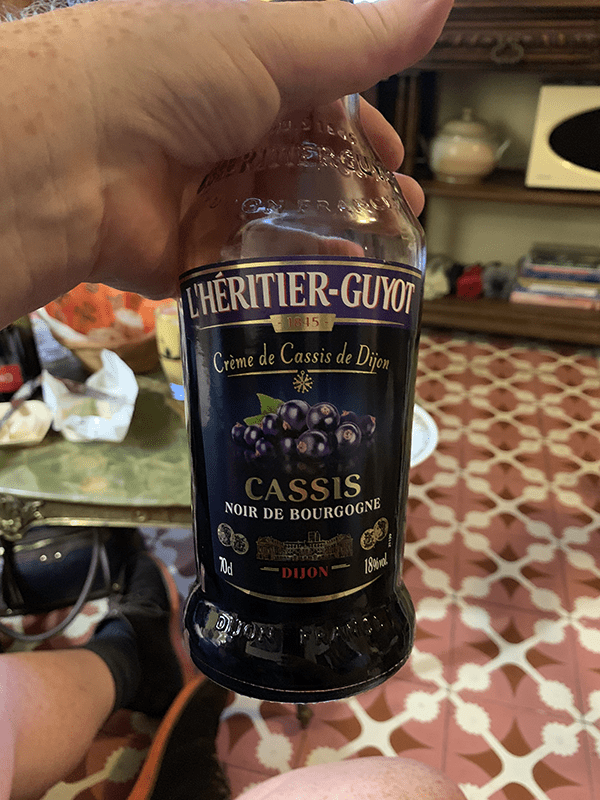 The good Creme de Cassis, which I haven't yet been able to find here in the US even via Internet…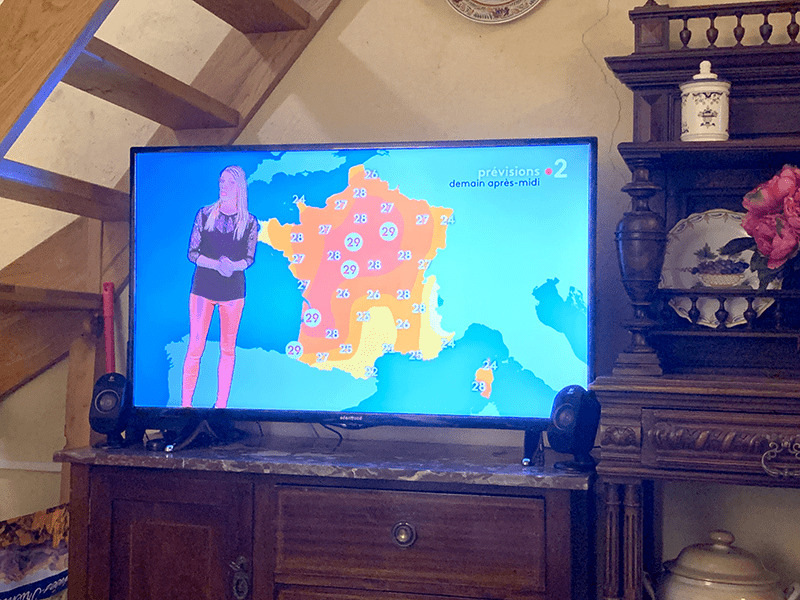 Weather was good.  Slightly warmer than Santa Cruz (especially at night), but similar…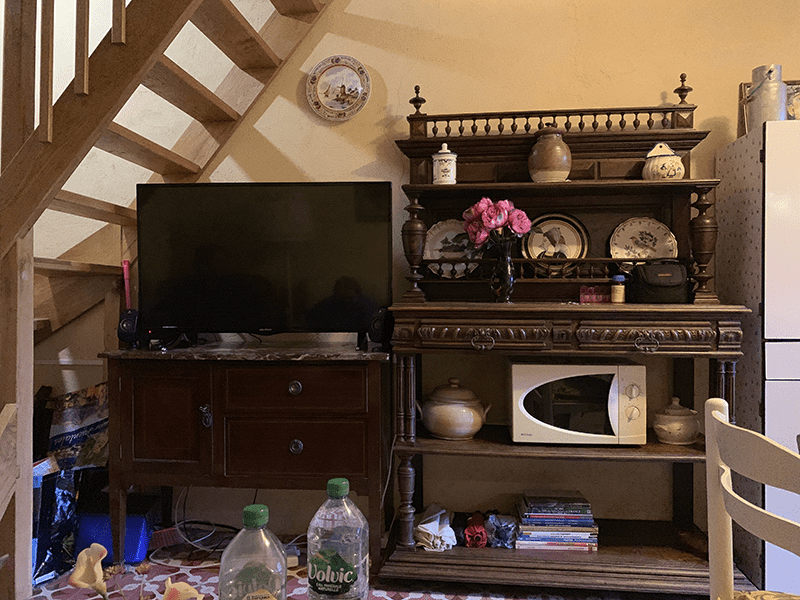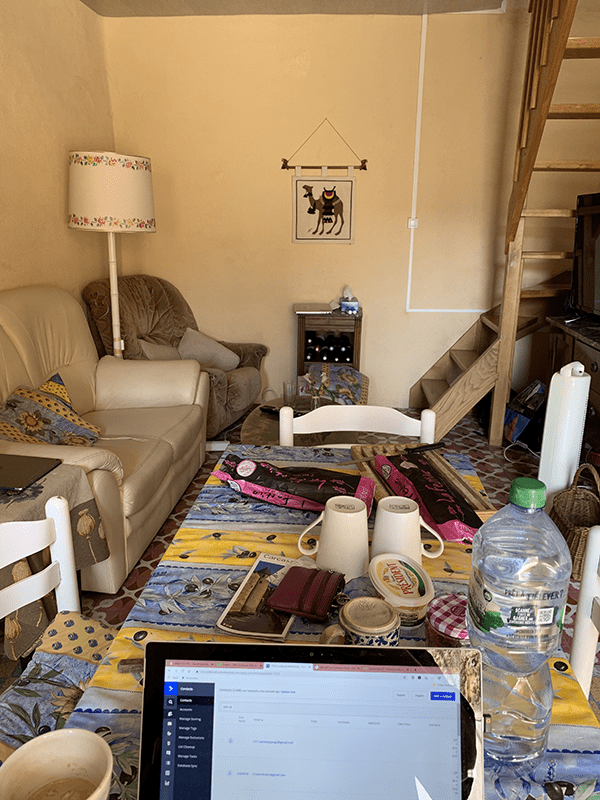 Breakfast and morning email: cuppa Joe (or Tea for Vero) and baguette with butter and jam…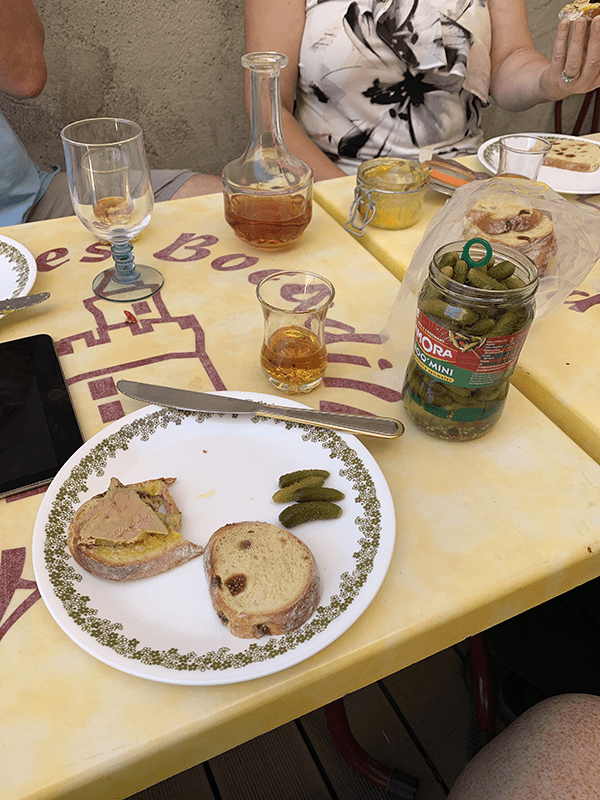 Foix Gras, fig bread (or was it date), and a nicely decanted bottle of 1990 Chateau d'YQuem that we liberated from our US collection and returned to France…
Oysters by the Sea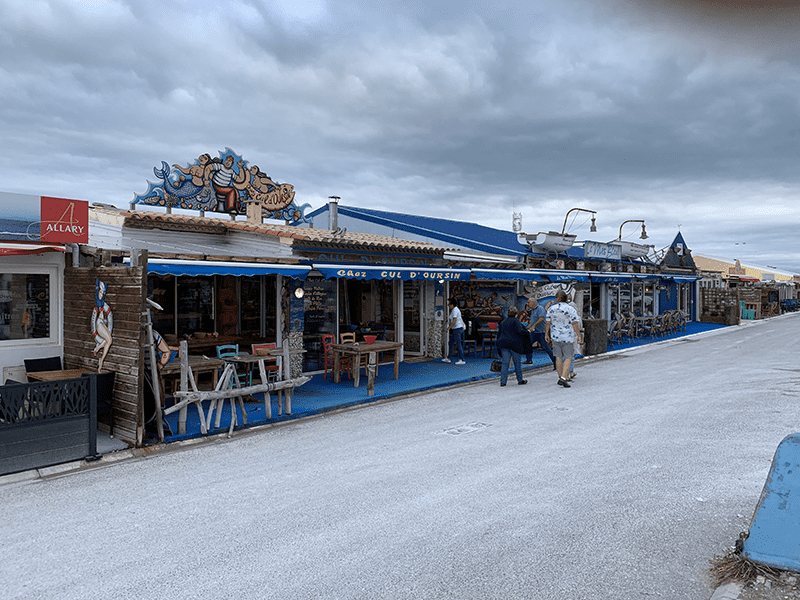 The big salt lake nearby is for oyster farming.  There's a row of little restaurants that serve nothing but oysters right on the shore…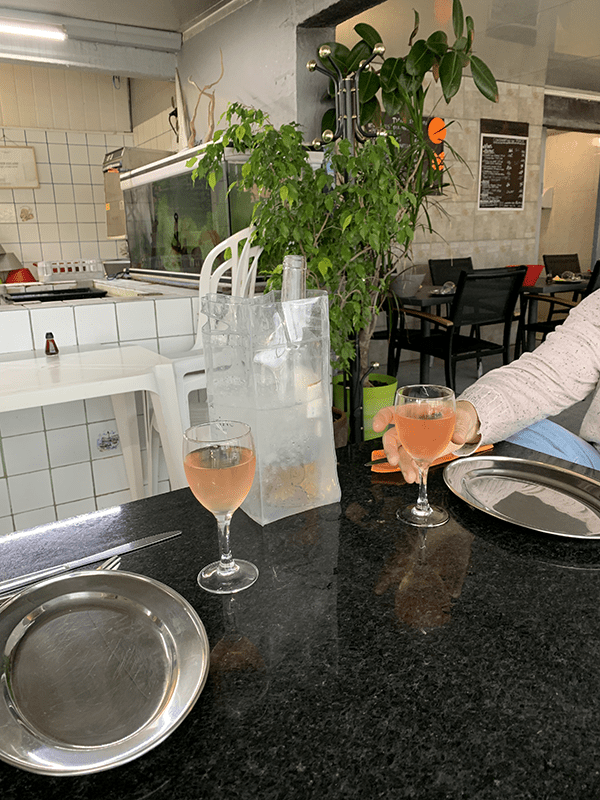 Love the ice "bucket".  In the background, one of several oyster thanks.  Very fresh!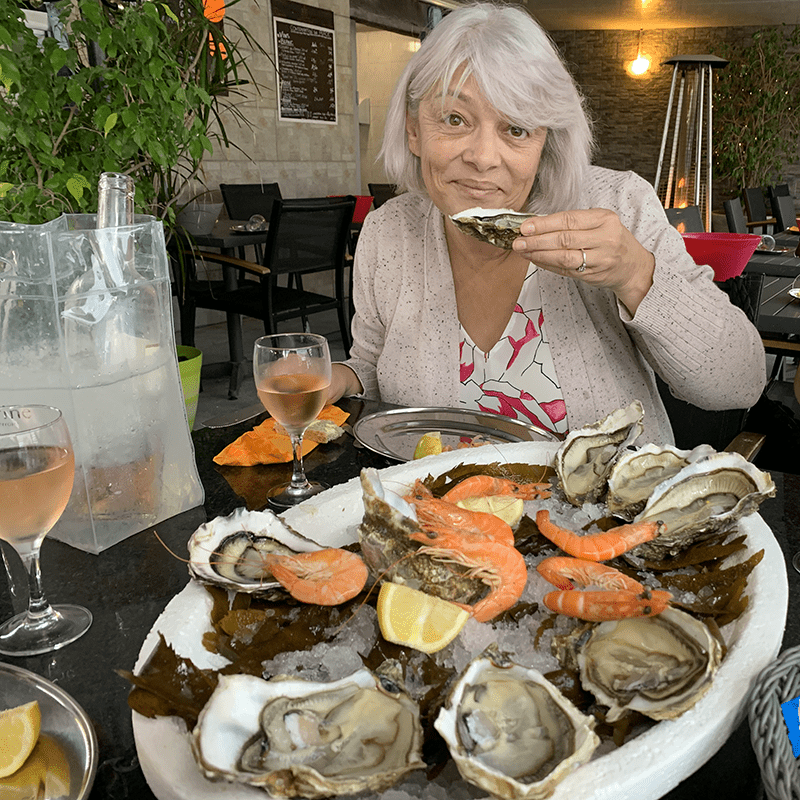 Vero having oysters and Rose…
The Beach and the Singing Langostino in Barcares
Barcares is an interesting little village near St Laurent.  It was almost desserted when we were there.  It's primary purpose is so people can take their summer holiday (mandatory 6 weeks!) there.  Tons of rentals and trailer parks (called "Campgrounds").  Many of the larger trailer parks had amusements, such as water parks.  Looked like fun, but desserted.  OTOH, things get crazy traffic and crowd-wise in the high season.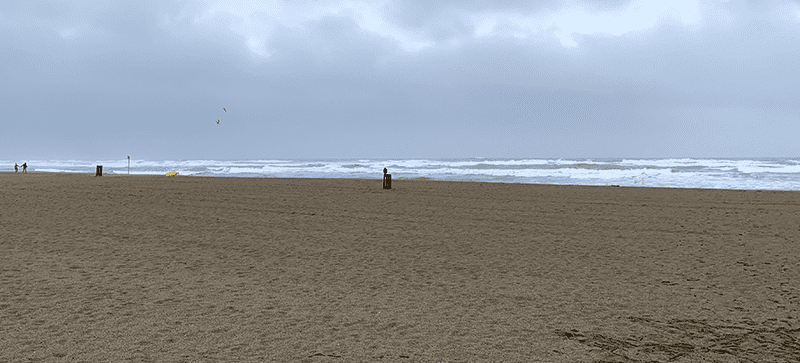 Here we are at the beach.  The waves are big, like a good surfing day in Santa Cruz.  That's unusual here, but there had been a storm…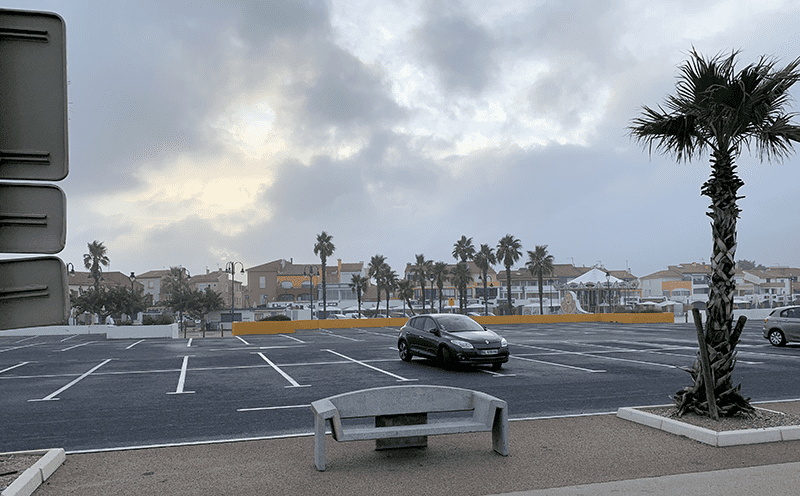 Spin 180 degrees and there's the village.  Our destination is a little restaurant called the "Singing Langostino".  It's in among that central clump of palm trees.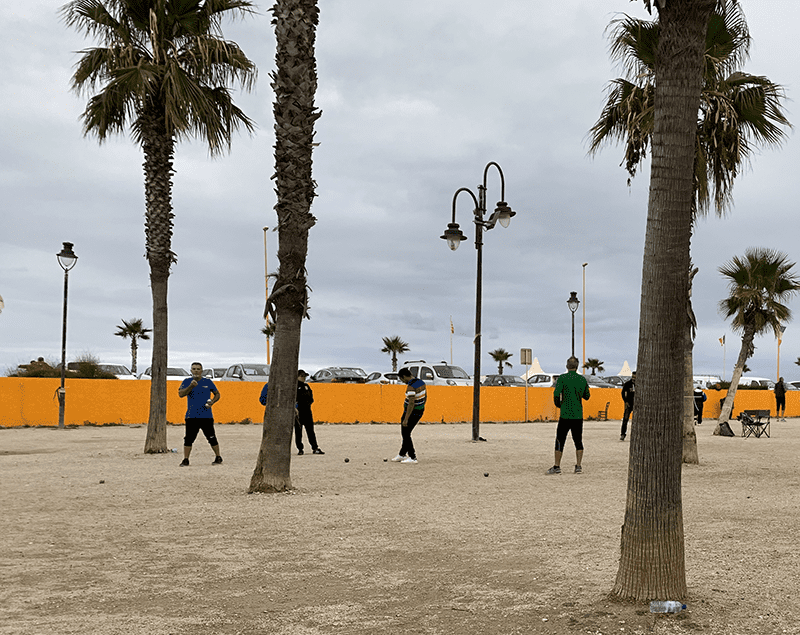 We were a bit early to be seated so we watched a friendly Patanque tournament.  It's French Bocci Ball.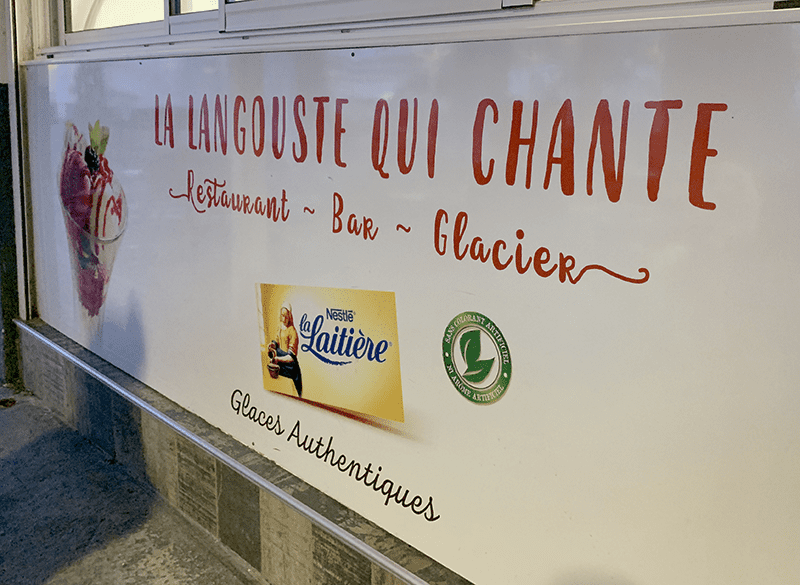 Voila!  The Singing Langostino.  I was so excited to go in I didn't frame this very well…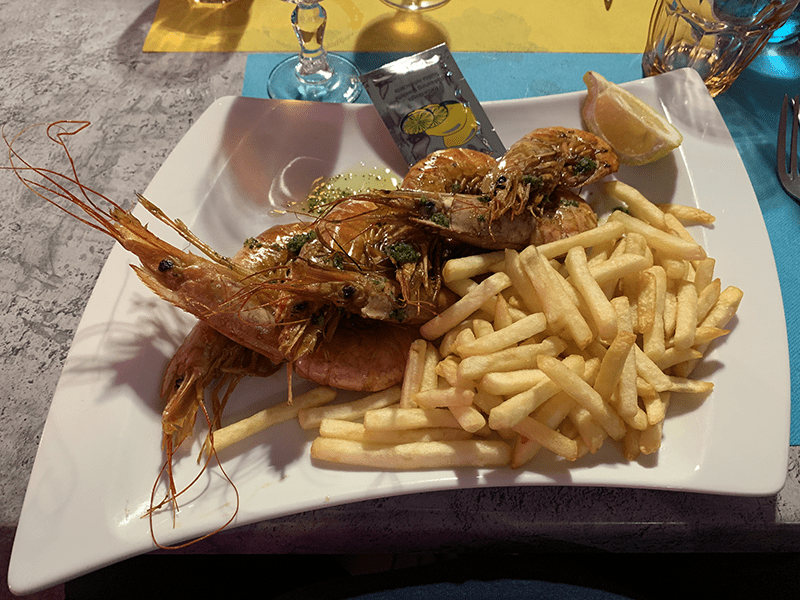 I ordered jumbo shrimp ("Gampas") and frites ("French Fries).  I had no idea they would be so big or that there would be so many.  Only 10 Euro = $11!

Muscles Carbonara, Frites, and Goat Cheese Salad at the Singing Langostino.  This was so good we went back a second time just to have it!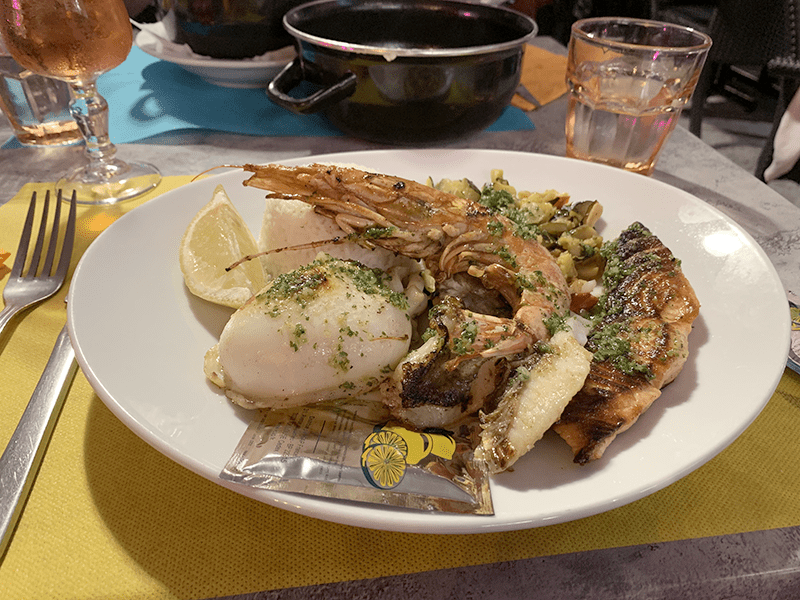 Seafood Mixed Grill:  Jumbo shrimp, gigantic scallop, and grilled fish…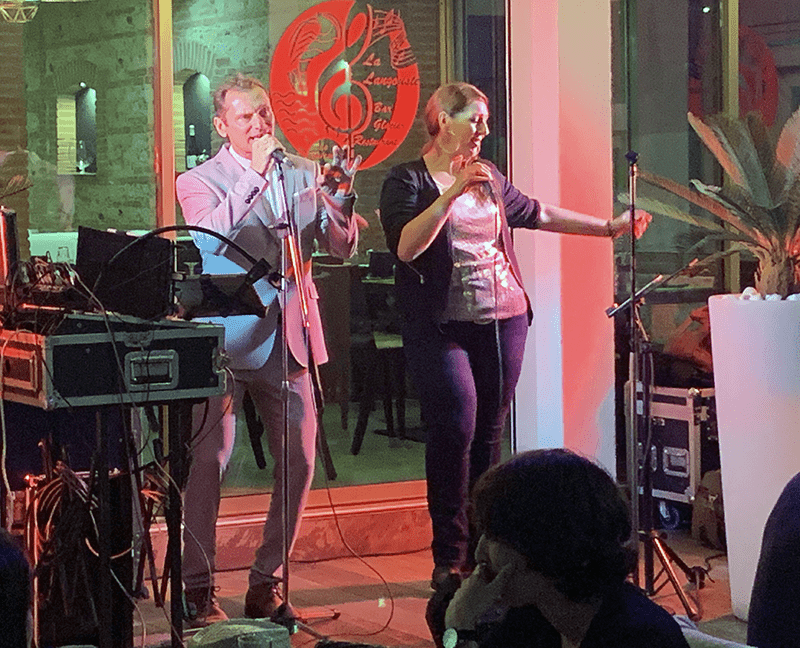 The duo of singers who entertained us were excellent.  Mostly French pop songs, and they really got the audience dancing.  We wouldn't have gotten in if we hadn't gone early.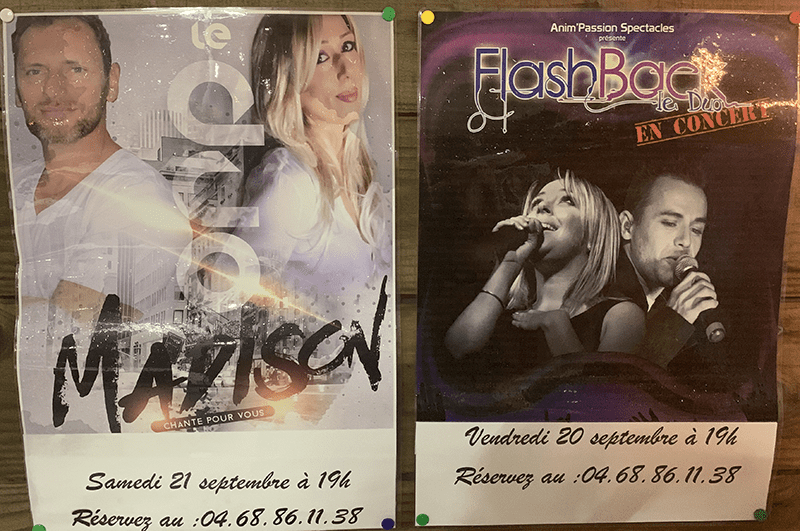 An Epic French Grocery Store
The day we arrived it was time to stock up the fridge, so we went to a nearby French grocery store.  And it blew my mind.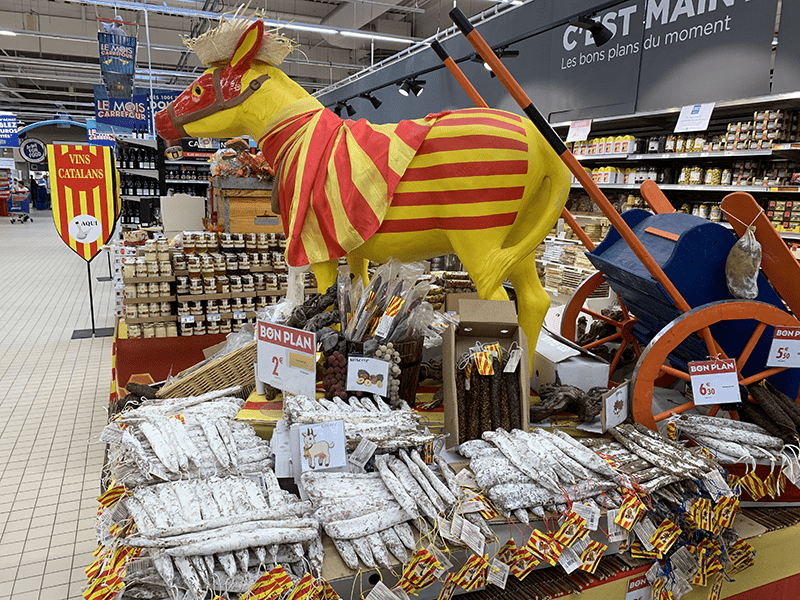 Lest we forget, Catalan spans part of both France and Spain.  Here are some Catalan products along with their flag…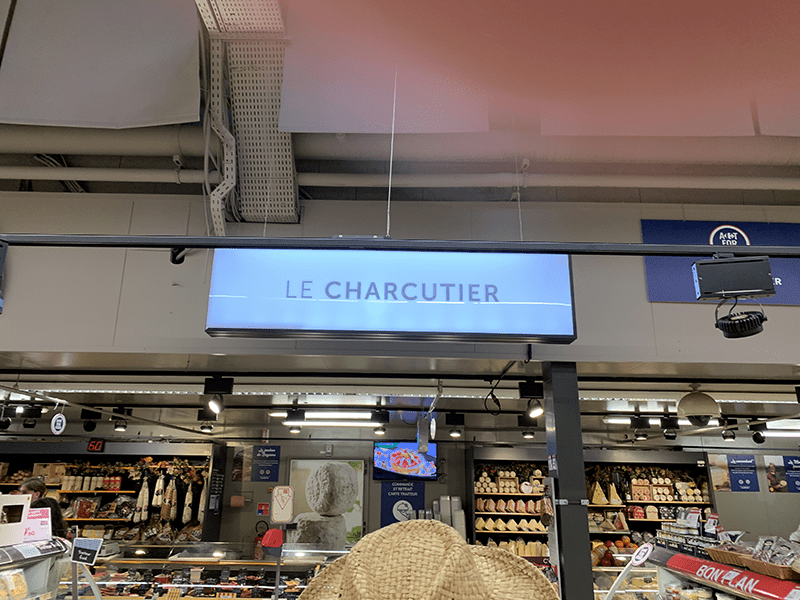 If you like Charcuterie (what we call "Cold Cuts"), prepare for a religious experience…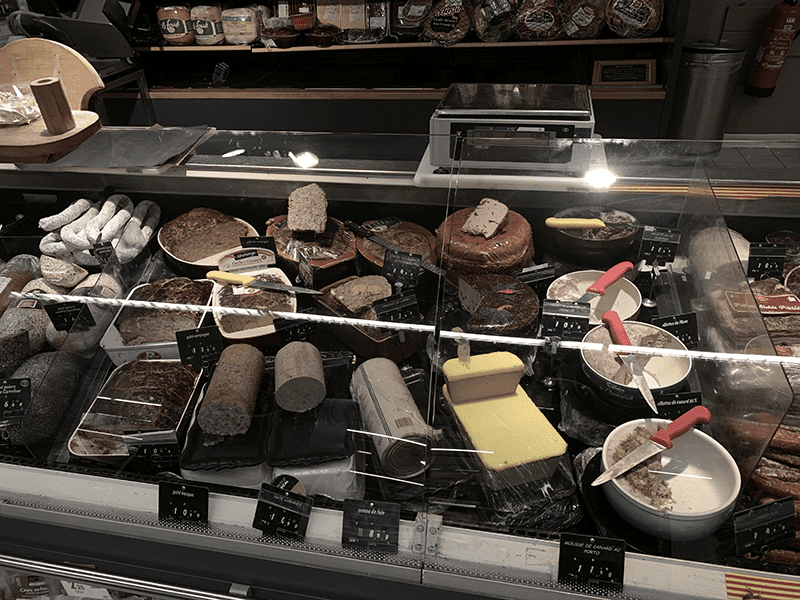 This is just part of the Pate and Foix Gras available!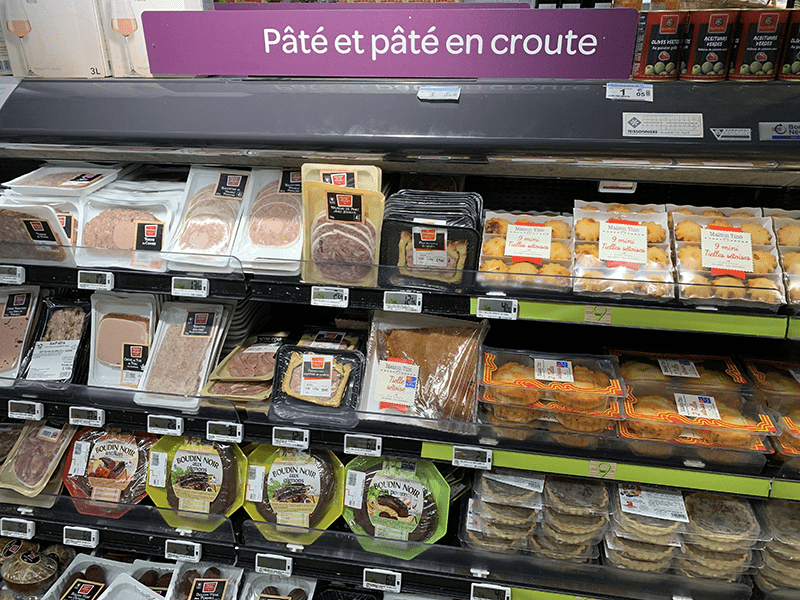 Still more pate…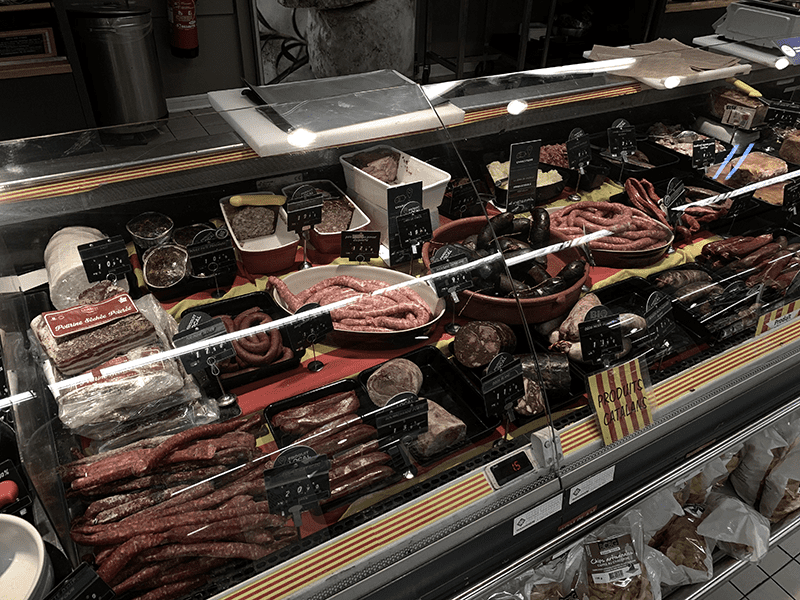 Sausage: at least two full cases like this…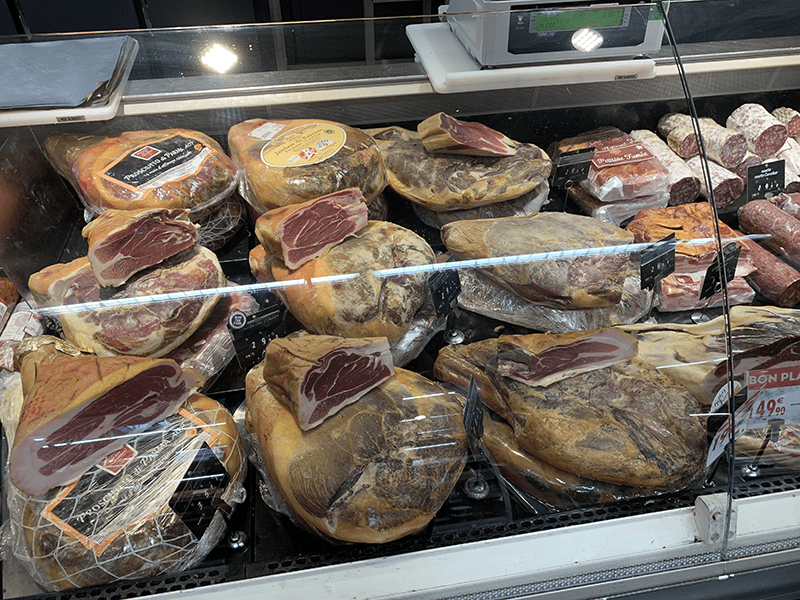 Ham, oh my!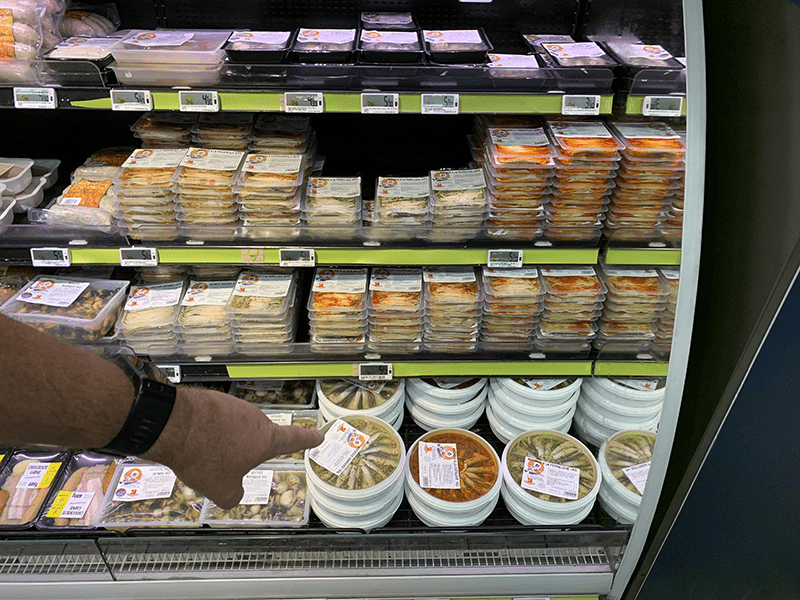 Sardines and other delicacies…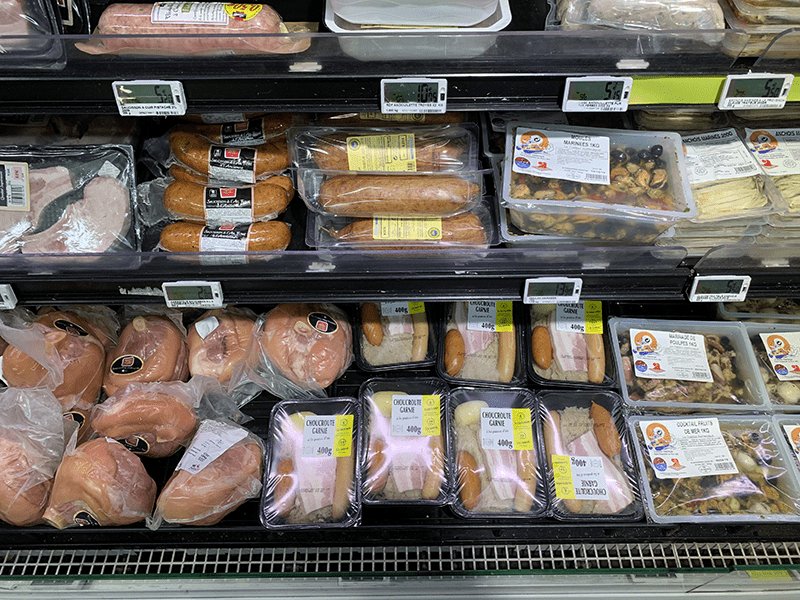 Choucroute Garnie, already made?!??  Wow!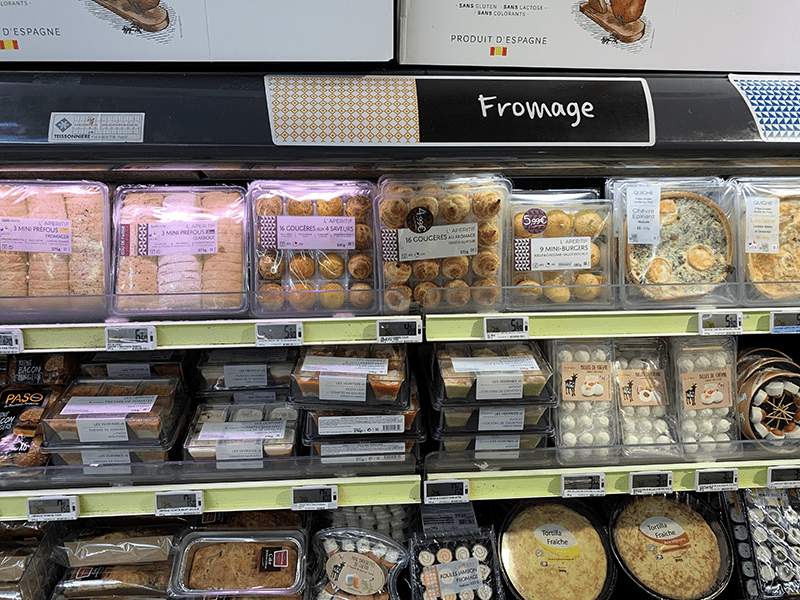 Gougeres: French cream puffs we first tried in New Orleans.  We've made them, they're not too hard, but ready made is such a luxury.  These are all nifty canapes should you be entertaining…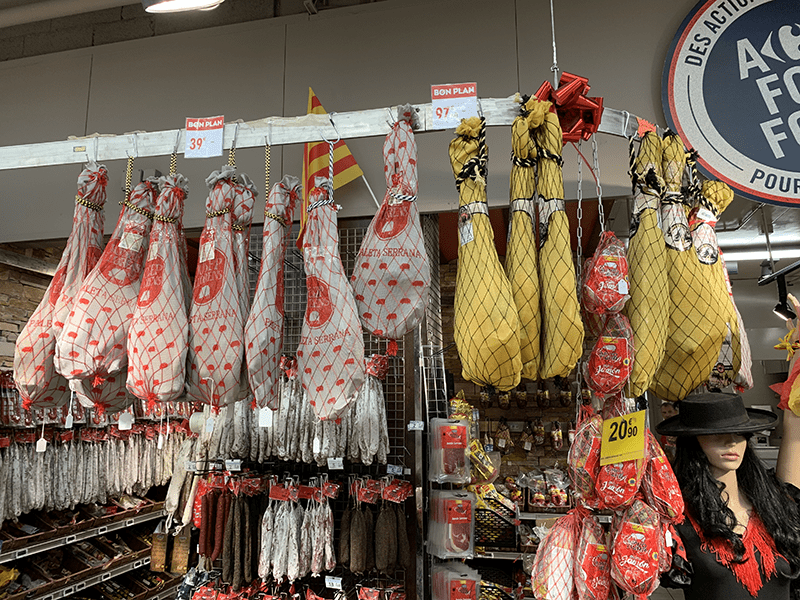 Need to buy a whole ham?  No problem…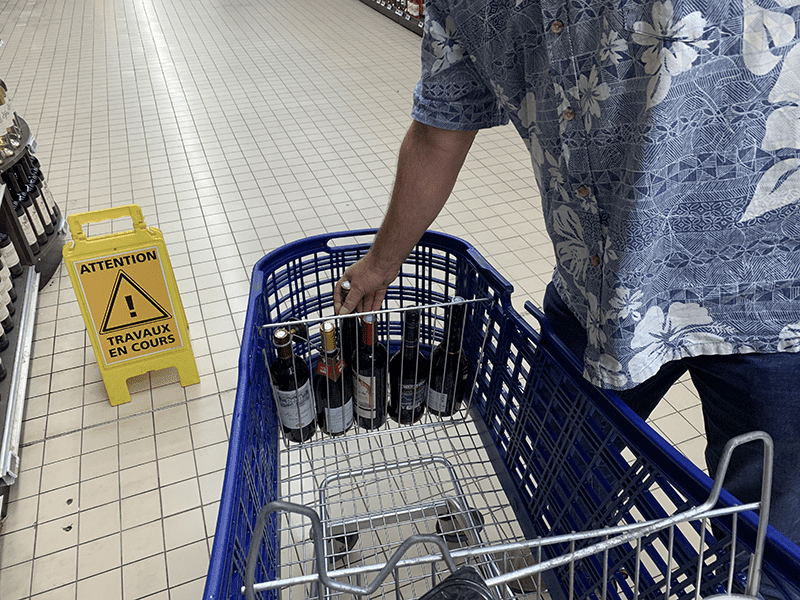 Thoughtful compartment in the shopping cart prevents your wine from falling over…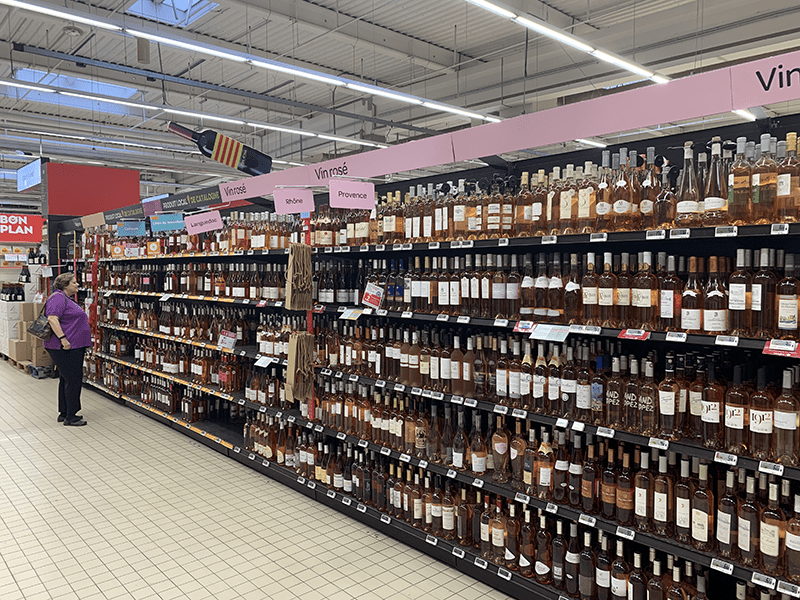 Speaking of wine, this is just the Rose section, and there was about the same amount of other wine behind me when I took the picture.  I counted 4 walls of wine like this.  Most wines were in the $3 to $10 range and were fantastic!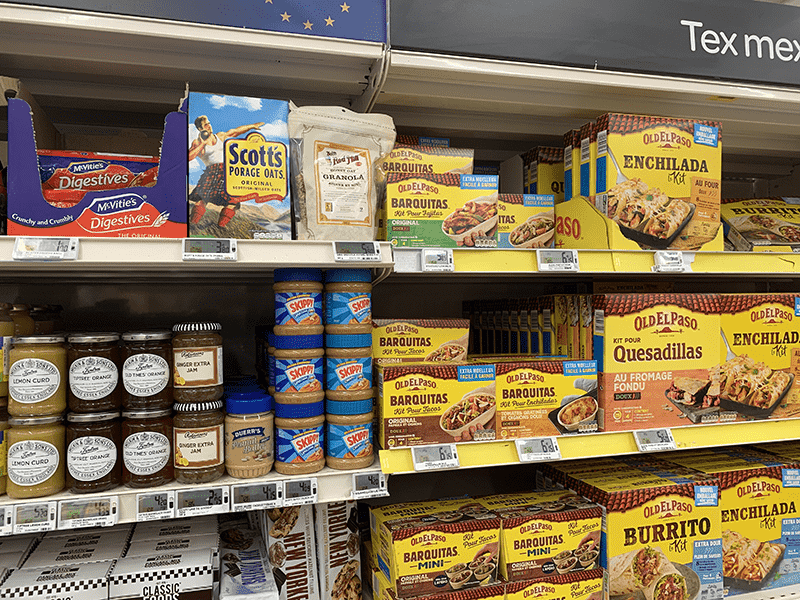 Took this photo for our friend, Jaime, who loves peanut butter and tacos.  Only small jars of Skippy, and oddly, they're in the British, not the American section, LOL!
The First Wine Tasting and Castle of Many
At the foot of the famous Salse fortress is one of four tasting rooms for Arnaud de Villeneuve winery.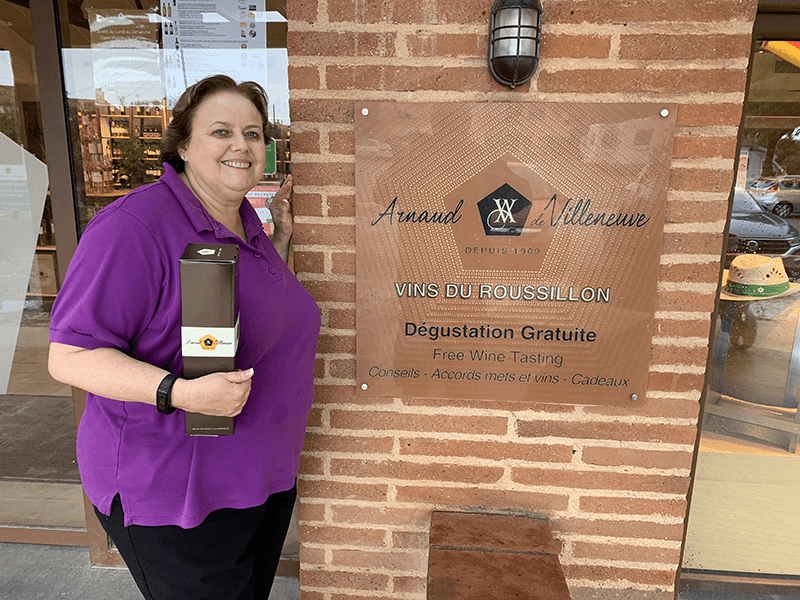 Their lovely little tasting room.  Most tastings are free in France, and you can try as many as you like.  Wineries often make a LOT of different wines!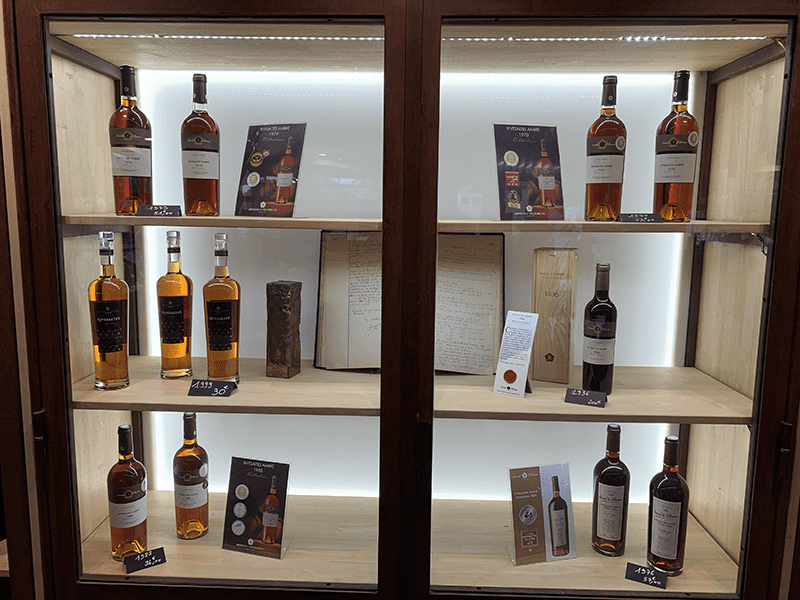 A small sampling of their lovely wines.  They were all quite good.  Their Muscat de Rivesaltes has one a Top 10 award in the region and was very tasty, but inexpensive.  It's 7 Euro a bottle (not quite $8)!
These inexpensive Muscats score 89 points by the wine critics.  They are so good on a hot afternoon with cheese.  Such a pity they're hard to get over here!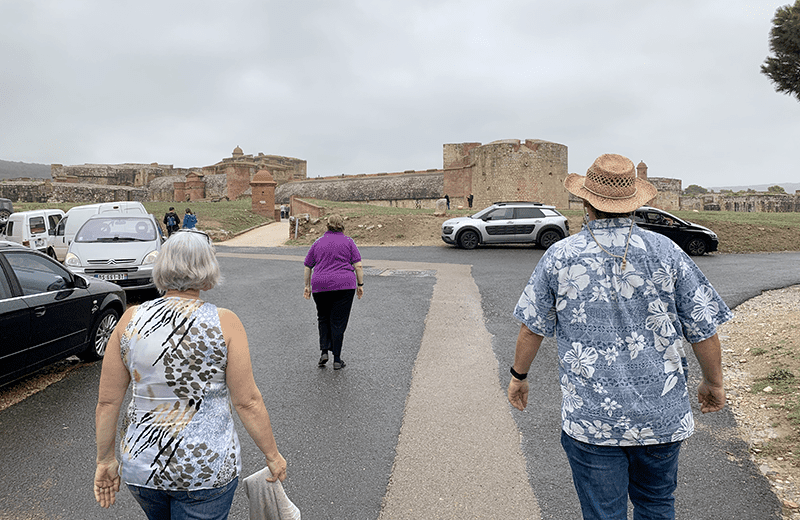 Before long we are off to the Fort de Salse, which is literally right behind the winery.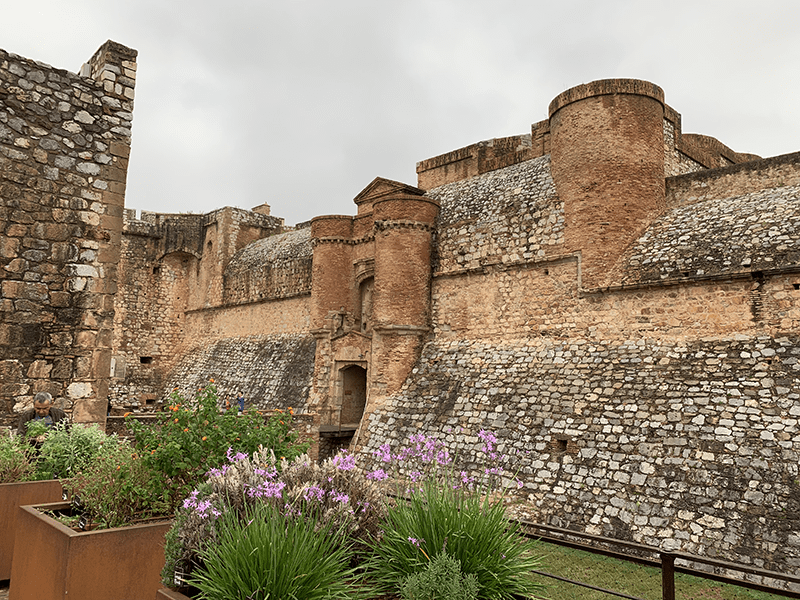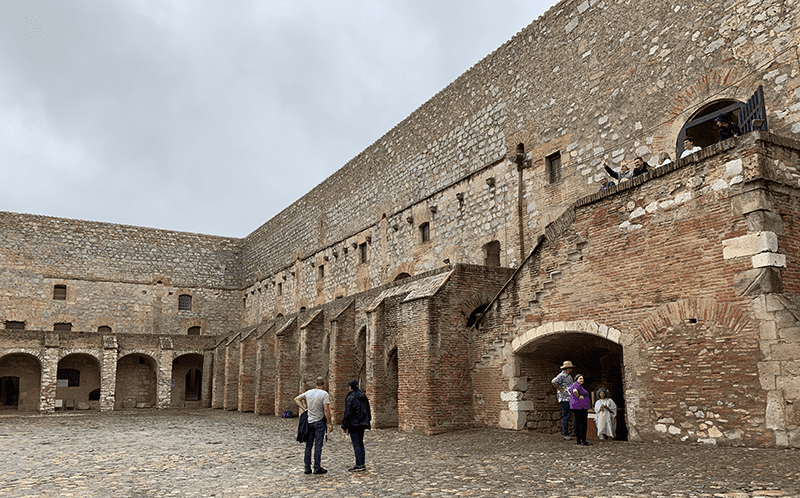 Ville de Collioure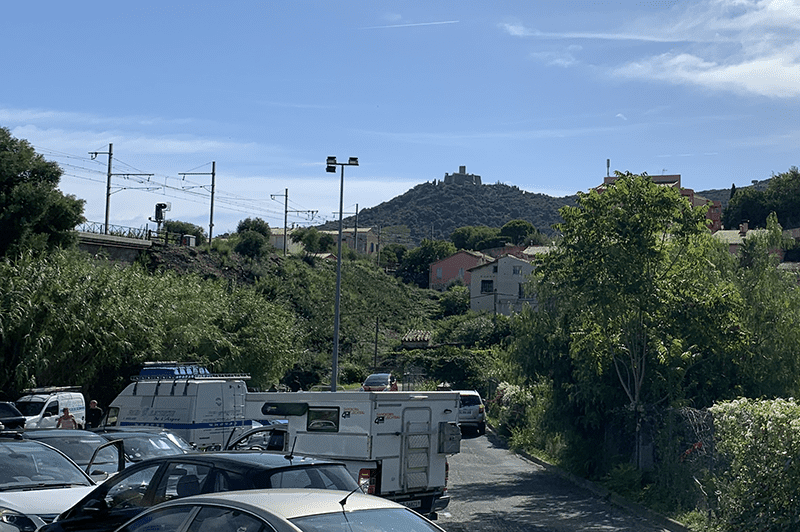 Castle overlooking Ville de Collioure…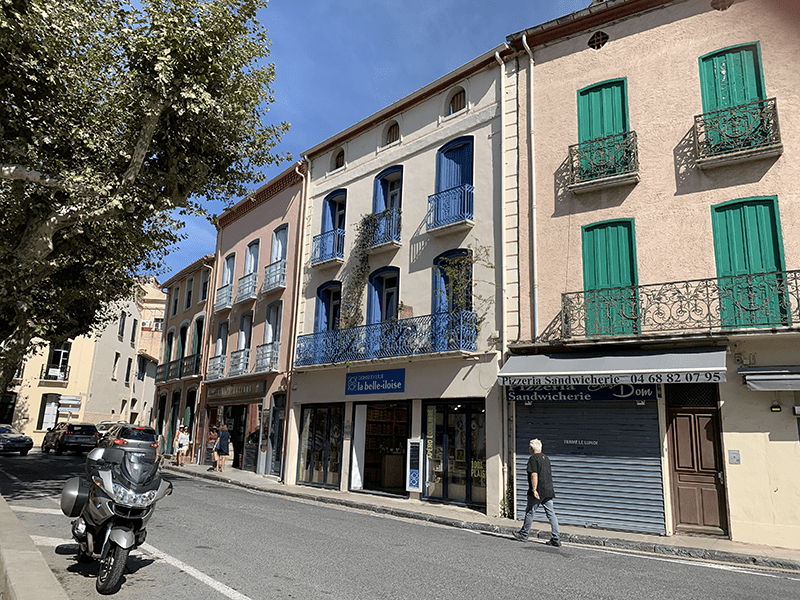 About to enter the village…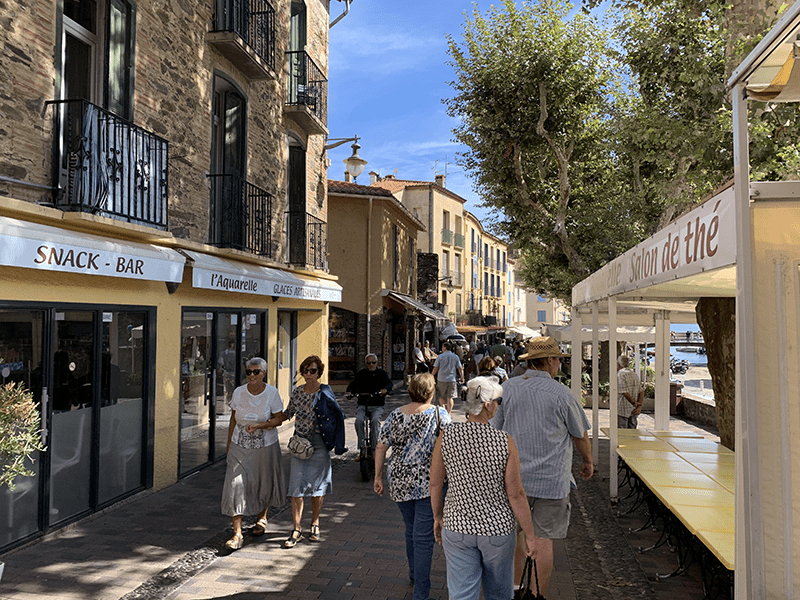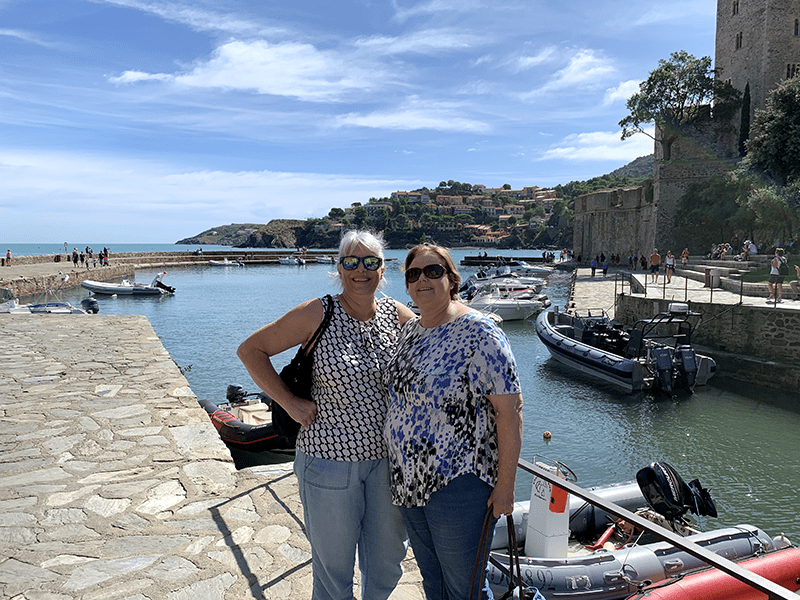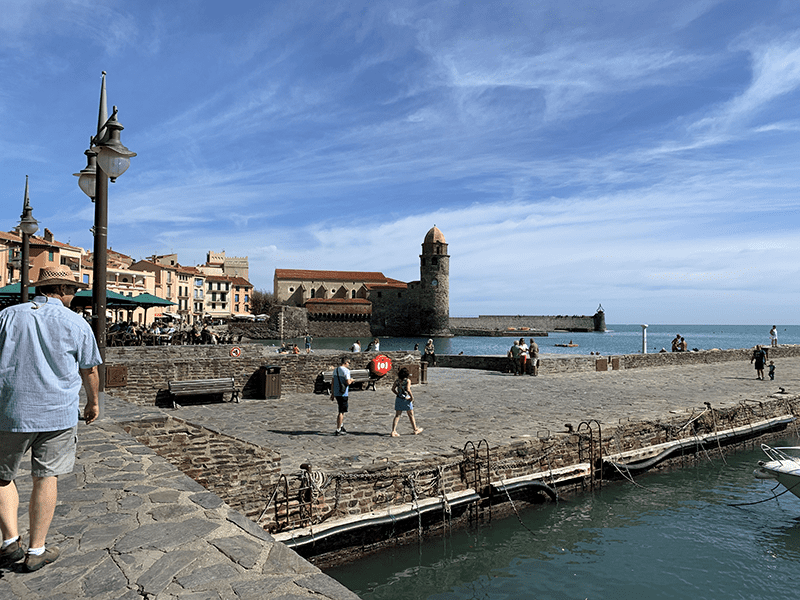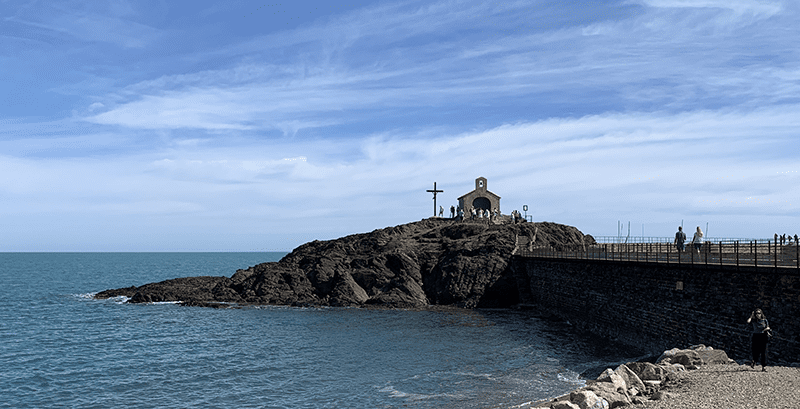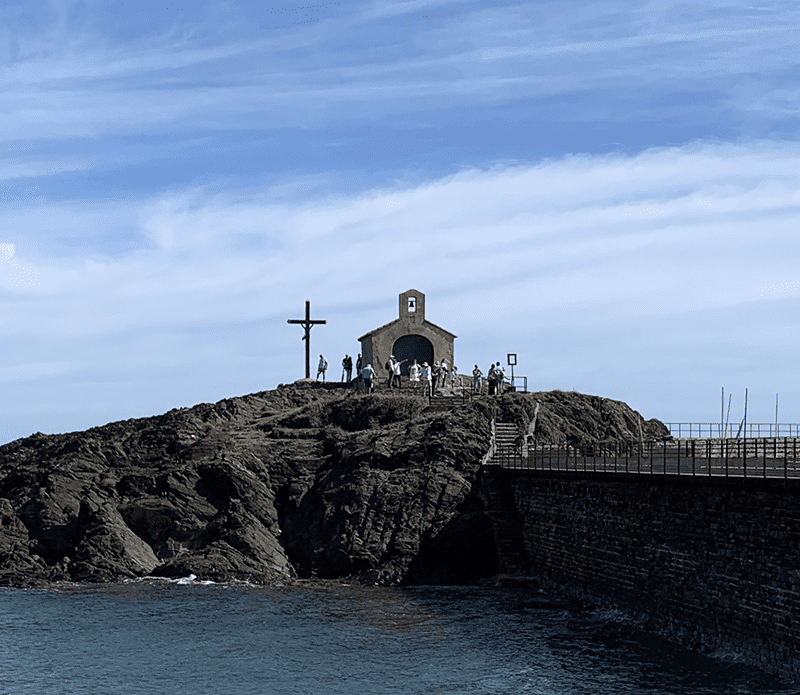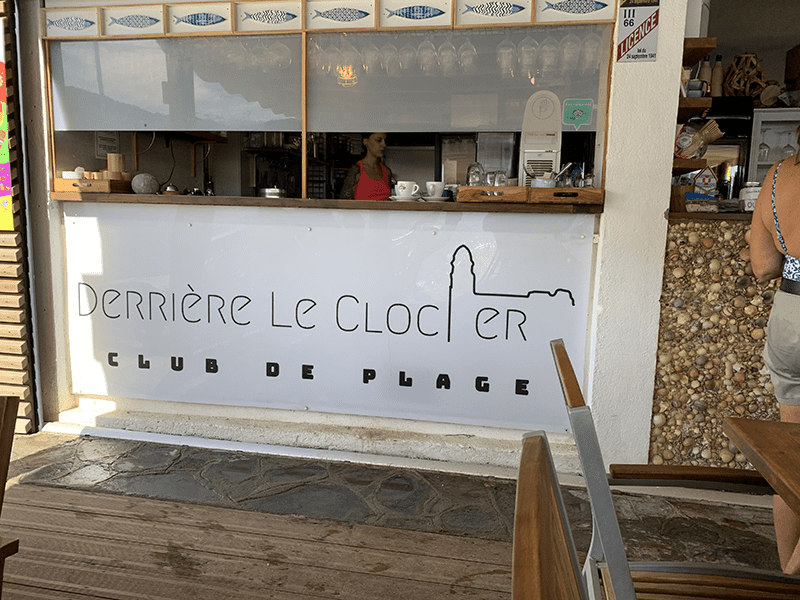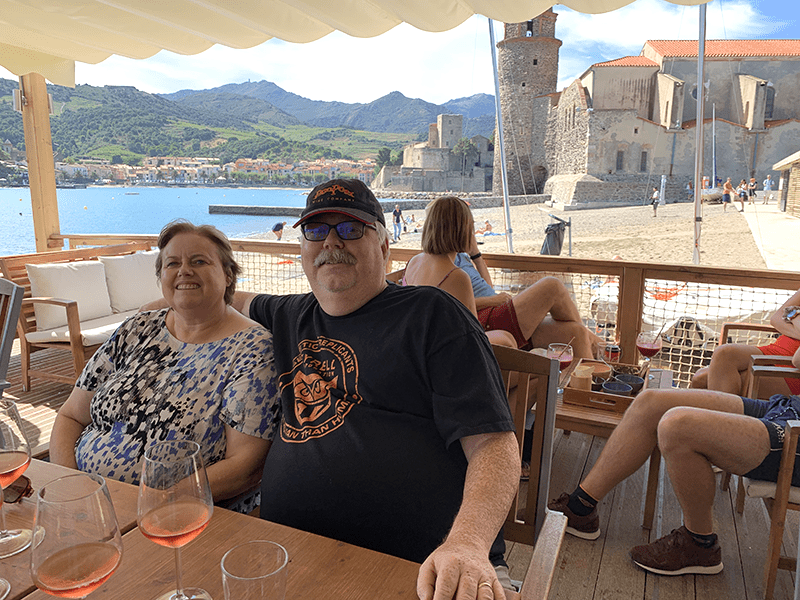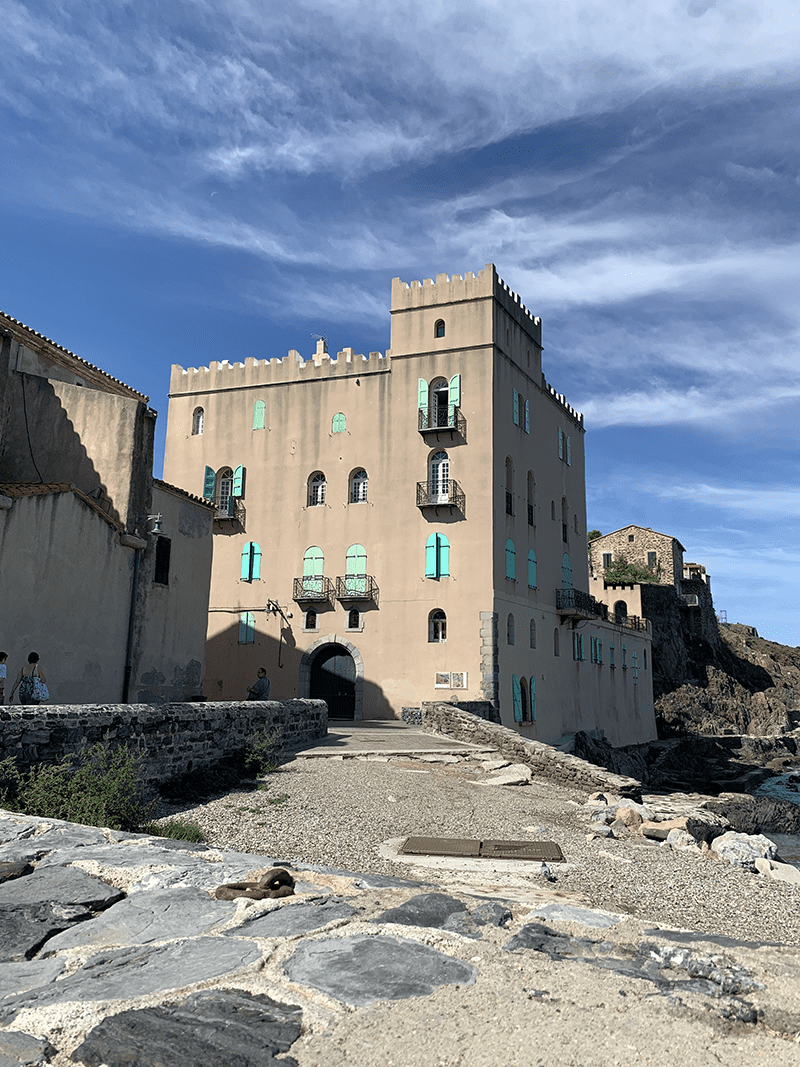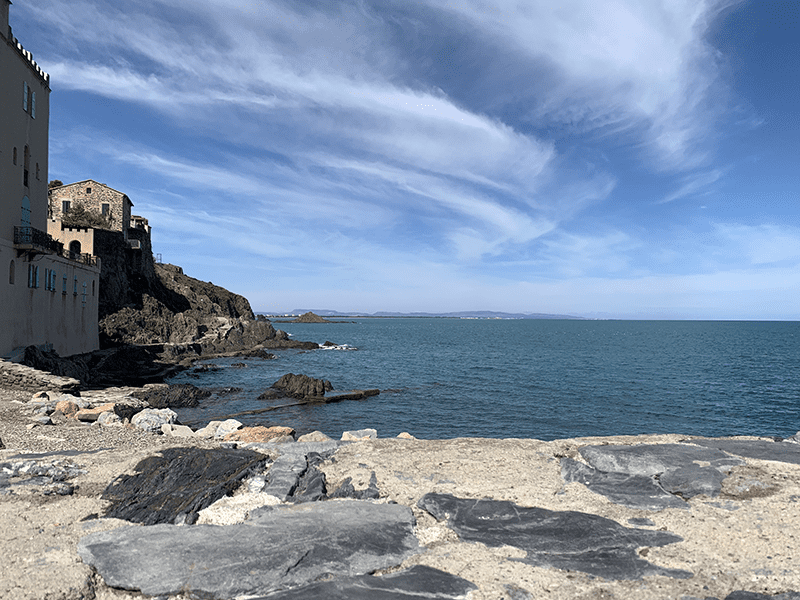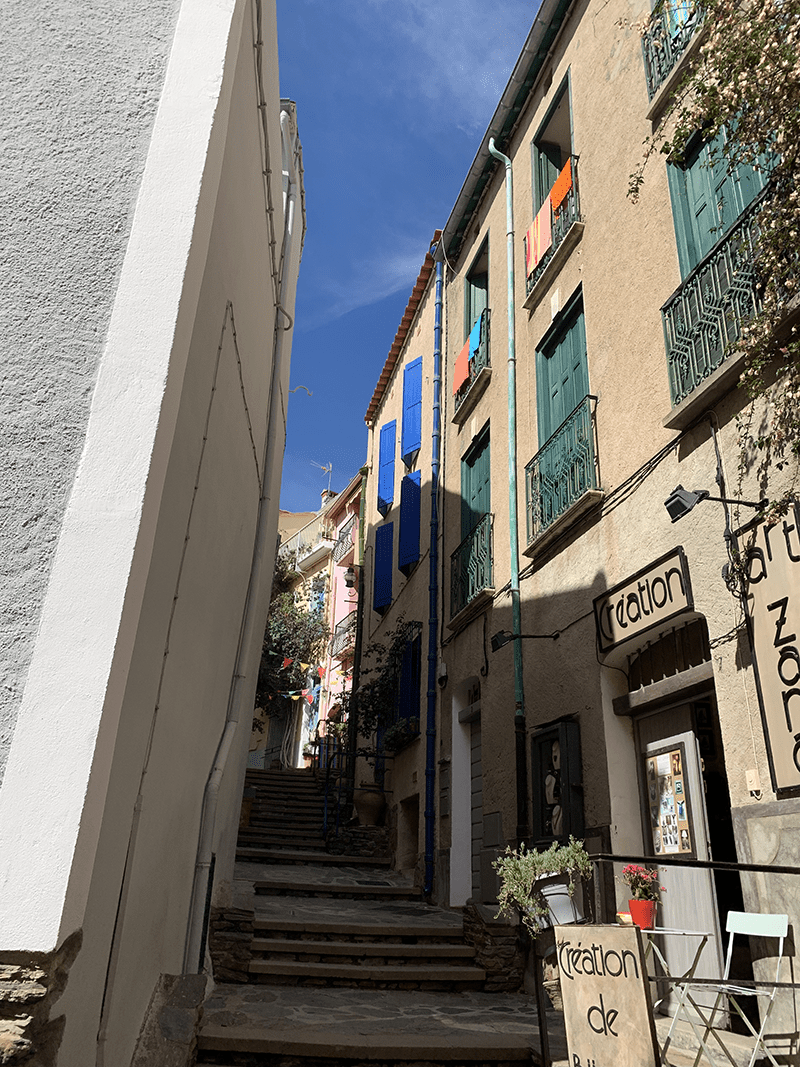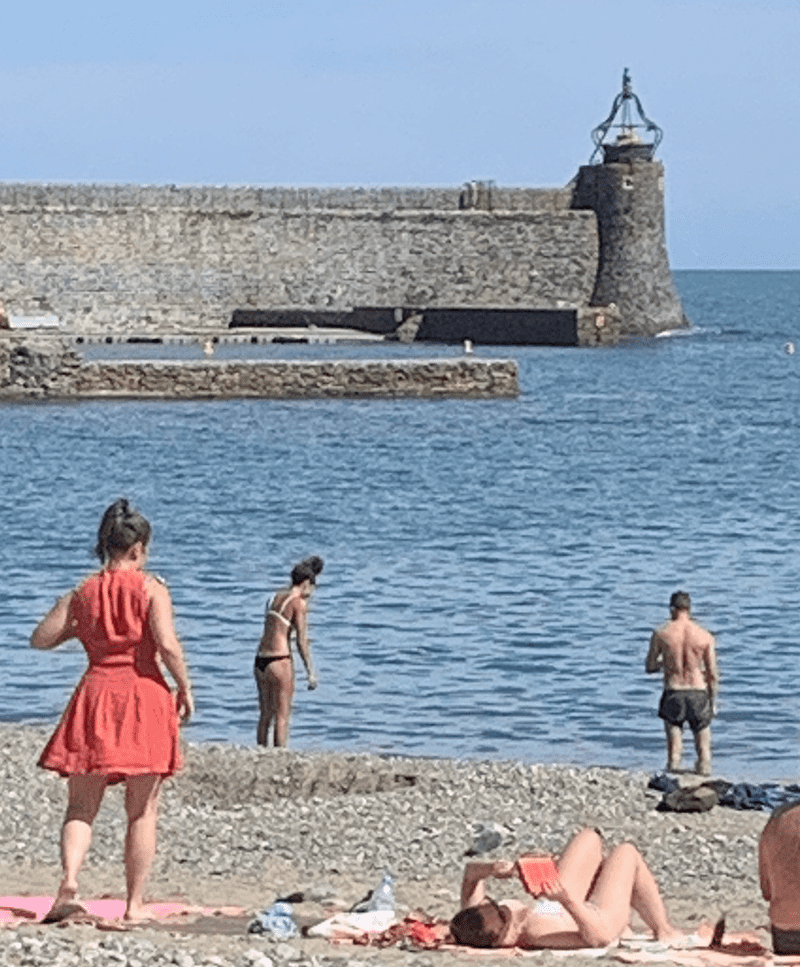 The beach!  French Special Forces had 2 groups of scuba divers training right here a little later.  I didn't take their picture, didn't want to annoy, LOL.
Also nearby is the sidewalk cafe where I first tried Perrier with mint syrup at Vero's suggestion.  Very refreshing!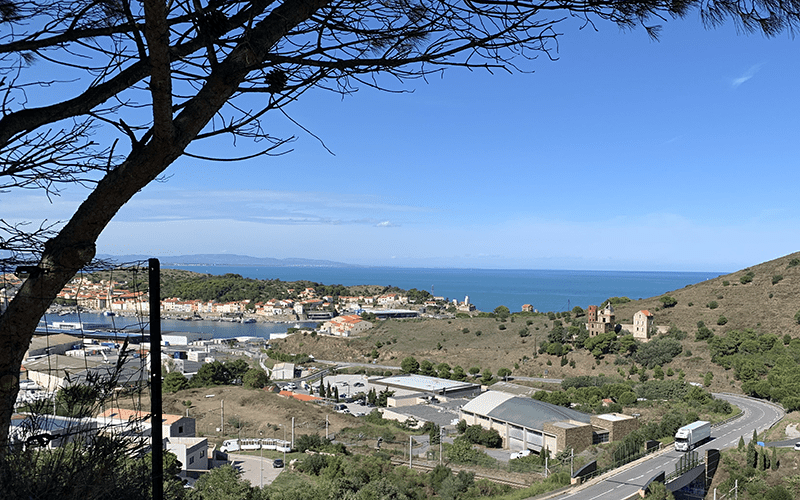 View high above the village…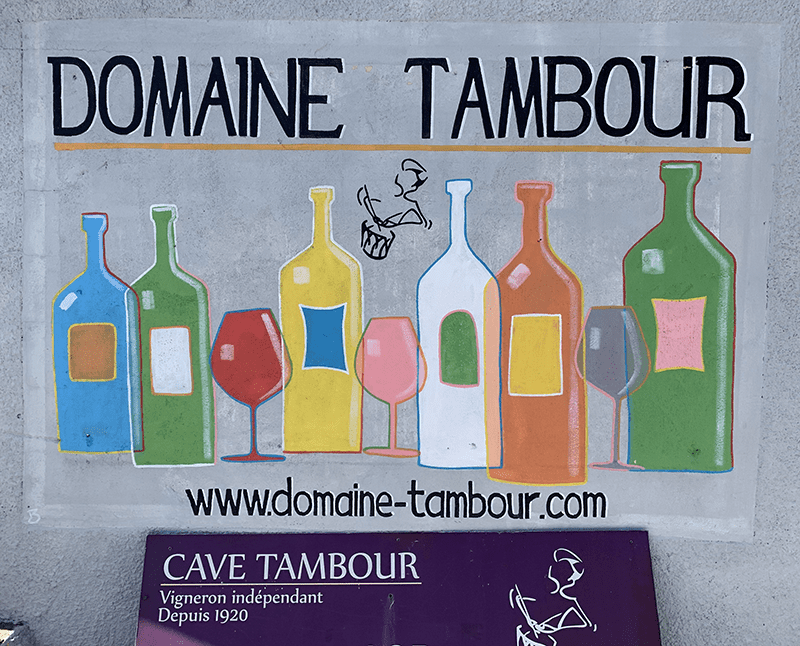 We had a lovely wine tasting right next to that view above the village…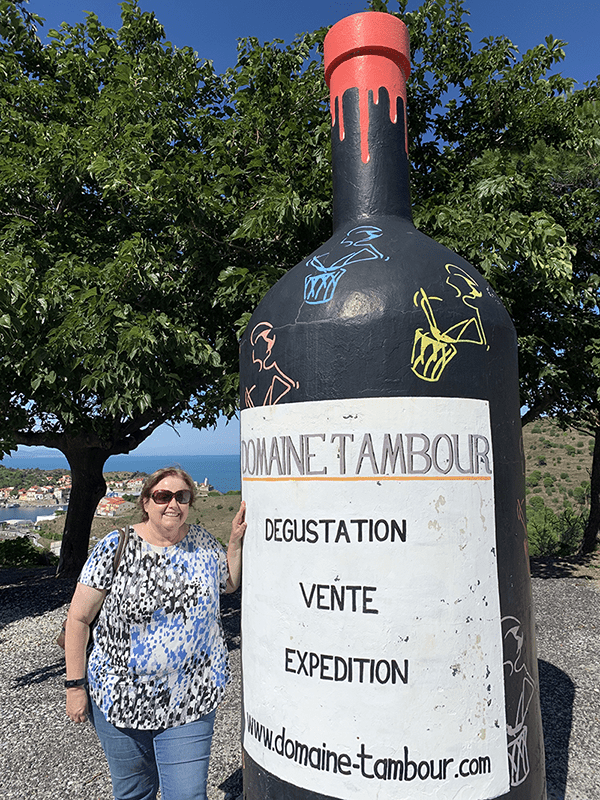 Degustation means "tasting", as in "wine tasting"…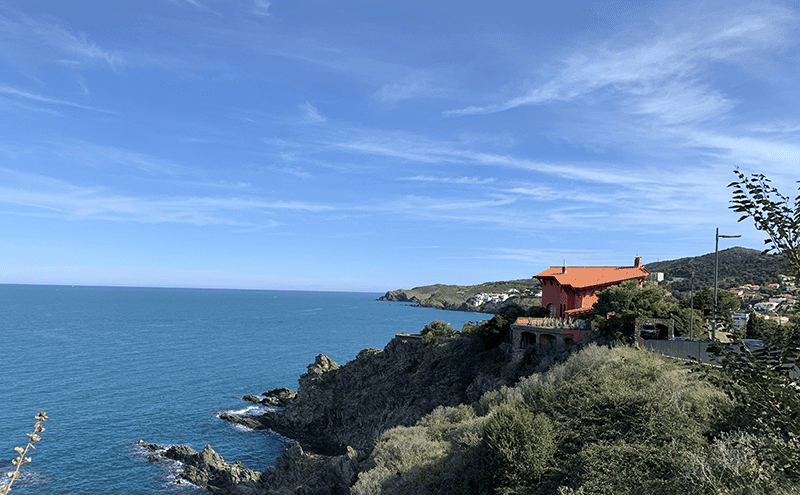 Also visible from the wine tasting spot was this lovely dream house with fabulous views…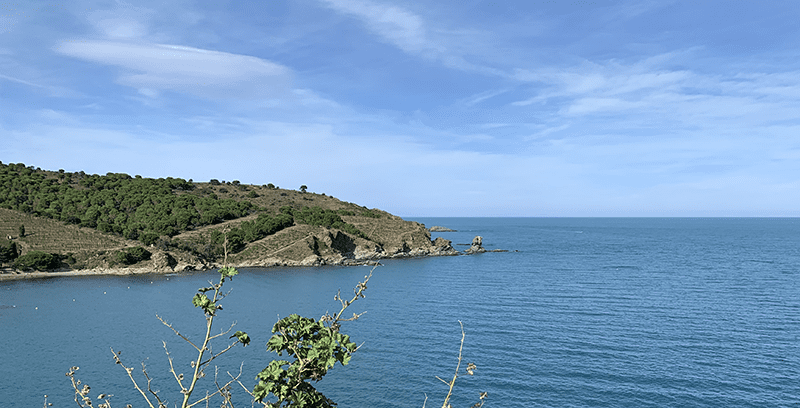 Vineyards all along the coast, and a sphinx-like rock…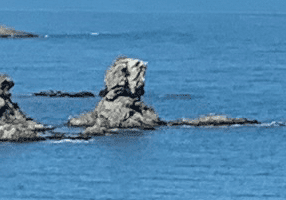 Closer look at the sphinx…
Off to Perpignon so Vero can do some Business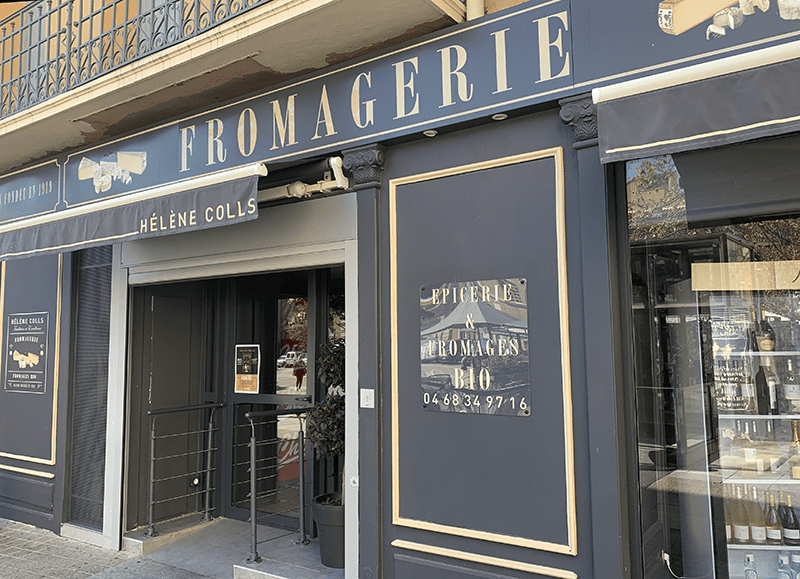 First thing we saw emerging from the parking garage under the main square was this lovely little Fromagerie…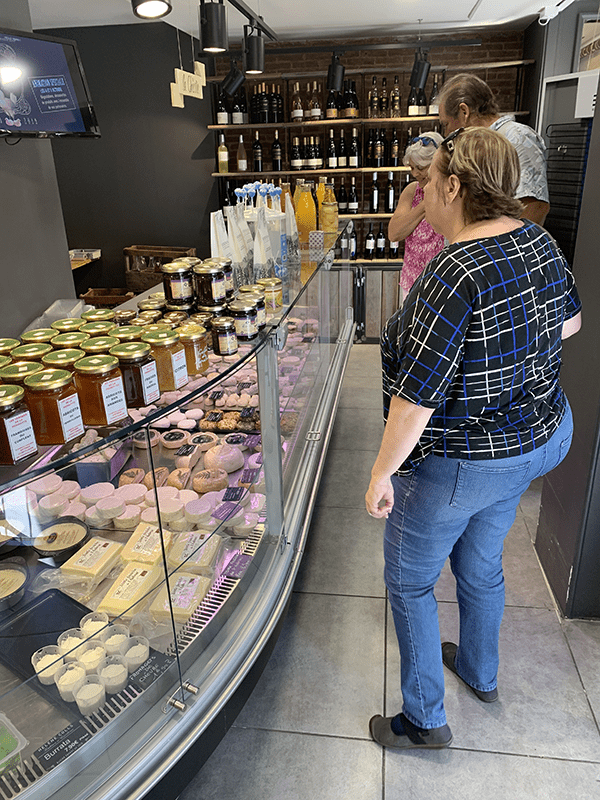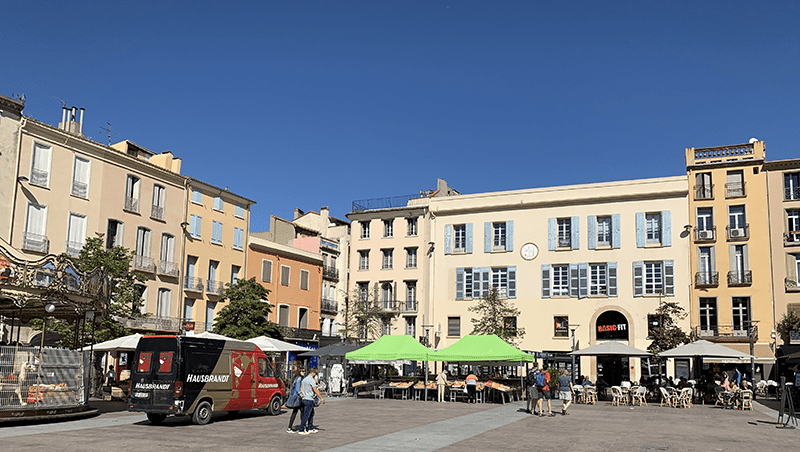 View of the square…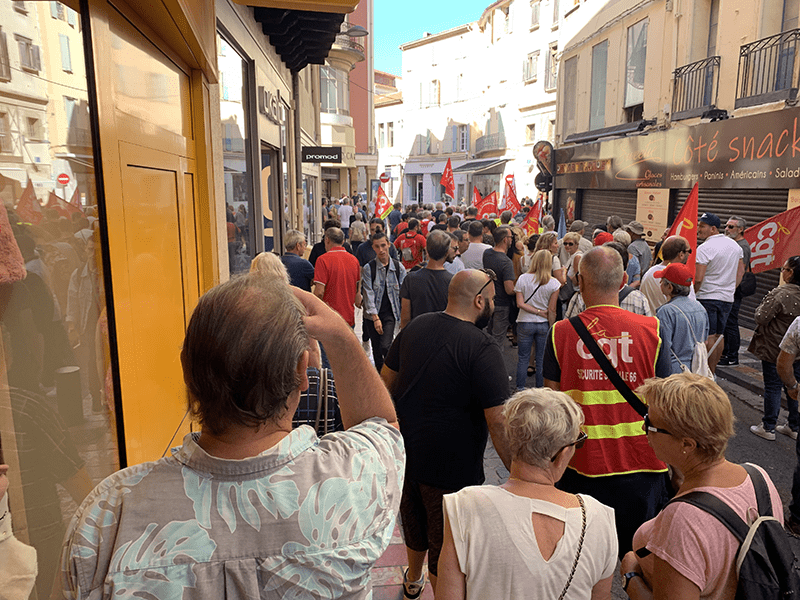 Before long we were caught up in a little demonstration march.  This was about raising the retirement age (for pension) of certain gov't workers.  It was peaceful and they were singing songs…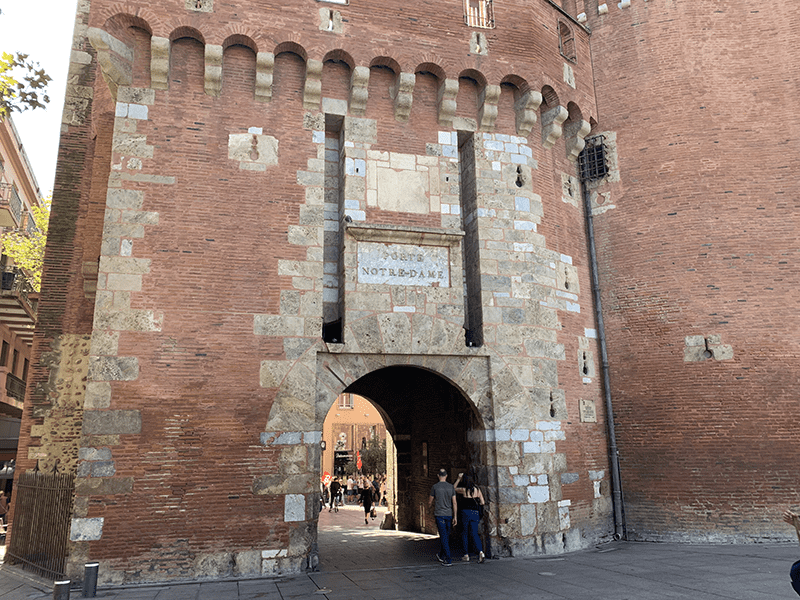 In the center of Perpignon is a walled city (the square is inside).  Here is one of the gates.  Most of the walled cities are not so well preserved.  As soon as the defenses were rendered obsolete (by gunpowder), they were often torn down so the bricks could be reused for other structures.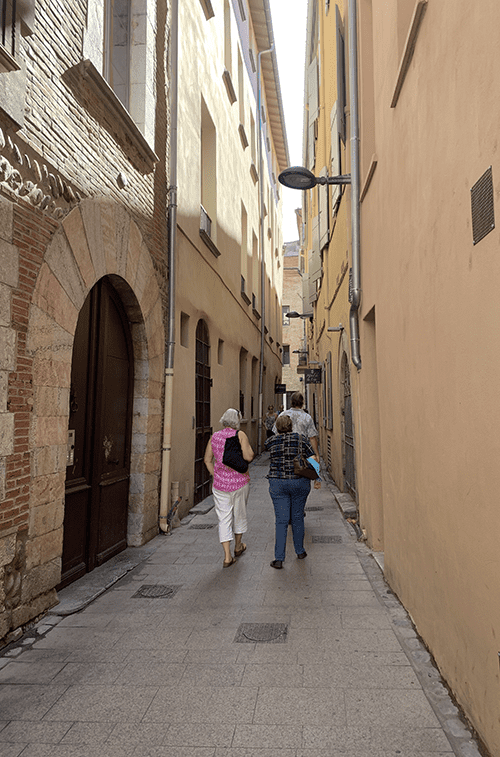 Something intriguing to discover down there, ladies?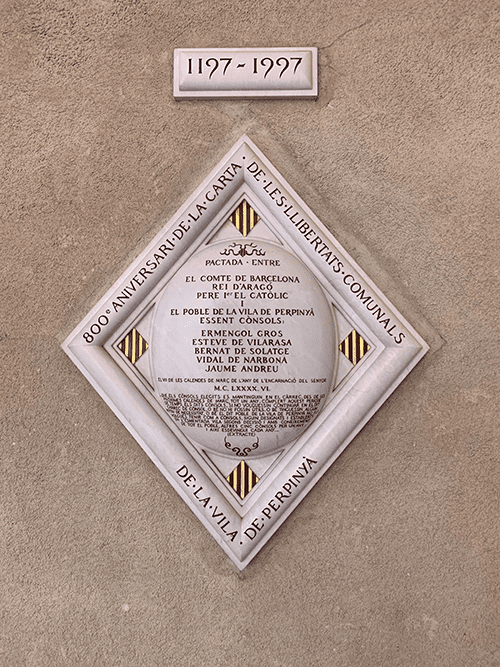 Founded in the 12th century…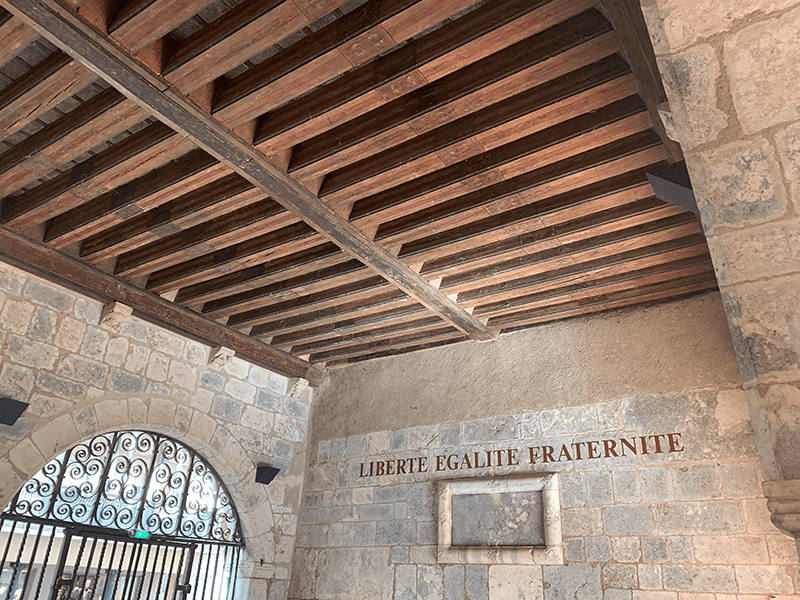 This is the old City Hall, which is referred to as a "Hotel" for some reason…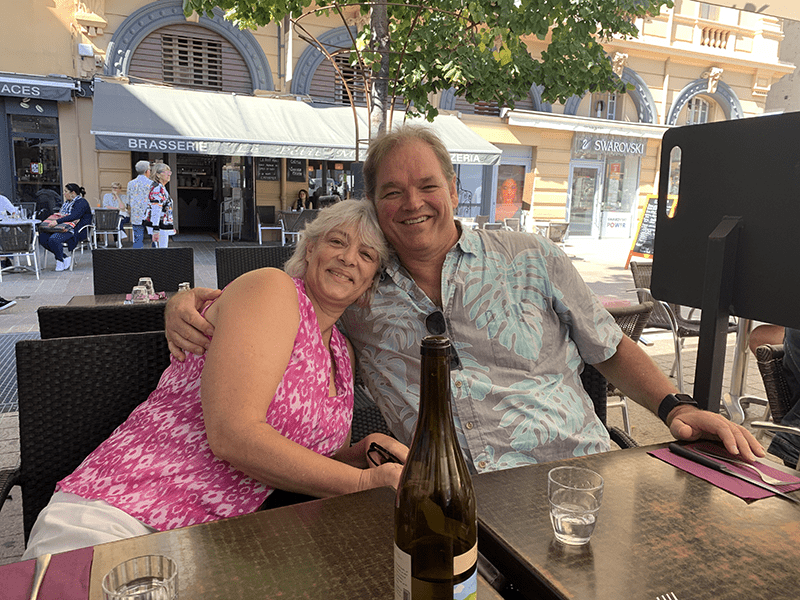 Passing time with wine and good friends…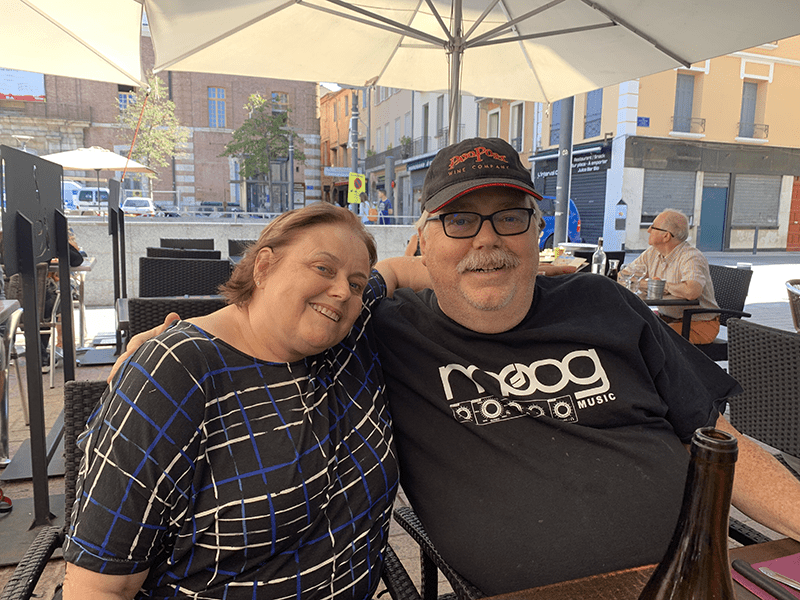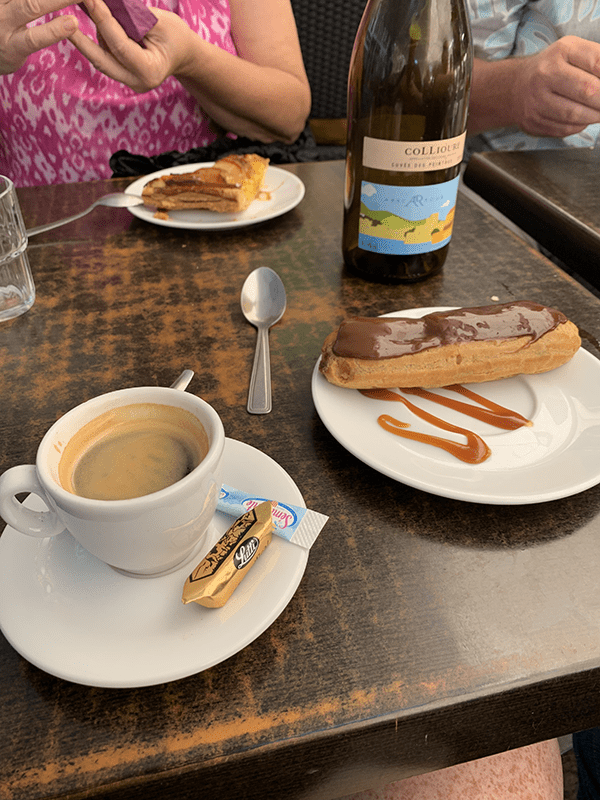 A lot of restaurants have a prix fixe menu choice.  That was about the only time we got dessert.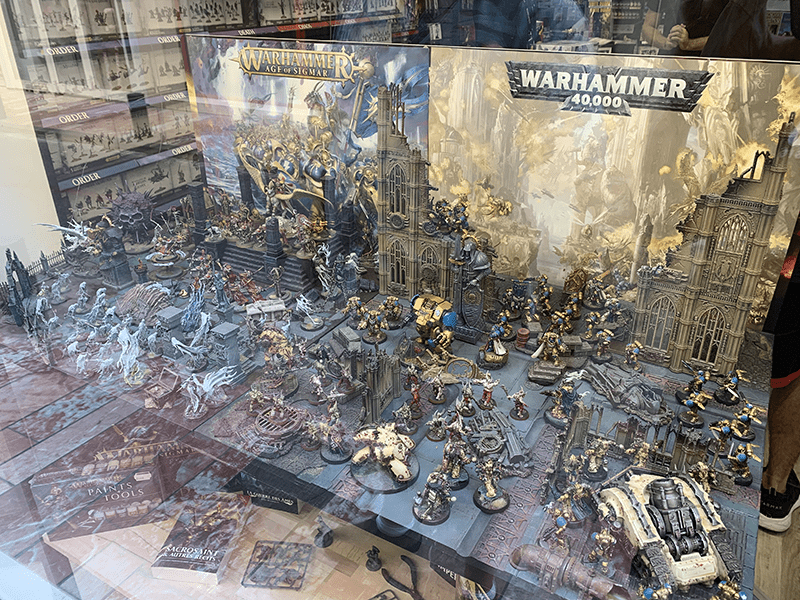 Shops were less touristy in Perpignan.  Here are miniatures for our Dungeonmaster, Laura…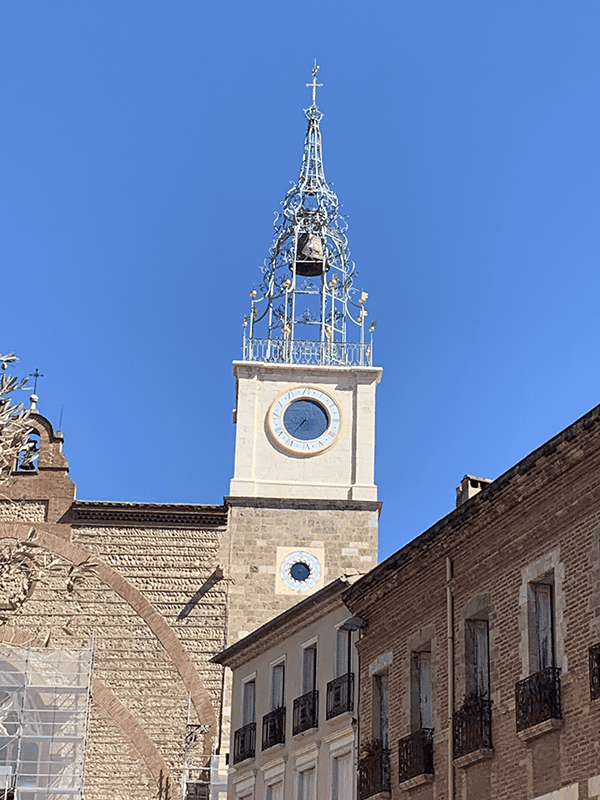 I thought this a clever bell tower…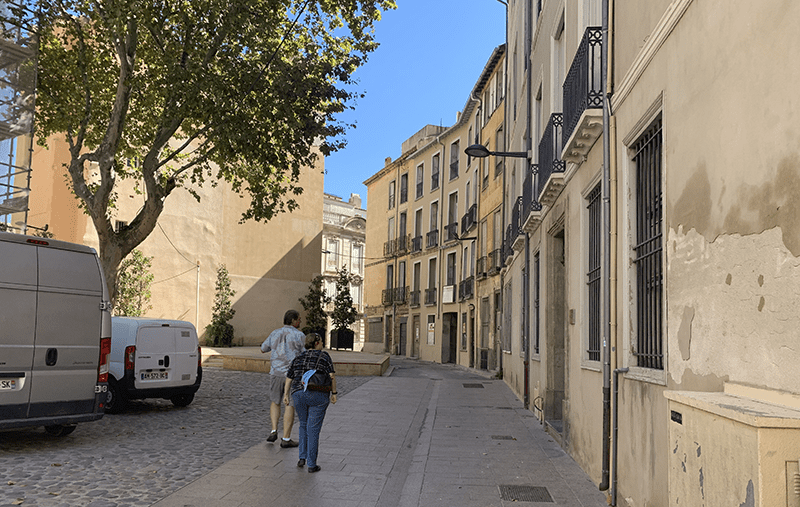 I think we're off the beaten path…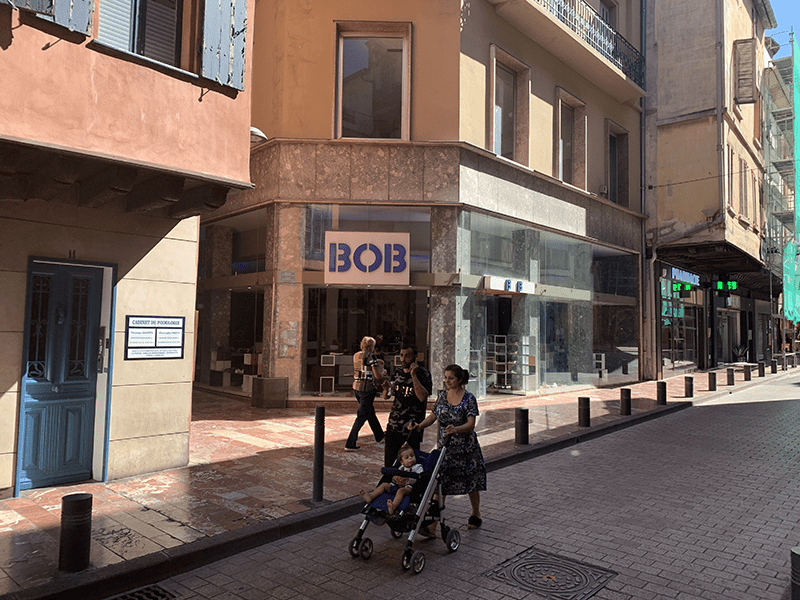 Yes, Bob is cool in France…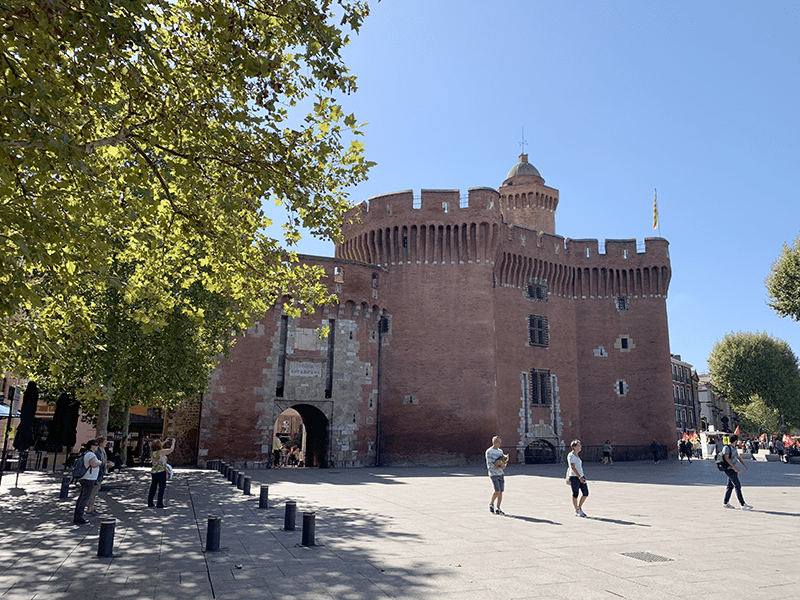 A Winery with Flamingos in Paradise
This amazing winery is all by itself on one side of a large nature preserve with a large lake and ponds.  Yes, there are flamingos that come there.  They are a different species than Florida Flamingos, and paler pink.  But very similar.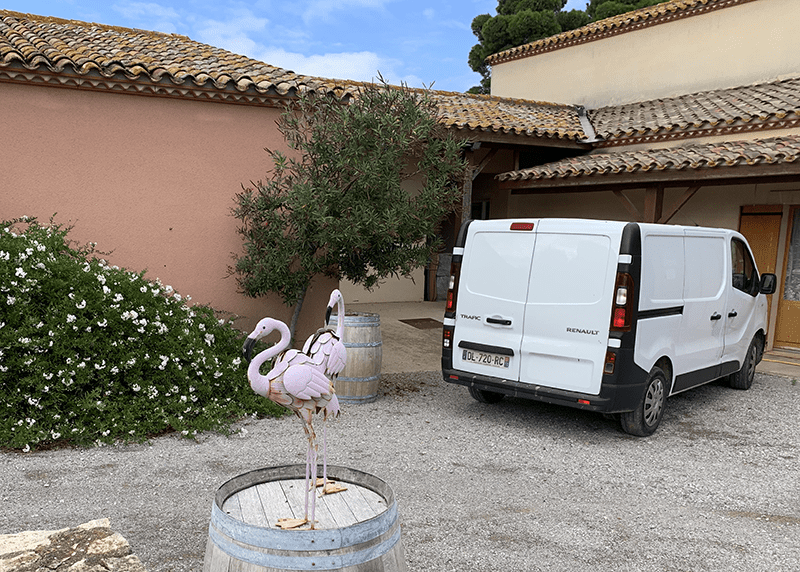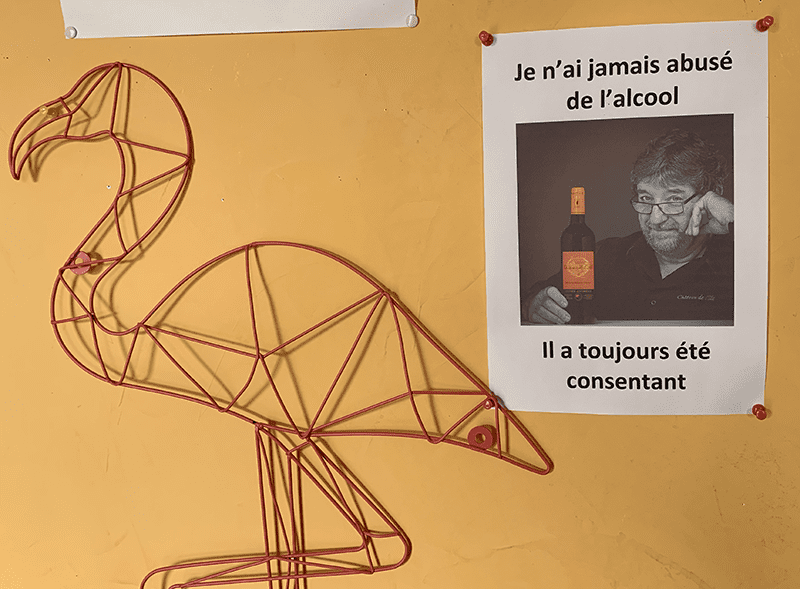 "I never abuse alcohol–it always consents" Pictured is the Belgian owner.  Nice life!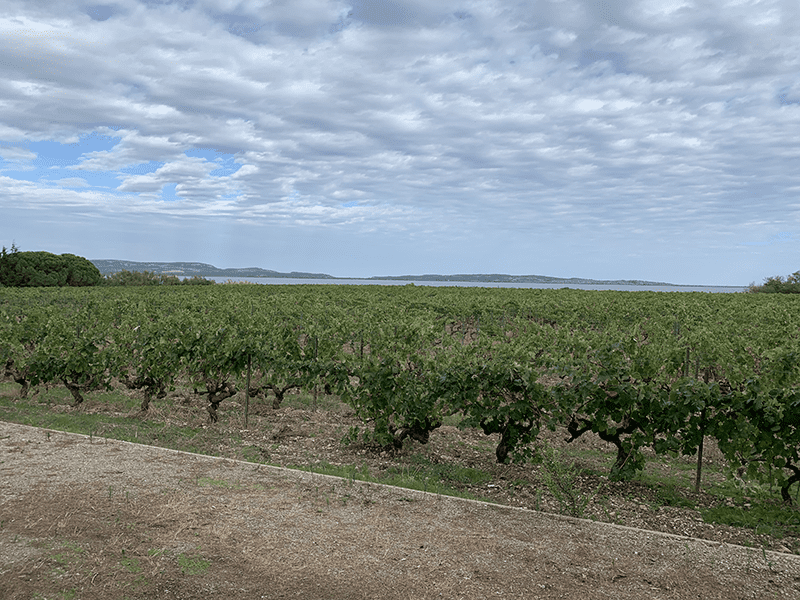 Vineyards and Mediterranean Sea…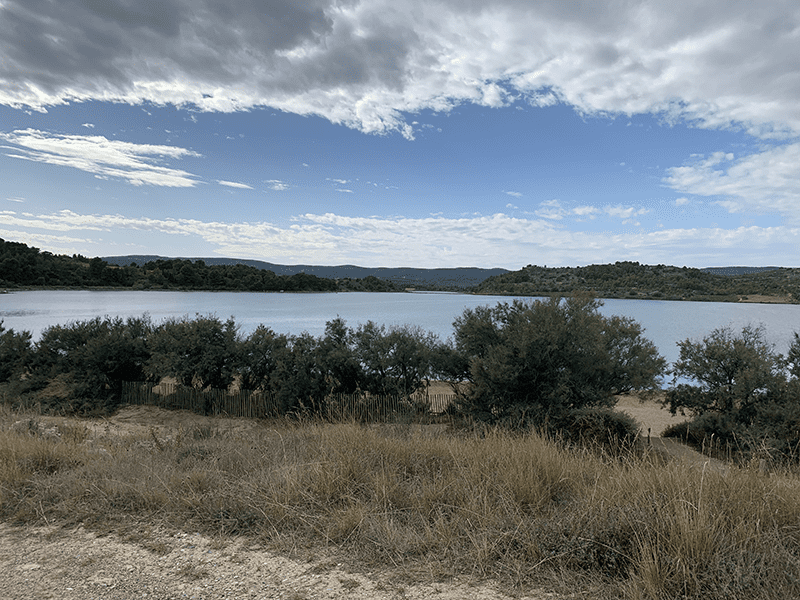 This is the lake.  We saw flamingos in a nearby pond, but too far away to photograph…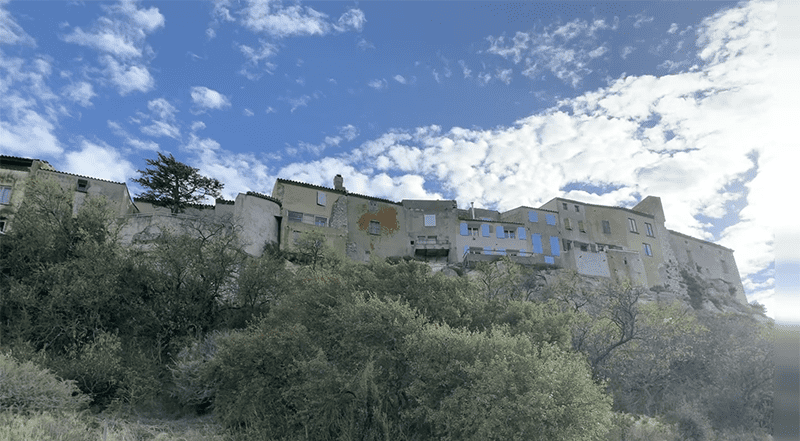 Yet another cute village above the road into the lake…
The Scenic Route to Carcaissane: Views, Good Food, and a Wine Tasting
We took the scenic route through the mountains along a narrow winding road that followed a gorge.  Great scenery and intriguing little villages along the way.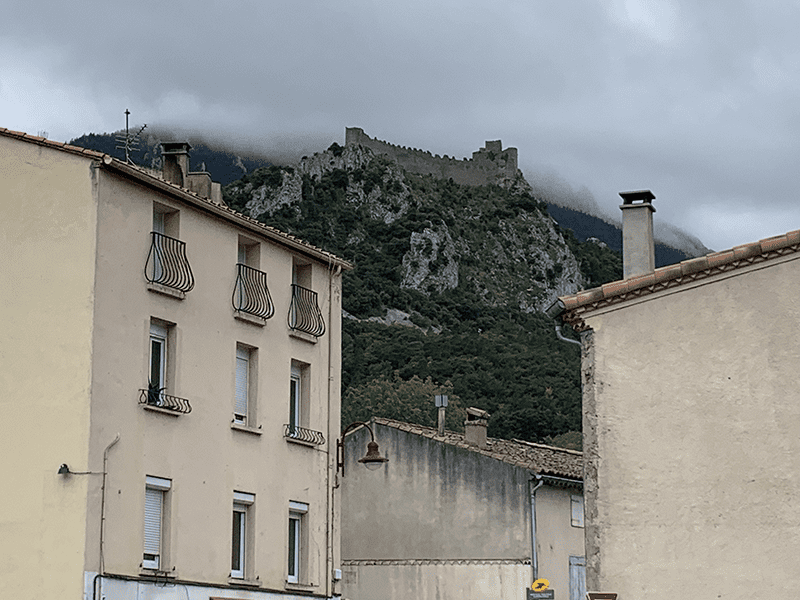 The castle overlooking this village is rather forbidding…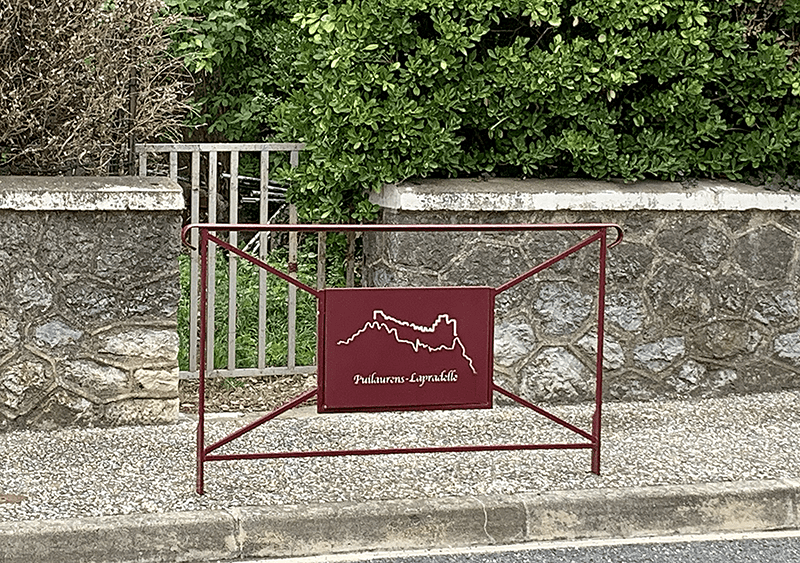 It is the Château de Puilaurens and the village is Lapradelle Puilaurens.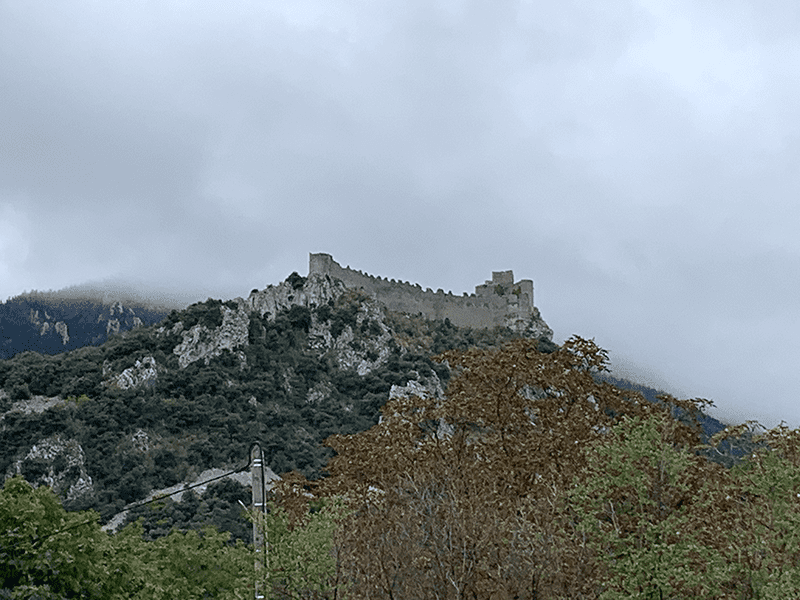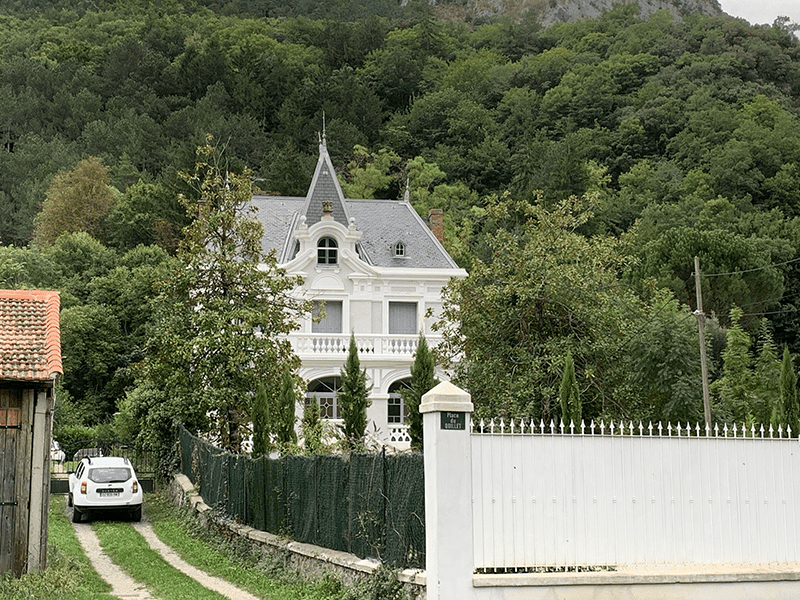 Vero spotted this lovely little house while we were trying to get a better look at the castle…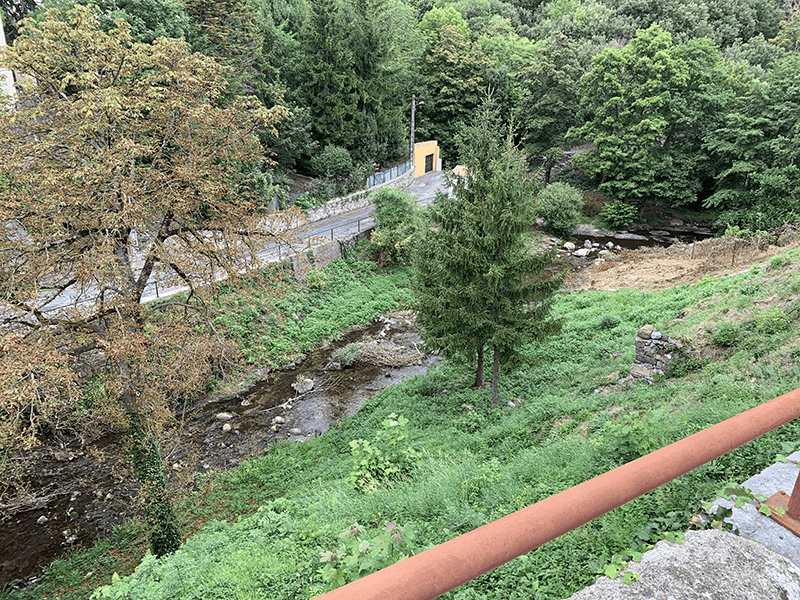 This is the river whose course we will follow.  It's pretty small here.  As we gain altitude it gets bigger and faster moving.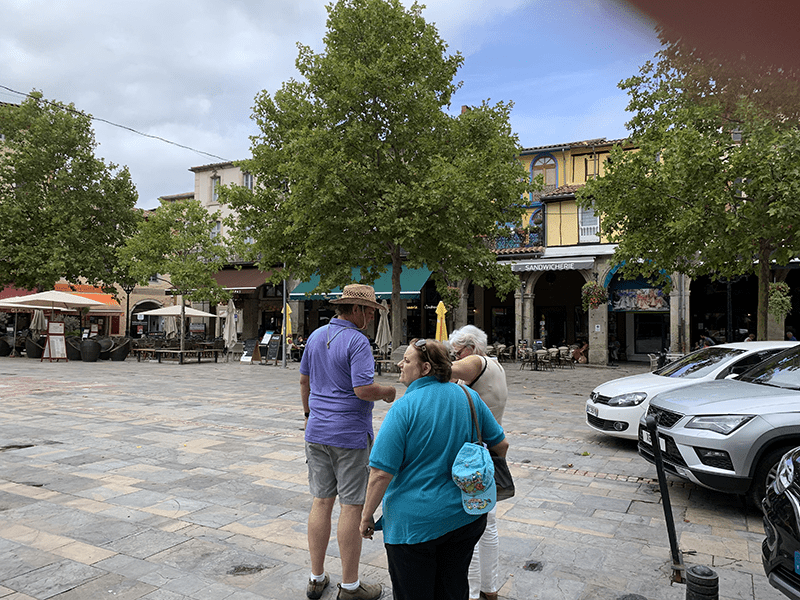 We stopped for lunch in yet another little village called Limoux along our route.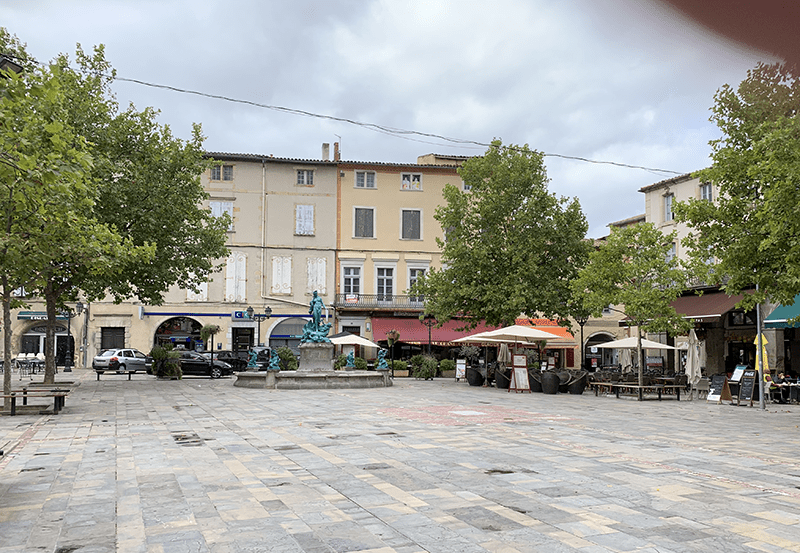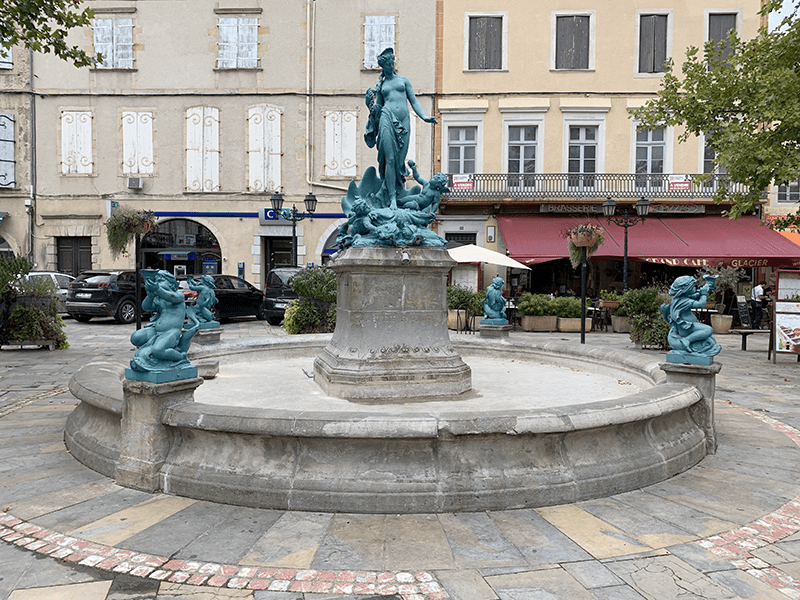 Beautiful little fountain in the square.  Having lunch there at the red awning…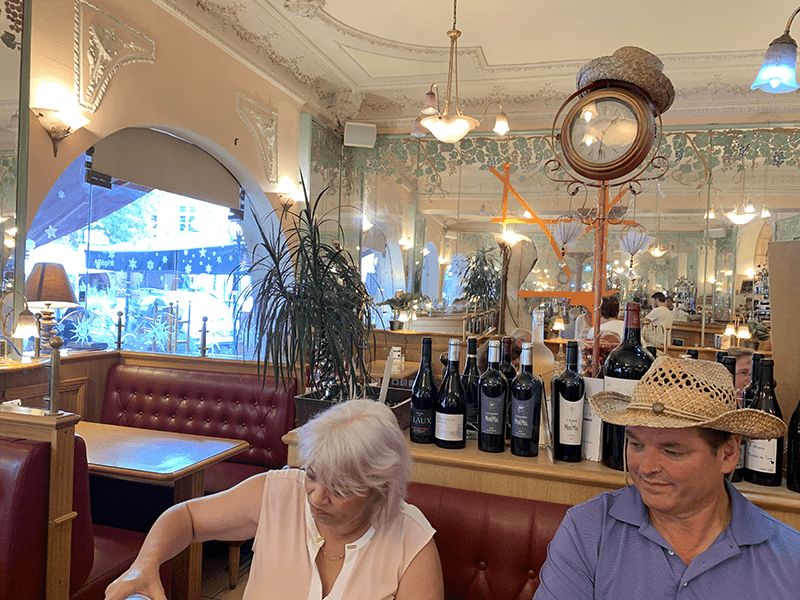 It's essentially a diner, but with French food and decorations…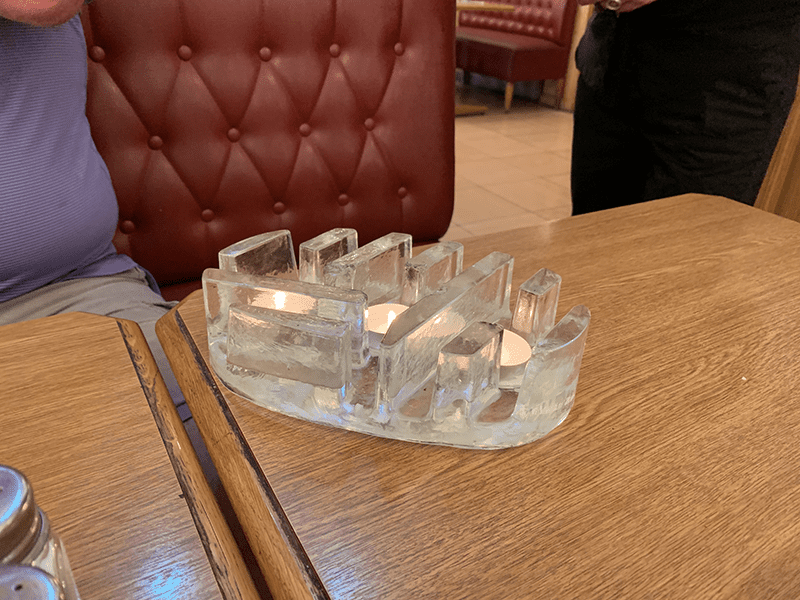 Nifty gadget to keep your fricasse warm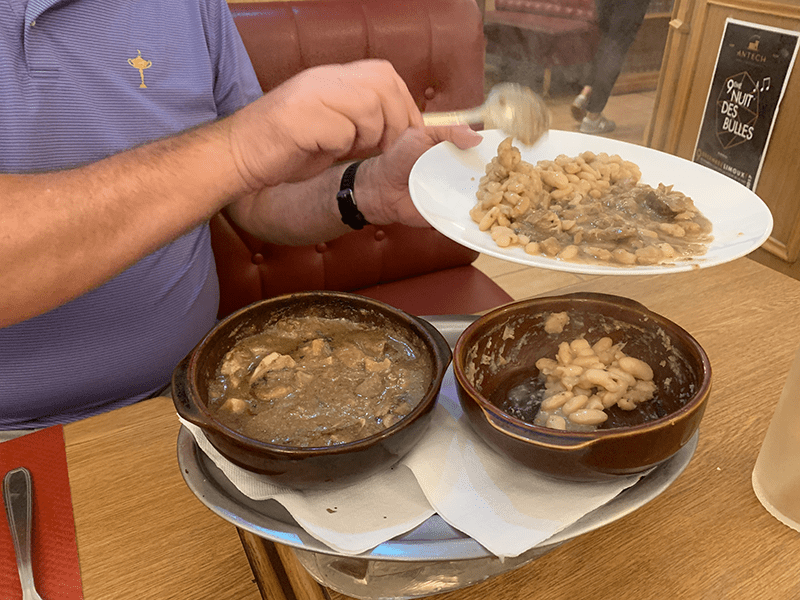 And here is the fricasse.  It's a close relative of Cassoulet…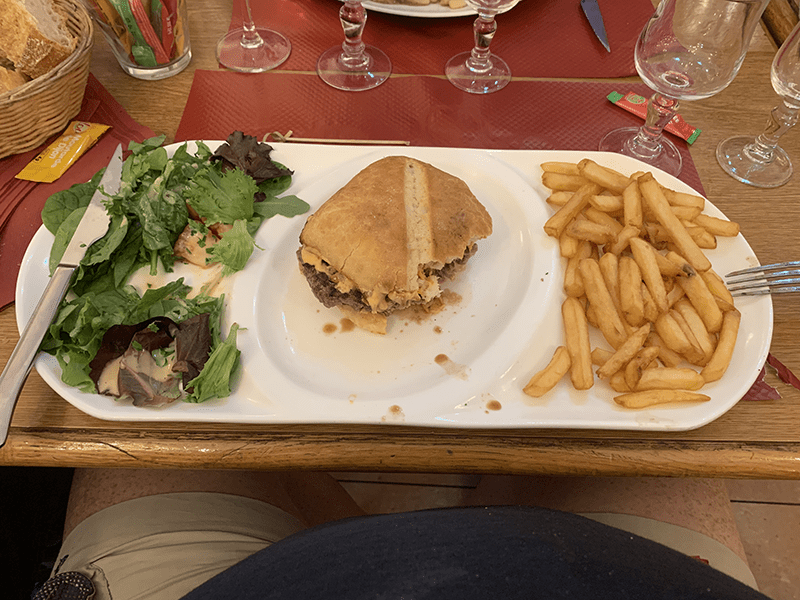 I finally broke down and ordered a hamburger.  It was so good!  Cheese & confit onions, that great bun (the French know bread), perfect frites, and the salad on the side.  The burger was not so large (perfect size, actually) as we often do for fancy burgers.  And the beef was excellent.  Not as lean as our beef, so lots of great juice.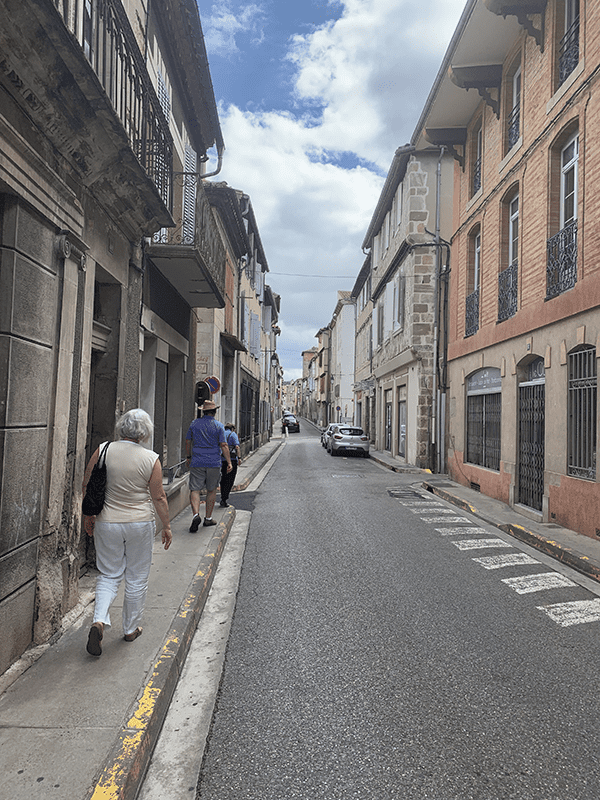 Time to say goodbye to this little village and continue our journey…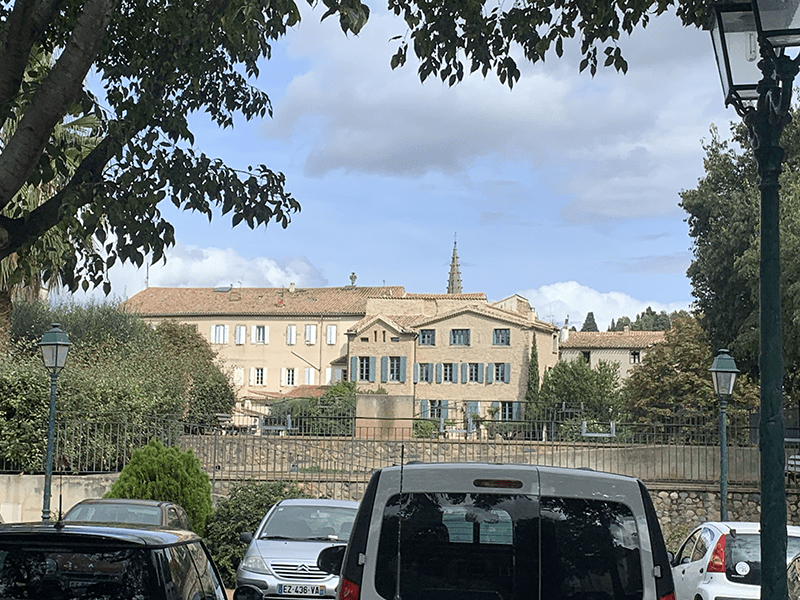 From the parking lot, the square where we ate was just to the left of the church spire.  Yes, we walked a lot in Europe.  Good fo' ya'!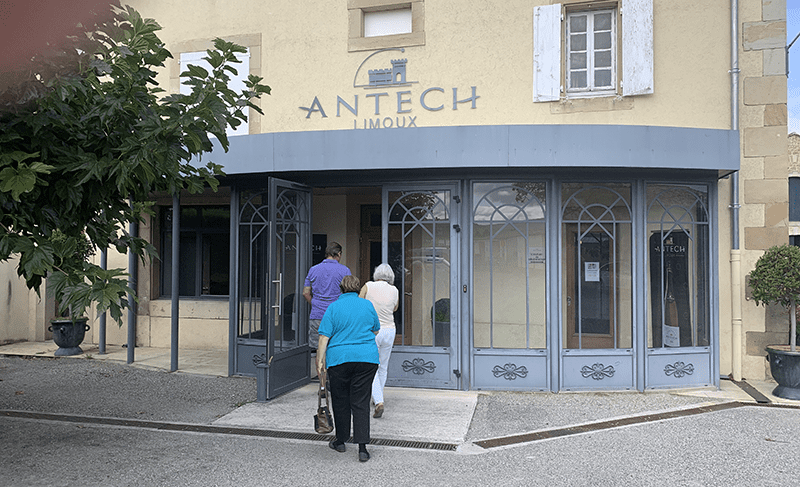 Antech makes wonderful sparkling wine on the outskirts of Limoux.  BTW, wine historians claim the first sparkling wines were made in this area in 1531, by the monks at the abbey in Saint-Hilaire, Aude.  We had heard a monk named Dom Perignon invented the stuff, but then that story, a common myth, was told to us by the VP of North America for Dom Perignon, LOL.  Doesn't Antech seem like it ought to be a high tech company?  BTW, this company has been going for 5 generations and is run by the women in the family.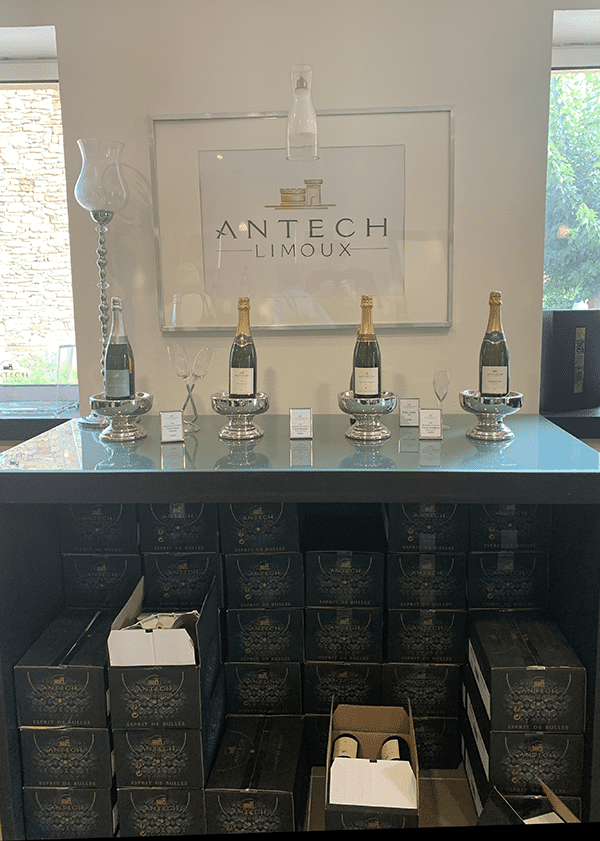 They have a gorgeous little tasting room.  We were the only ones there, but they summoned an English-speaker to deliver the tasting for our benefit.  There were 3 of these little displays, plus the little tasting bar.  Pretty much every winery we visited had a greater variety of wines than the average US/California winery would.  They've been at it a long time, and the French palette seems a bit more varied than the American.
Carcaissane: Walled City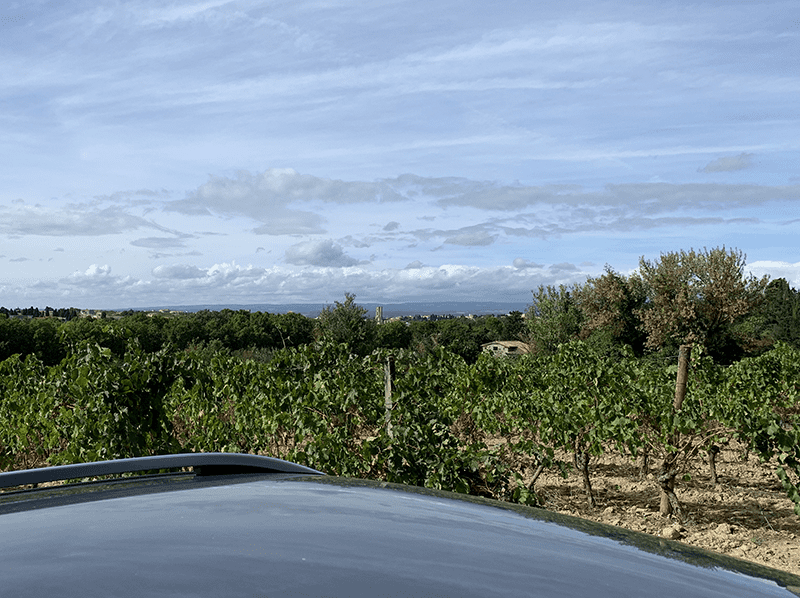 We pulled over when we caught our first glimpse of Carcaissane.  You can just see a tall tower in the center of the photo.  Of course there is a vineyard.  So many vineyards in South of France!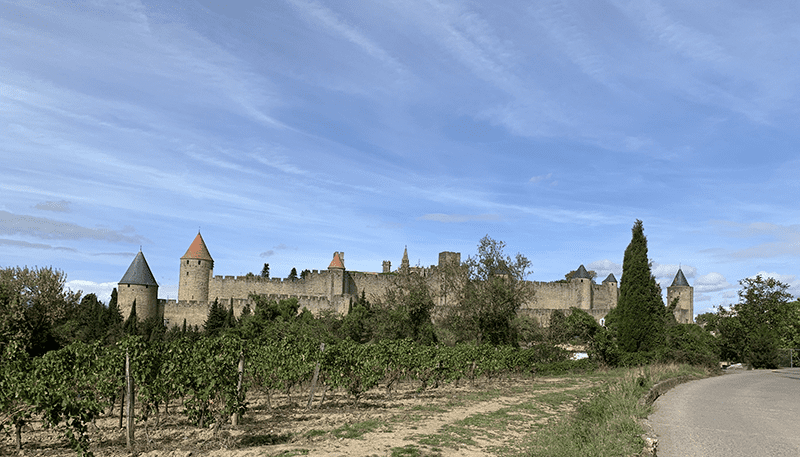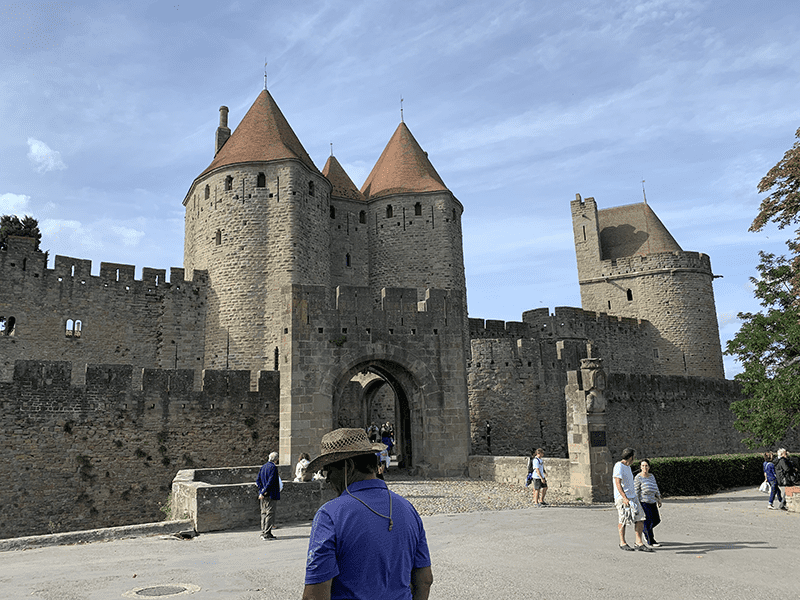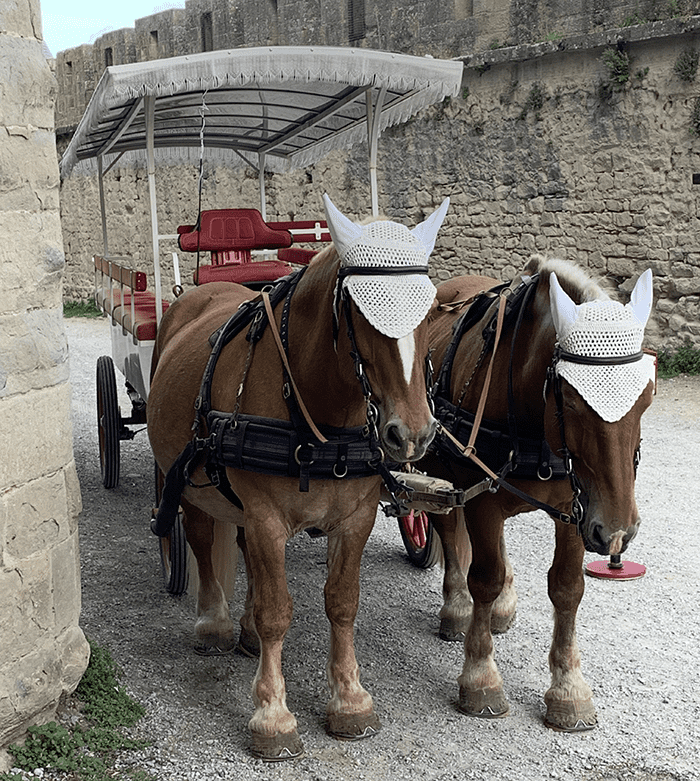 Hello friends!  Nice hats!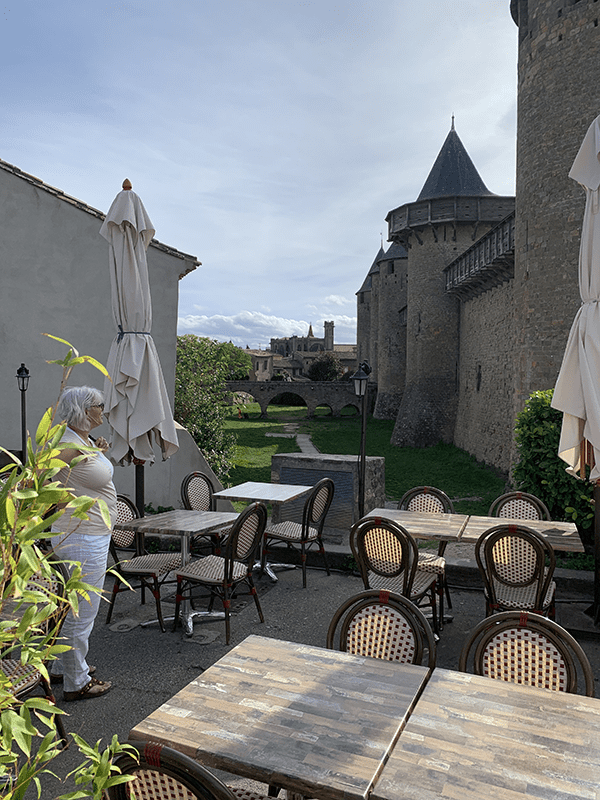 Many beautiful little spots and eateries inside the walled city…
Originally, the plan was to have a Cassoulet dinner after touring the extensive grounds.  Adelaide supposedly has the best Cassoulet in the region (which invented the dish).  Confession time: we were so stuffed from lunch we just couldn't do it.  So we missed out!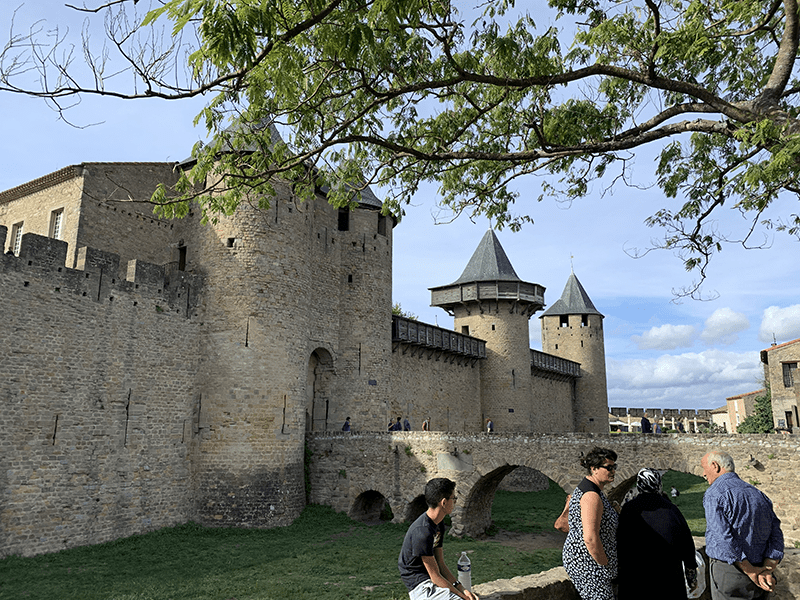 There was a charge to visit the inner walled area, and we skipped that.  What's outside that is still hours of exploration.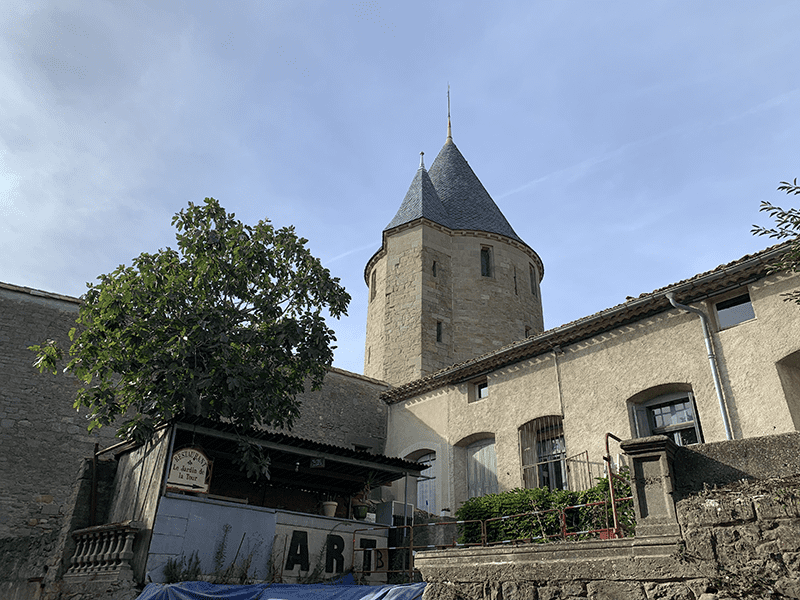 The grounds are large with many eateries, shops, and even hotels and apartments.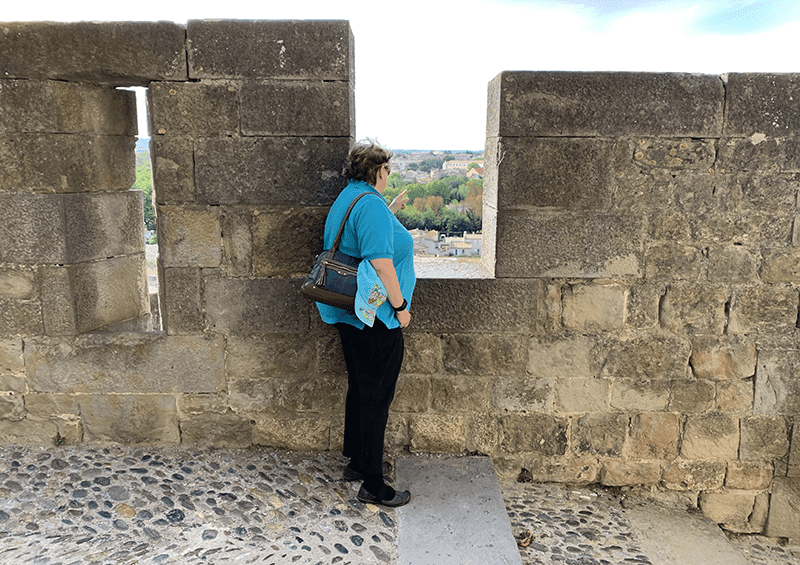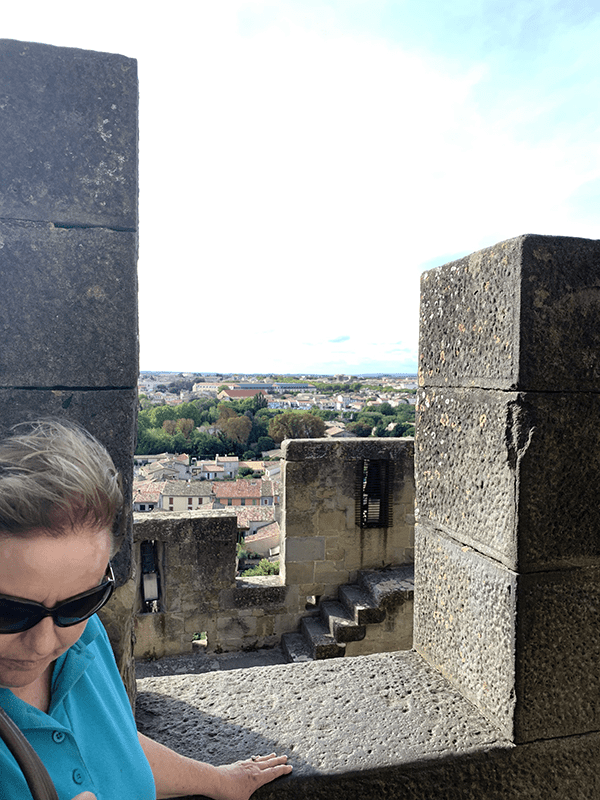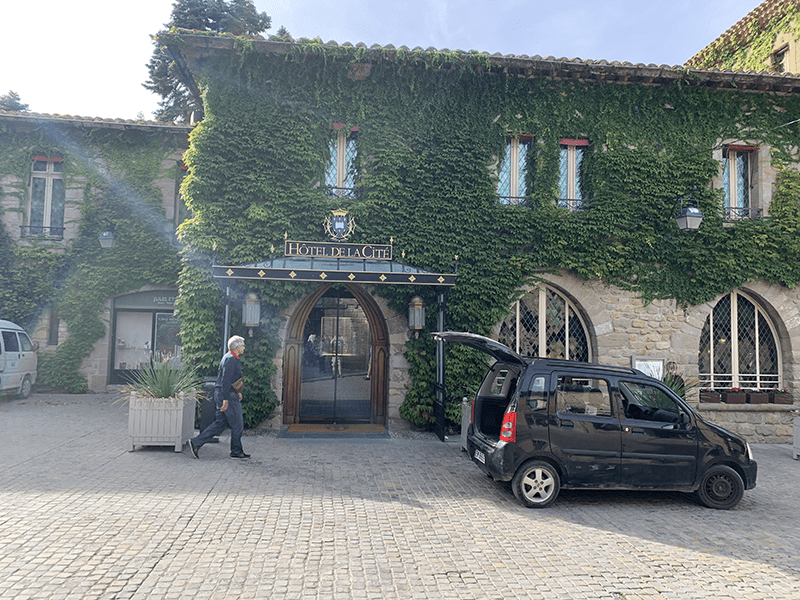 Super swanky little hotel right next to the church.  It's a 5-star premium property for Sofitel.  Wonder what it's like?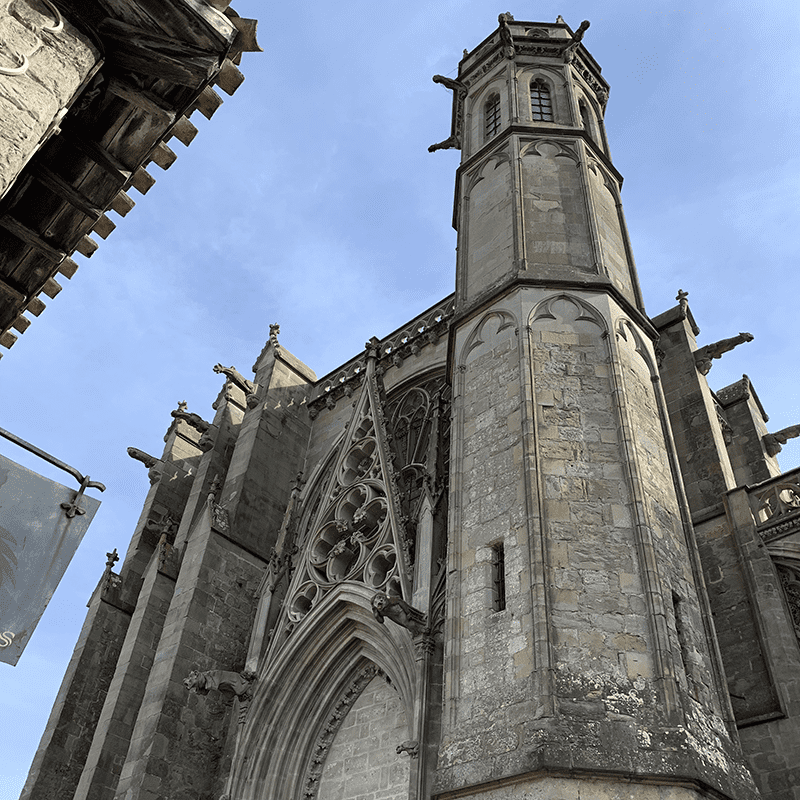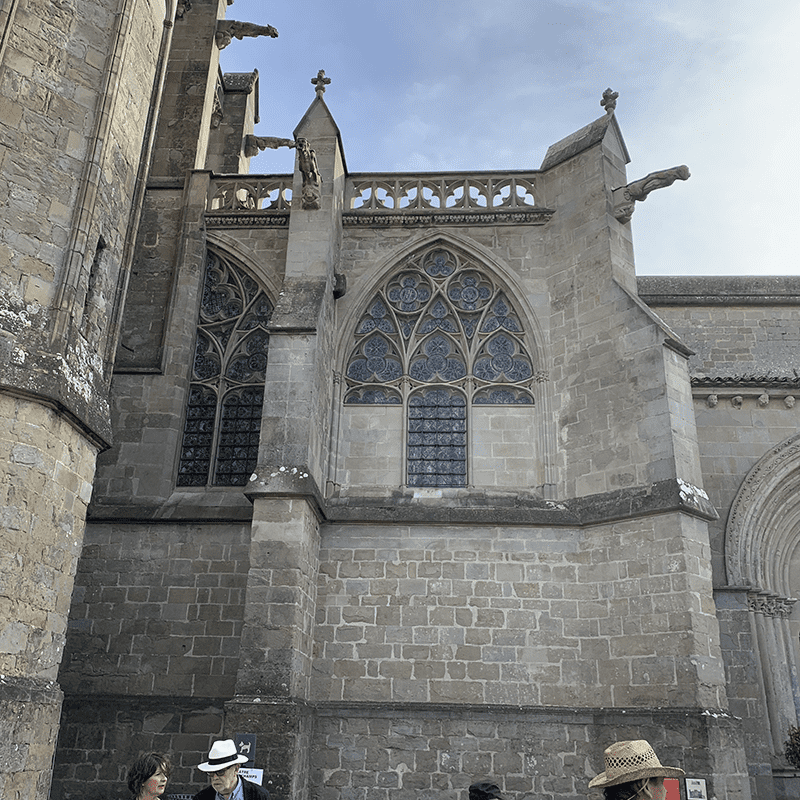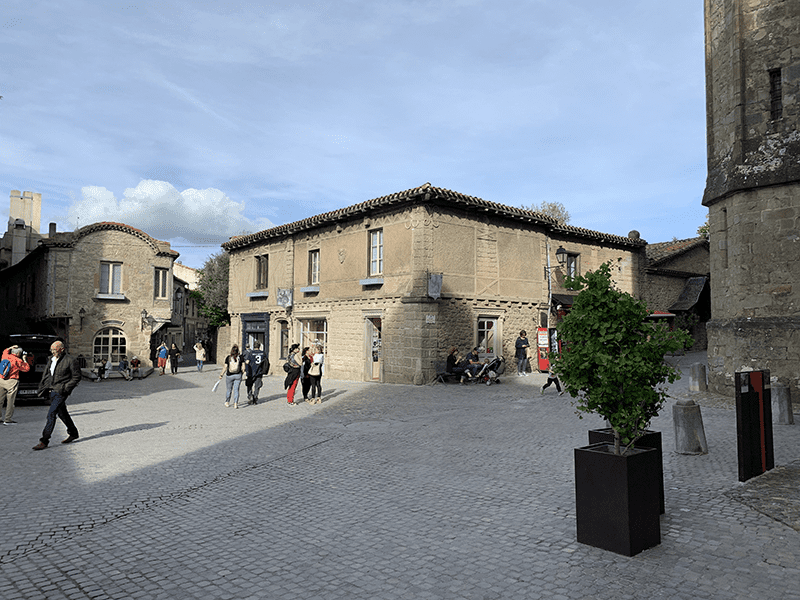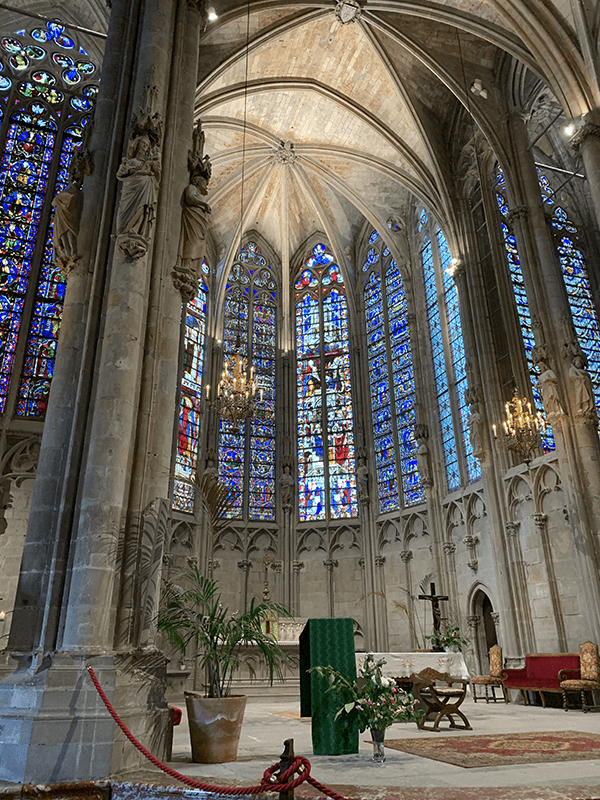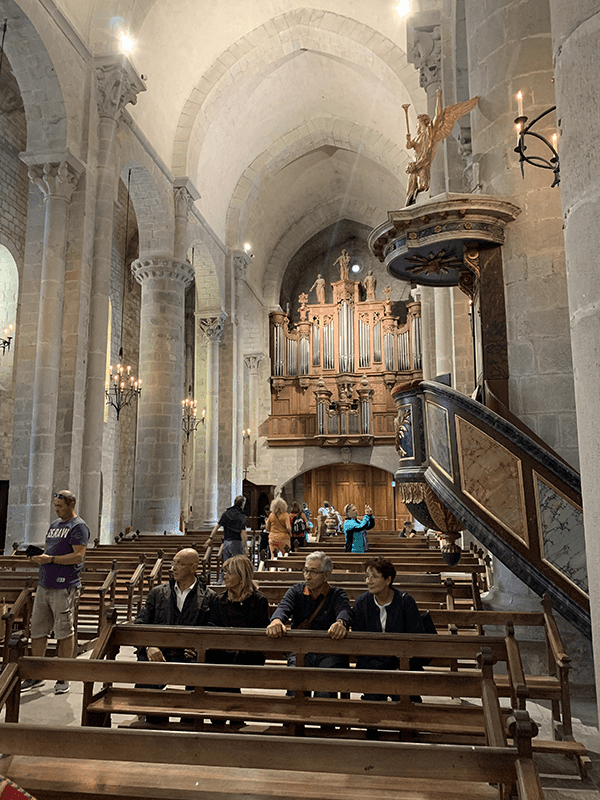 Another Tasting on the Way Home from Carcaissane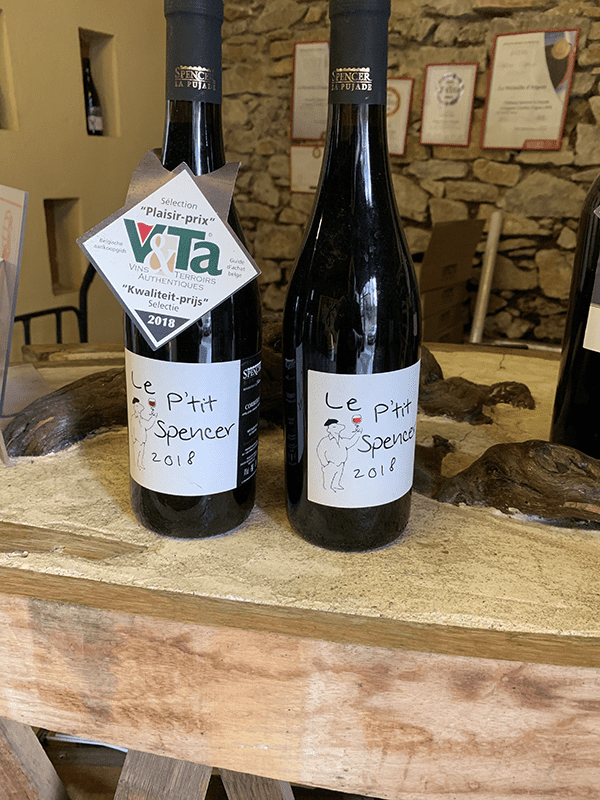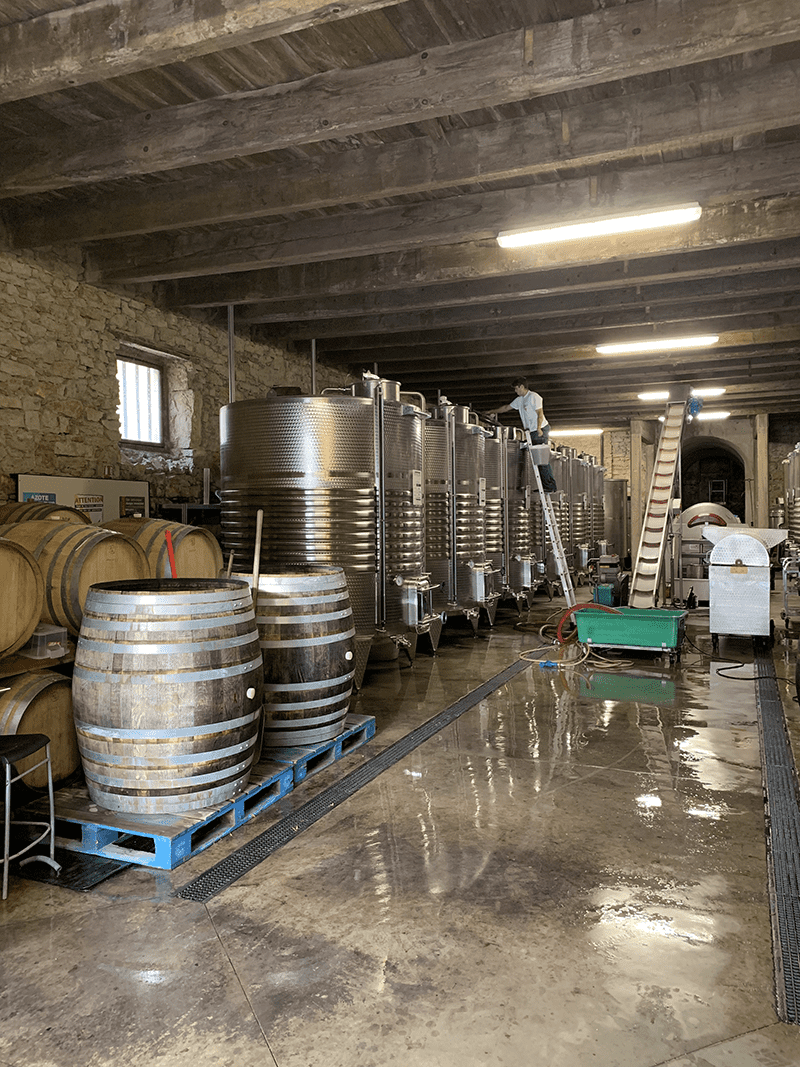 The Dali Museum in Figueres, Spain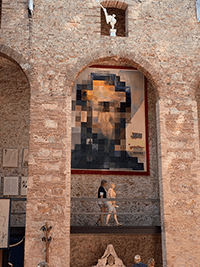 Abraham Lincoln?  (Squint if you don't see him)
Or…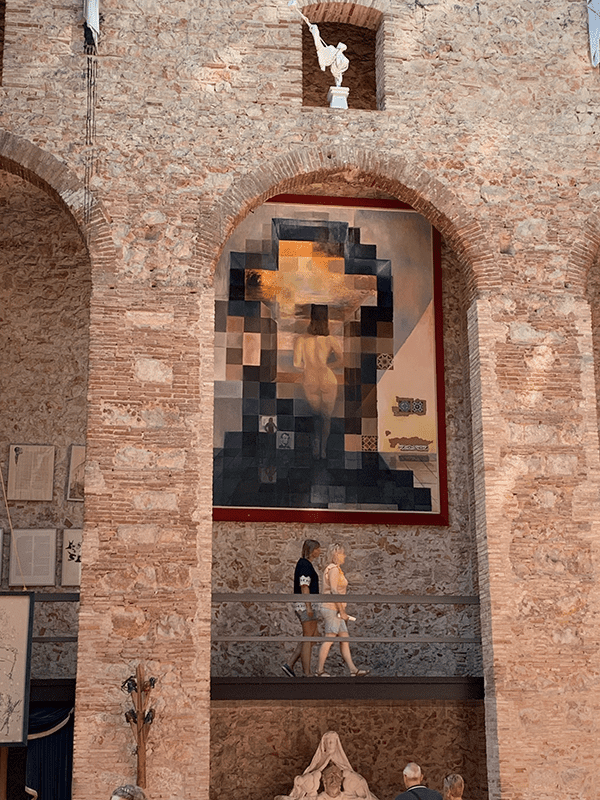 Dali's wife, Gala in the nude…
[ More pix coming soon! ]
Masterpiece: Segrada Familia
Perhaps the most amazing and beautiful architecture I have ever seen.  It's not finished and has been under construction for 100 years.  But they are close!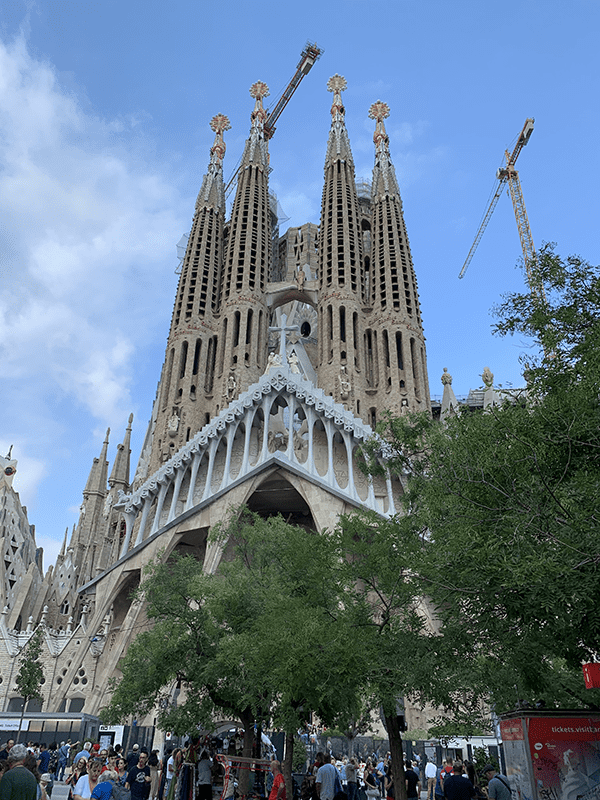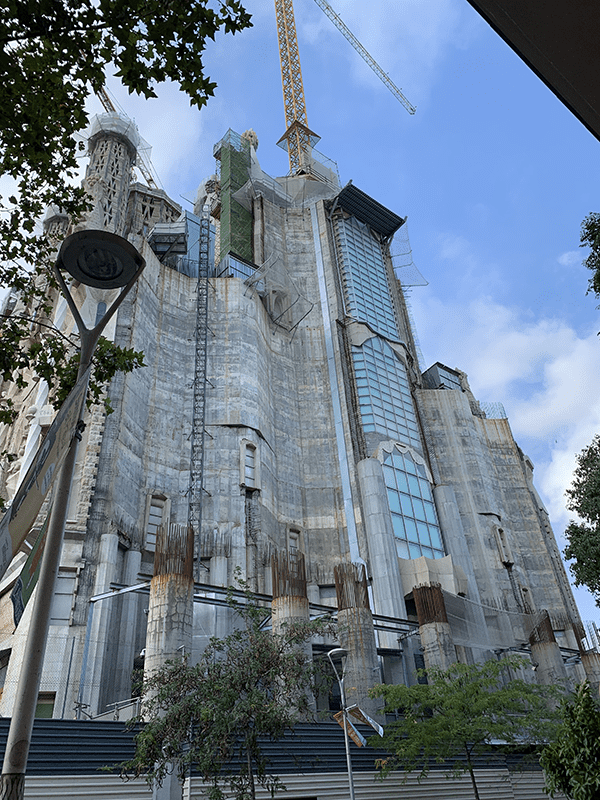 The other facades are finished, this is what's left…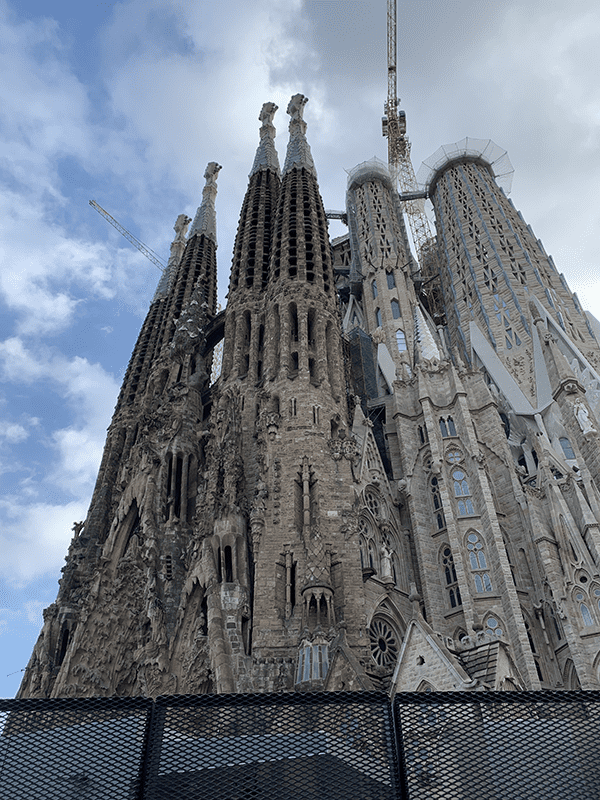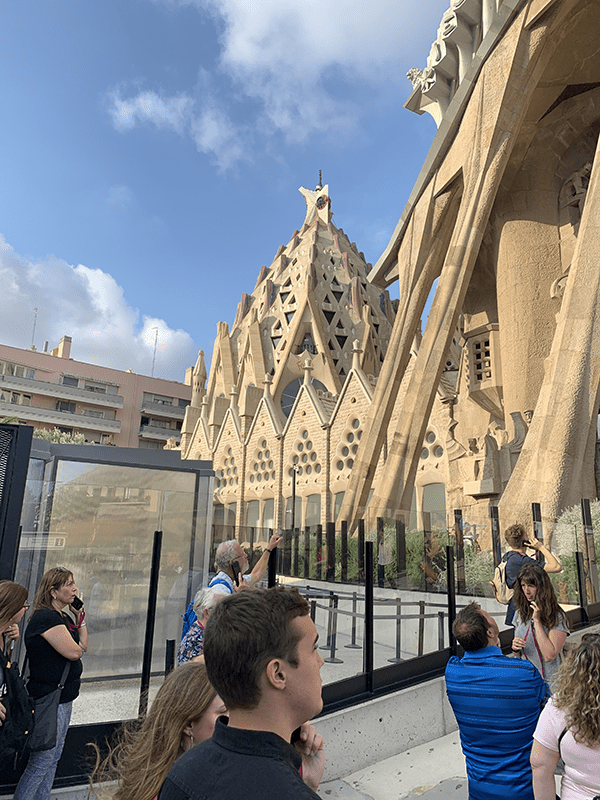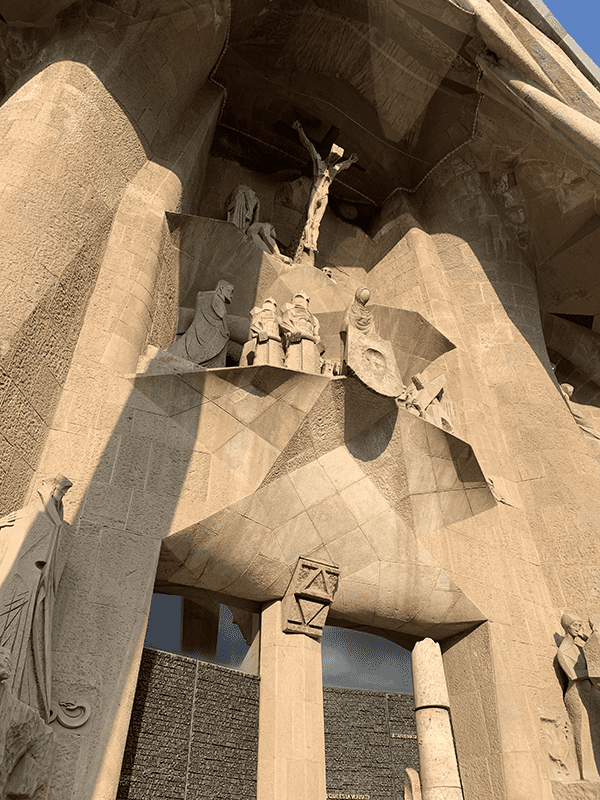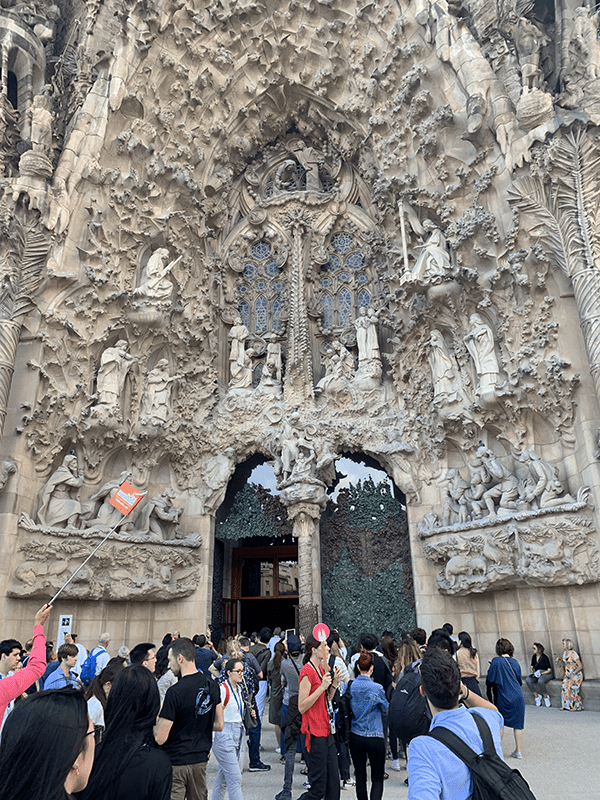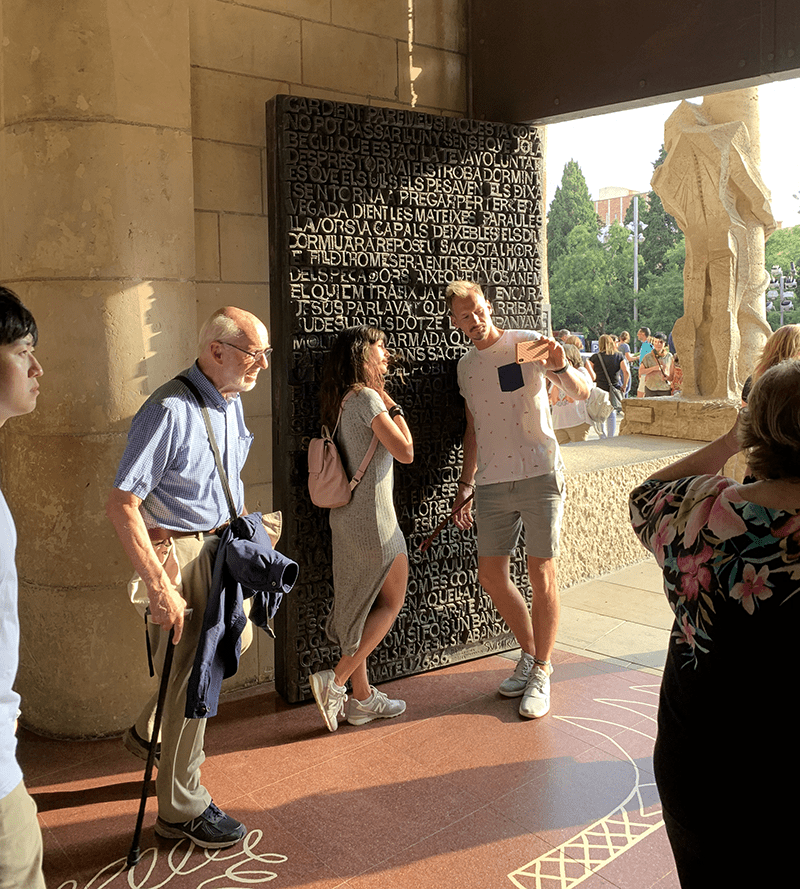 Just look at the detail on the door.  No CNC, all carved by hand!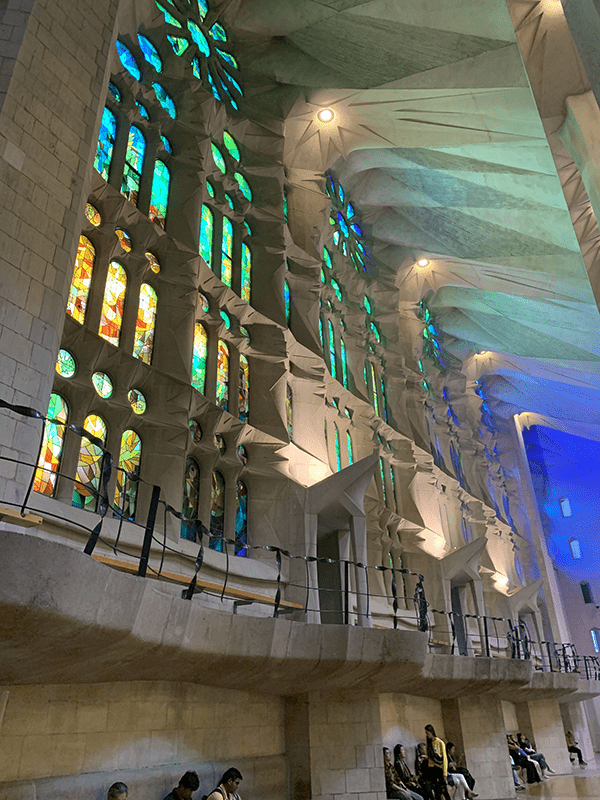 Stained glass is cool colors on one side, warm on the other…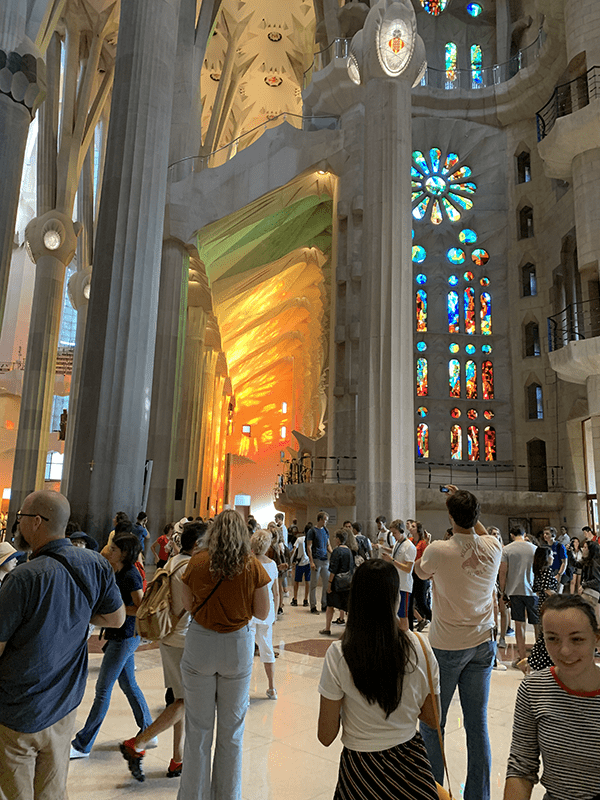 How's that for a light show?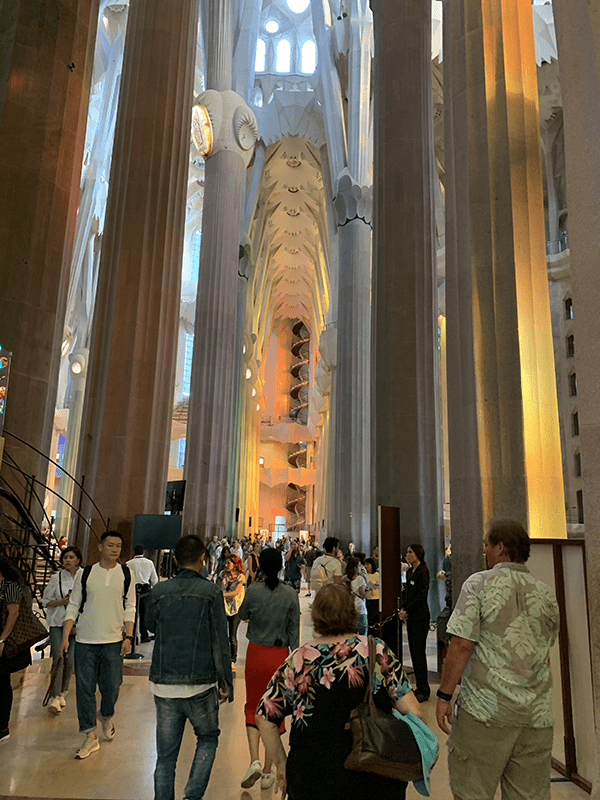 Stairway to Heaven?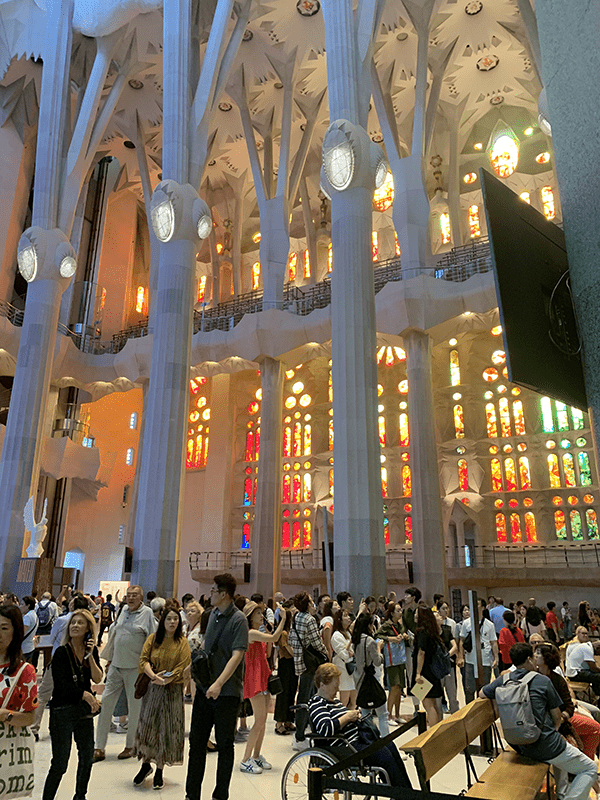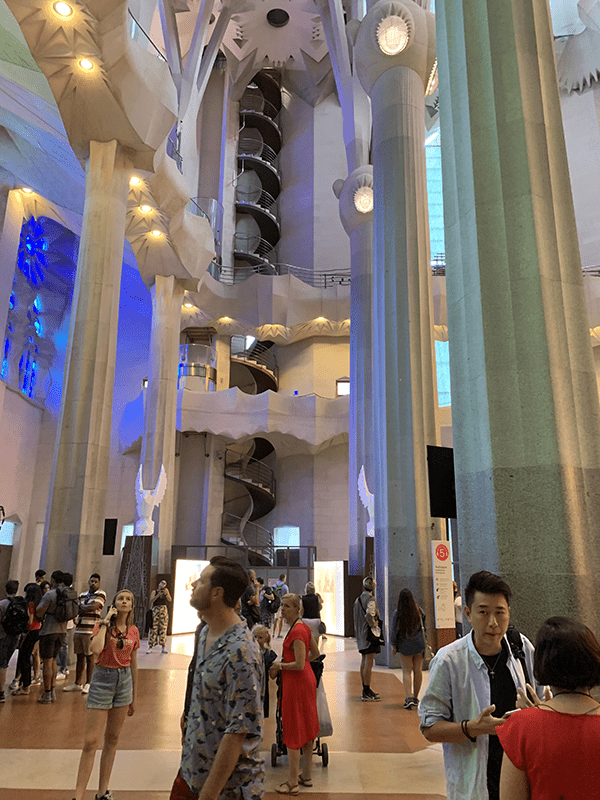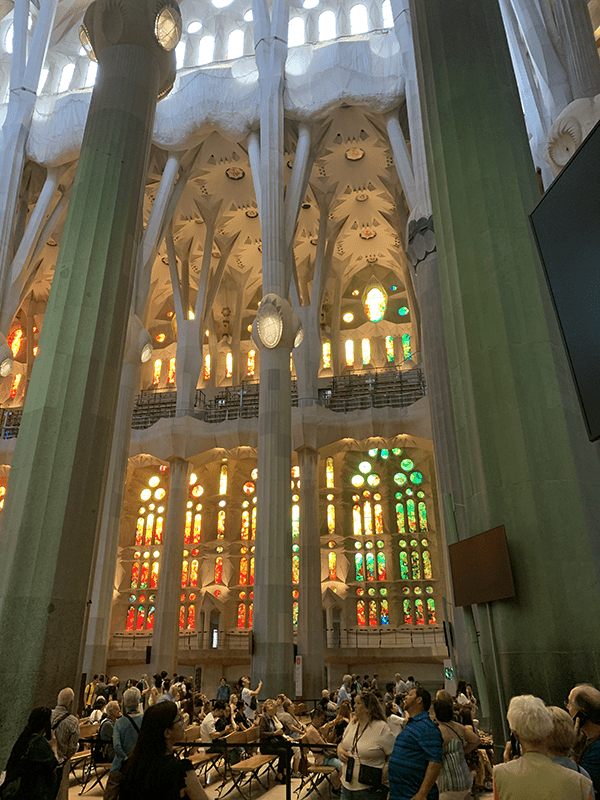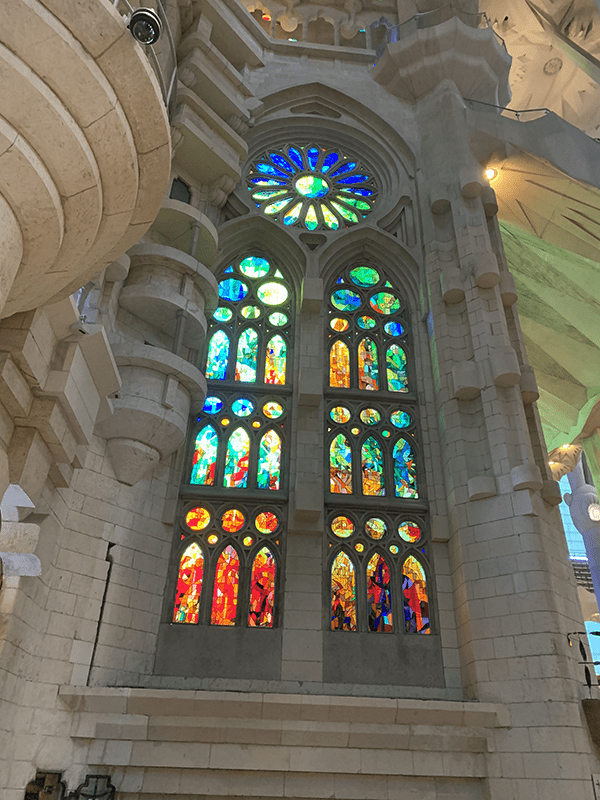 Gaudi Museum and Barcelona
[ Pix coming soon! ]
Recently updated on February 3rd, 2021 at 12:27 pm