Why not? As I've said in the past,
I love frivolous CNC projects
. What could be better than a precision machined YoYo that looks and performs way better than anything you can get at the local toy store?
I confess, this one has been on my mind ever since I came across an article about CNC'ing Yoyos back in 2006 on Practical Machinist. Here is the YoYo from that article: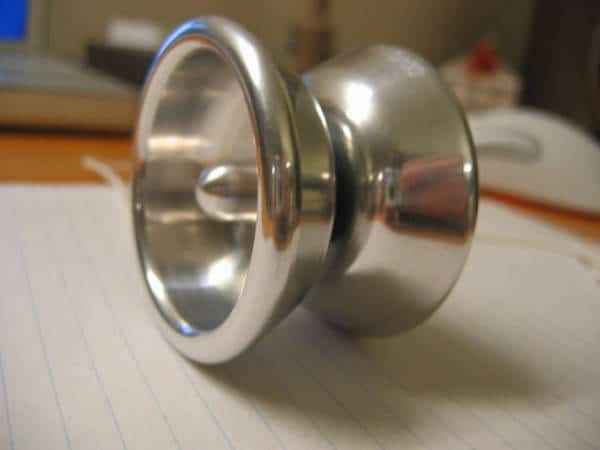 The CNC'd YoYo that caught my eye…
And here is my quick and dirty CAD drawing that's been kicking around ever since: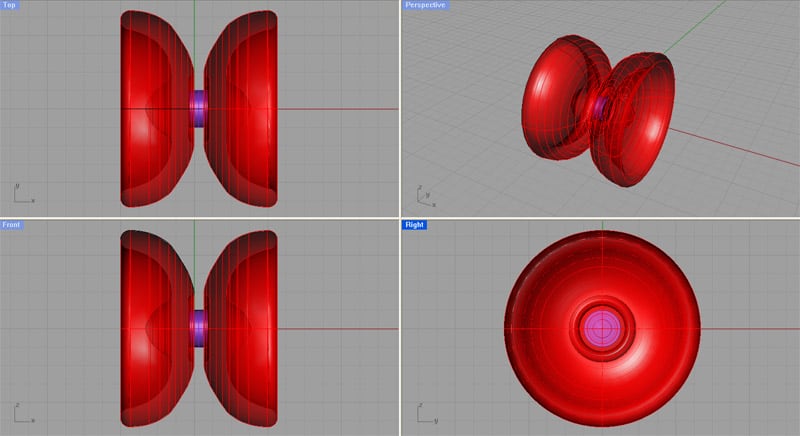 My original CNC YoYo sketch…
Since then, I have kept eyes peeled for similar projects. In this article, we'll take a look at some of the important design principles if you want your YoYo to perform well.
Shape and Balance for Maximum Spin
Generally, you want a profile that puts as much weight as possible out on the rim. This will give you maximum spin. Here's a good cross section of a high performance YoYo showing such a profile: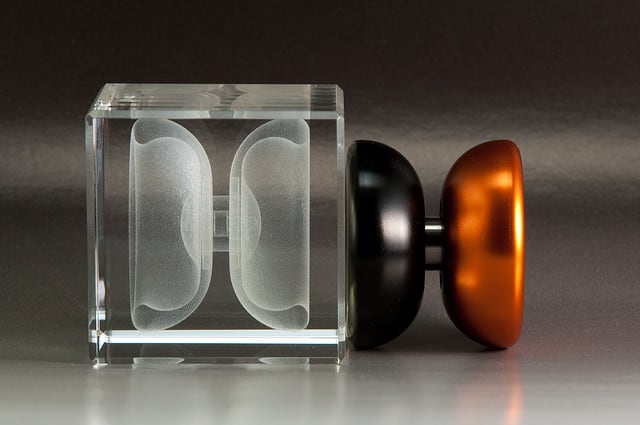 This is an ILYY E1ns YoYo I saw over on TheYo.com…
Note how the rim is thin towards the center and thickens at the edge to promote the best edge weighted balance. I imagine if you wanted to go to the trouble you could even engineer a two piece rim where the outer piece was made of a heavier material.
Axle Bearing
Most high performance YoYo's are set up with a ball bearing on the axle. This creates very low friction with the string. Typically, there is a press fit of the bearing to one half of the YoYo, and the other half may press fit to a protruding hub or it may thread onto the hub. You will want to be able to take the YoYo apart to replace the Response Pads from time to time. Suitable bearings are easy to come by from sources like VXB.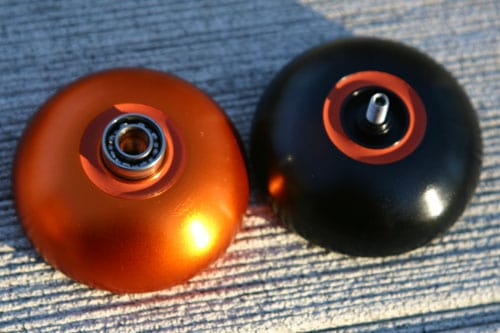 Nice shot of the axle bearing and a threaded stud to hold the halves together from HighspeedYoYo.com. You can also see the groove where the Response Pad (see below) will go…
High Performance Response Pads
The friction is so low with a bearing hub that there's nothing for the string to grab to make the YoYo come back up unless you install a response pad: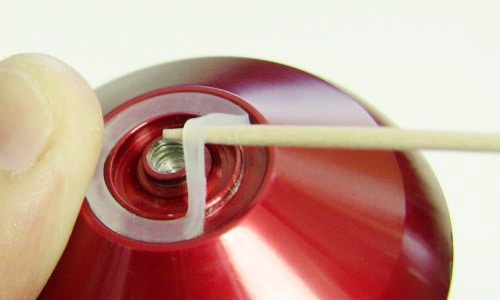 Response Pad: Silicone rubber pad is glued down in a groove around the bearing…
Presentation Case
A YoYo that's had this much care lavished on its design and construction deserves to have a premium presentation case made for it as well. A site called GordsGarage.com has a great article on making a YoYo for his daughter's school fund raising auction and I thought his presentation case was particularly neat: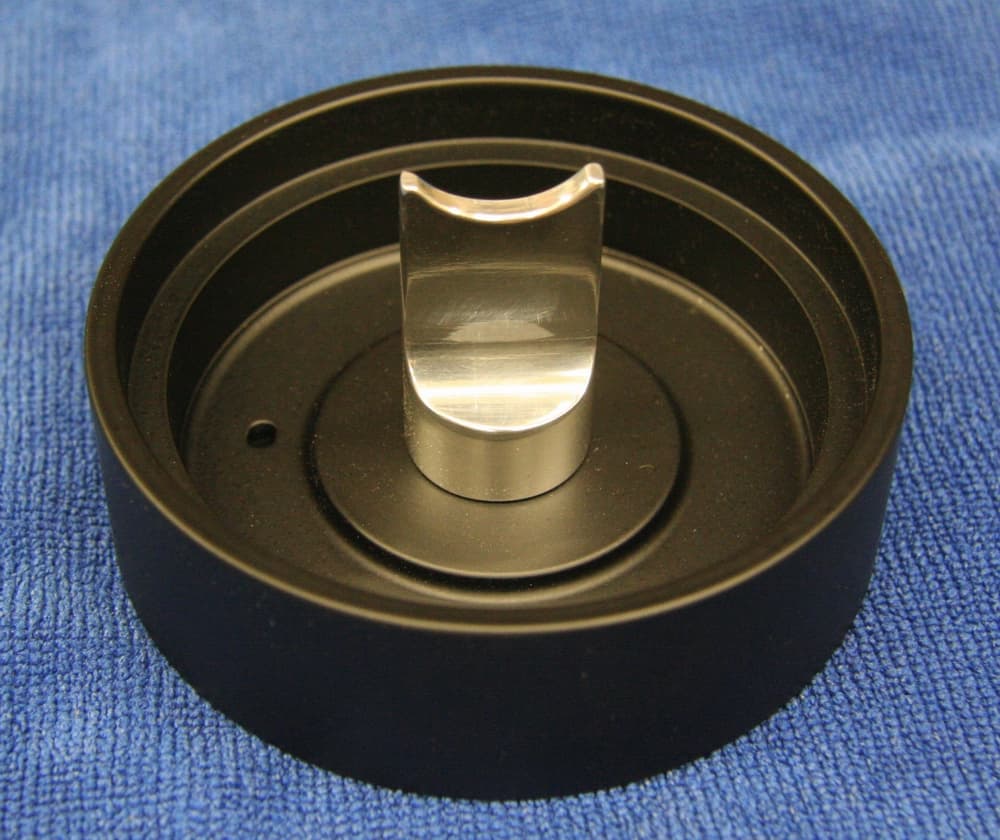 The YoYo just drops onto the pedestal…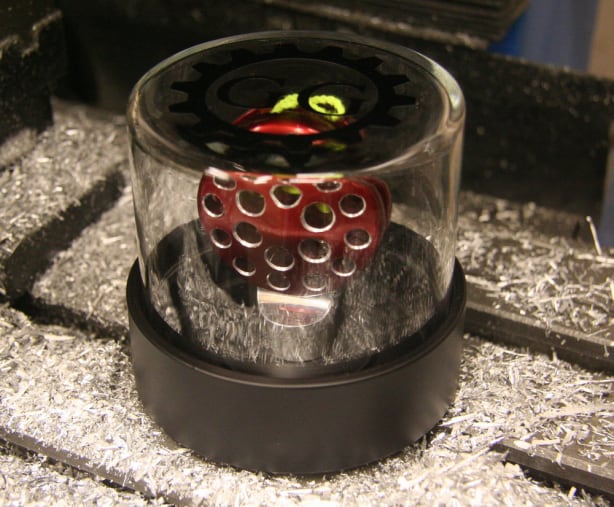 The glass top was purchased separately and the base was machined to fit. Now that's Genius!
It's been years since I played with a YoYo, but I may just have to give this project a go some day soon!
Like what you read on CNCCookbook?
Join 100,000+ CNC'ers!  Get our latest blog posts delivered straight to your email inbox once a week for free. Plus, we'll give you access to some great CNC reference materials including:
Our Big List of over 200 CNC Tips and Techniques
Our Free GCode Programming Basics Course
And more!
Just enter your name and email address below:
100% Privacy: We will never Spam you!
Bob is responsible for the development and implementation of the popular G-Wizard CNC Software.  Bob is also the founder of CNCCookbook, the largest CNC-related blog on the Internet.