Remember those MIT students that had the crazy handheld "CNC" router?  That was one of the all-time popular articles for CNCCookbook back in the day.  Well, it seems they've started a company they call Tactia to build these routers and a lot more.  It's not quite full CNC, but much more than ordinary hand tools.  Here it is in their own words:
CNC enables complex shapes to be economically produced and shared across the world. However, the process of using CNC is still complex, and somehow doesn't feel human. That is where we come in. We have figured out how to blend the power of computer control with the flexibility, simplicity, and pleasure of using a hand tool. Whether you are a traditional craftsperson or a CNC guru, our tools will change the way you work.
Here are some projects done by a novice woodworker freehand using one of their routers:
I don't know about you, but that looks to me like extremely nice work from a novice woodworker.
These routers work by letting the human hand guide the gross positioning while watching a screen and having the machine adjust the micro-position to be faithful to the design.  That's why the letters and edges all come out so nice and straight.  Our original post has more details about how the machines work, but I'm glad we've gotten at least a little news about what they're up to.
My next question is, "How about a 3D Printer that uses these principles?"  I have little use for the 3D Printing pens.  Maybe they're handy for welding pieces together or making repairs to some 3D Printed part, but as for creating an entire object with one?  No thanks!  My hand isn't steady enough.  But, apply these same principles and the result could be magic.  Let the hand get the extruder to approximately the right "close enough" location and then micro-adjust the tip for a perfect result.  There are several beautiful things about this kind of approach for CNC and 3D Printing:
1.  Work envelopes can be big without being expensive.  The device just needs a way to navigate that space.  For these Tactia routers, that's a function of the odd "domino" stickers you see in the photo.  For an augmented 3D Printer Pen, it could be a function of something like the CMM Arms that can allow you to precisely measure or even a 3D haptic input device: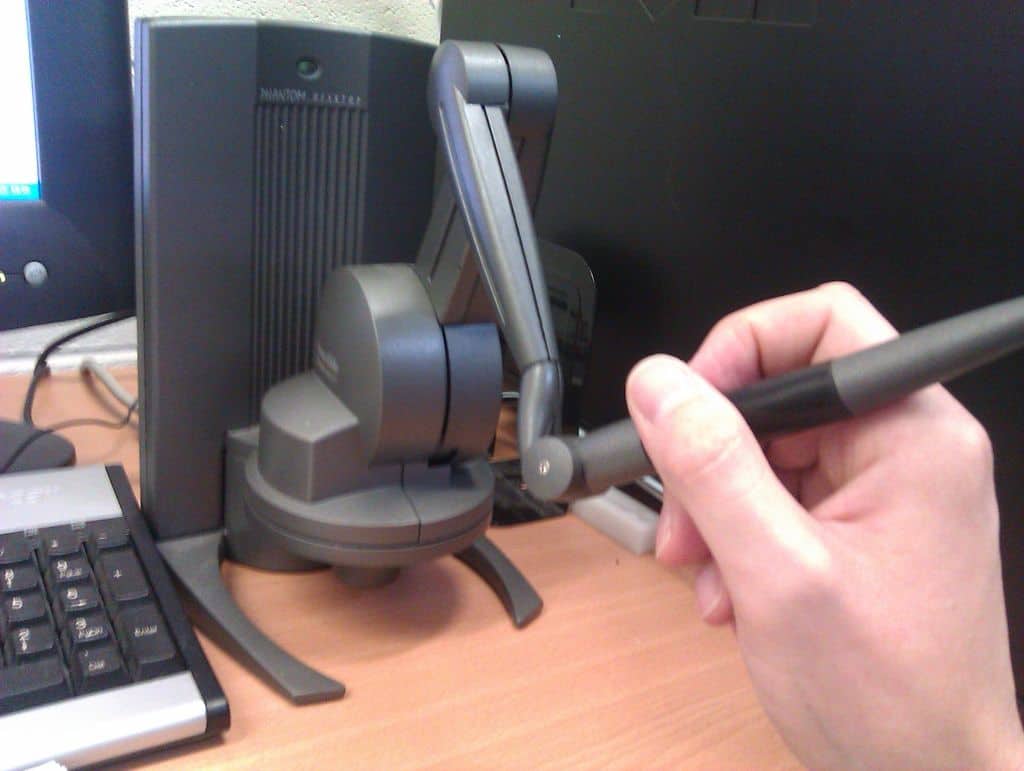 3D Haptic Input device combined with a micro-positioner would make a true 3D Printing Pen…
2.  There is much more "hands on" involvement with these devices, like the Tactia folks say.
3.  They enable price points that are hard to achieve with a full scale CNC machine because they're smaller and simpler mechanically.
4.  Because they're "appliances" that perform specific functions, they can be much simpler to interact with than a full-on CNC machine.
It'll be fun to watch this area unfold over time.  The applications are endless:
–  Cake Decorator
–  Hot Rod Pinstripping
–  Custom sign work
–  Airbrushing
–  Engraving
Anything that requires very fine positioning could benefit.
Like what you read on CNCCookbook?
Join 100,000+ CNC'ers!  Get our latest blog posts delivered straight to your email inbox once a week for free. Plus, we'll give you access to some great CNC reference materials including:
Our Big List of over 200 CNC Tips and Techniques
Our Free GCode Programming Basics Course
And more!
Just enter your name and email address below:
100% Privacy: We will never Spam you!