Now that I have several of the Conversational CNC Wizards up and running, I decided to go back and work on the UI to get it closer to what the final look and feel will be.  The latest GW Editor version has the new UI: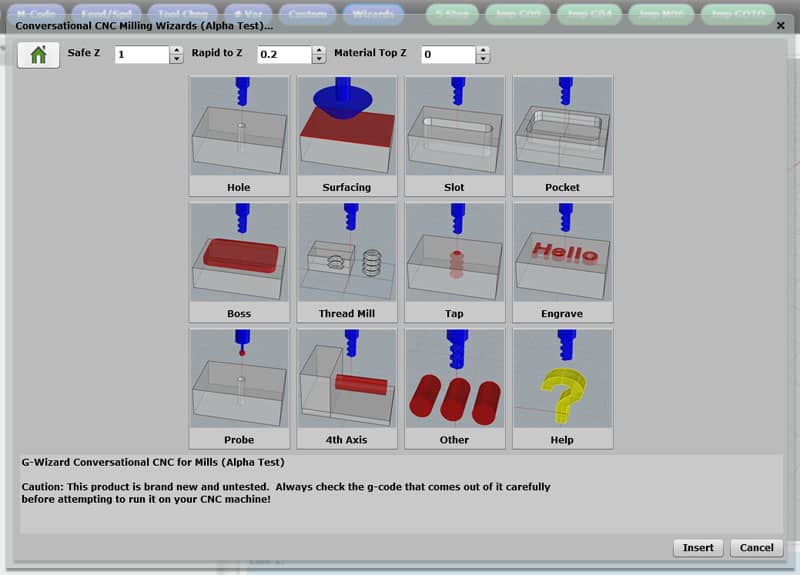 The individual Wizards also carry the thumbnail:
The Wizards are generally looking a lot tidier and friendly to use.  If you click the Help button on the main page, it'll take you to some new User Guide pages I'm putting together as well.
More to come.  My focus at this time is to get all of the Milling Wizards nominally working.  On the Editor side, I am focused on adding a couple of new posts–LinuxCNC will be next up at bat likely followed by Heidenhain.
I am sometimes asked, "Why bother with Conversational CNC Wizards when I have a CAM program?"
The answer is simple.  Sometimes you just want to do something quick and dirty at the machine without having to go through the CAD/CAM cycle.  Manual Machinists are fond of saying they're faster than CNC'ers for simple one-offs, but if you have some familiarity with MDI and something like our Conversational CNC Wizards, you can be a whole lot faster.  It becomes easy to make simple ad hoc parts.  Also, in some cases, the tool paths provided by G-Wizard Conversational CNC are more sophisticated than what you get from many CAM programs.  If you're working with a tough material, you might find it advantageous to substitute our Surfacing Wizards or our Deep Hole Wizards, for example.  It's easy to make such changes in a program using our G-Wizard G-Code Editor.  In fact, Conversational CNC is built into the Editor, though it will eventually sell as an inexpensive add-on module.
If you haven't tried our G-Wizard Editor yet, try the free trial and check it out.  Whether you're just trying to learn the g-code fast or you're doing sophisticated programming, there are unique features there you'll find save lots of time.
Like what you read on CNCCookbook?
Join 100,000+ CNC'ers!  Get our latest blog posts delivered straight to your email inbox once a week for free. Plus, we'll give you access to some great CNC reference materials including:
Our Big List of over 200 CNC Tips and Techniques
Our Free GCode Programming Basics Course
And more!
Just enter your name and email address below:
100% Privacy: We will never Spam you!