G-Code is Complicated.
G-Wizard Editor Makes It Easy.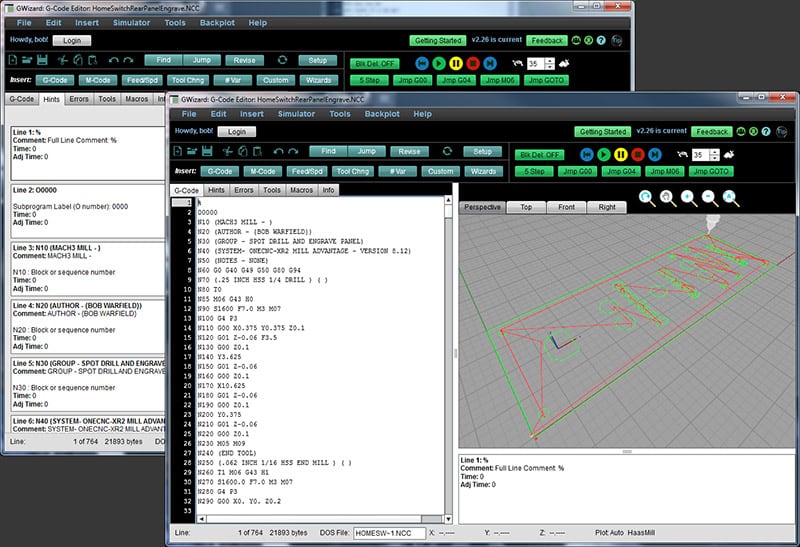 Let G-Wizard Editor Help You Learn and Understand G-Code the Easy Way
Here's a look at why thousands of CNC'ers trust G-Wizard Editor to Test and Prove their GCode.
It's very well thought out and seasoned. I am self teaching G code and couldn't find a more thorough simulator. Thanks Bob…
It's smarter than I am. I love the built in wizards and the simulator. I used to edit code, load into the machine. Dry run, edit, set to the offsets, and single block, etc. Now I do all the work in g-wizard. Setups are quicker.
G-Wizard is fantastic. Does not get any better than this. You follow your code as you write it. Displays the tool movement as well as the G and M codes meanings as you write. This makes checking and correcting a pleasure.
Ready to Simplify Your G-Code?
Quick setup. Free for 30-days.
You're in good company with GW Editor
| | | | |
| --- | --- | --- | --- |
| Made GCode Easier to Understand | Found Errors in CAM Code | Used G-Wizard to Increase Quality | Saved CADCAM Time |
| 40,892 times | 31,507 times | 42,903 times | 30,837 times |
| Improved CAM Code | Used Conversational Wizards instead of CADCAM | Hand Coded First Part Program | Reduced Cycle Time |
| 18,770 times | 18,099 times | 12,737 times | 20,781 times |
SOME OF THE WORLD'S MOST RESPECTED MANUFACTURERS TRUST G-WIZARD

See our Customer List >>
Show Me How G-Wizard Can Help With:
Get Started Simplifying Your G-Code Now!
Quick setup. Free for 30-days.