Recently updated on March 9th, 2023 at 04:55 pm
G-Wizard needs to know the capabilities of your CNC machine in order to do its job. The Machine Selector is how you tell it which machine you're working with.
You will find Machine Selectors on the Setup tab: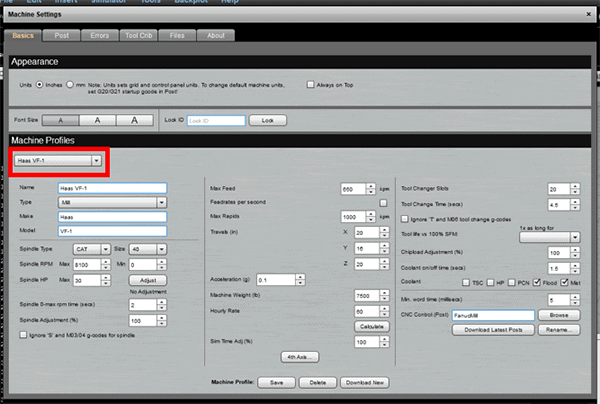 Or on pages that need to know the machine such as Feeds/Speeds in G-Wizard Calculator: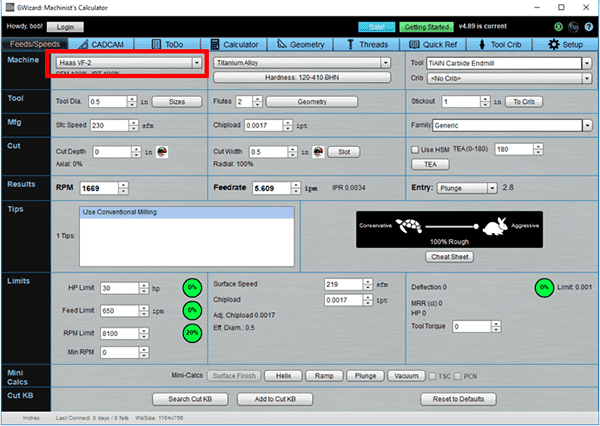 Click the down arrow on the Machine Selector to open it up. Here's what it looks like: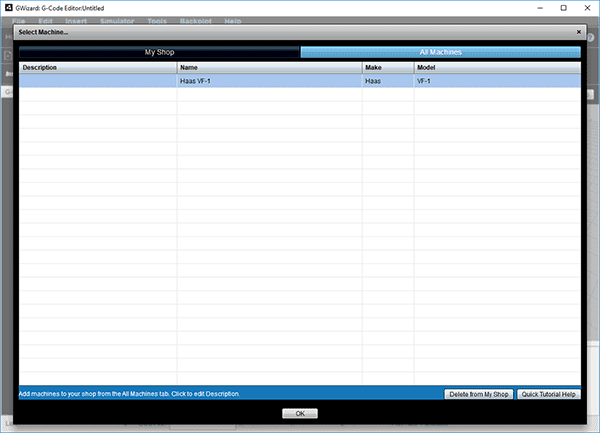 Notice there are two tabs at the top:
All Machines contains all the machine profiles we provide as defaults or that you've created on your own. It's very easy to create your own machine profile if you don't find your machine on our list.
My Shop is for the CNC Machines in your shop that you will use frequently. It saves time not to have to go through the big All Machines list when you have just the machines you're using in a handy list.
How do I Set Up "My Shop"?
First, go to the Setup tab in G-Wizard. You can only change "My Shop" from that machine selector.
Next, click the "All Machines" tab in the machine selector: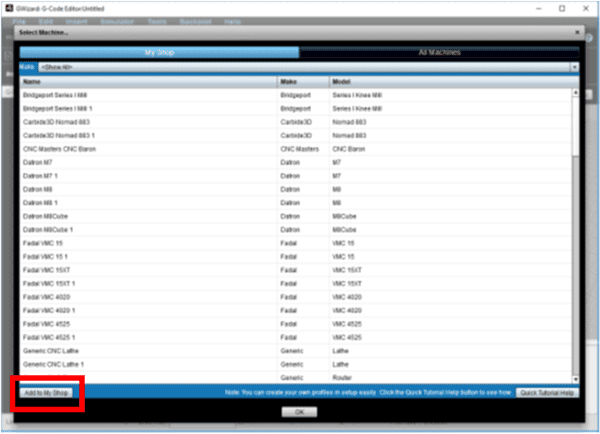 Just select a machine from the list and click the "Add to My Shop" button on the lower left. Select as many as you like.
There's a corresponding "Delete from My Shop" button on the My Shop tab should you change your mind or get rid of a machine. Just select it and click the Delete button.
That's all there is to it. G-Wizard will remember your list from one session to the next.
How Can I Add New Machines to All Machines?
This is easy to do. Bring up your "Getting Started" tours. There's a button in the top right area of your G-Wizard software's window to do that.
One of the very first choices on the tours will walk you through how to create a machine profile.
If you want us to create a machine profile for you, we'll do it for free. To request a machine profile, just send us an email to "sales@cnccookbook.com" and request a profile.
Be sure to tell us the machine's make and model. If you can give us a link to the manufacturer's page where the machine is shown, it will help us a lot.
Assuming we can find sufficient information about your machine on the Internet, you should have your profile created with a couple days.