Why a DIY CNC Router Kit?
I've wanted to do a video project series for a while and decided building a Shapeoko CNC Router Kit was the right one.  We needed to get an entry-level CNC in, it'll be the precursor for more project videos done with the router, and I wanted to get a DIY CNC Router in-house as well.
Killed 3 birds with that stone!
Why the Shapeoko and not some other DIY CNC Router?  Why not build a killer DIY CNC Router from scratch?  Why a CNC Router Kit?
The short answer is the Shapeoko has a killer price performance ratio–big value for the money.
Carbide3D / Shapeoko (Carbide3D is the company and Shapeoko is their product) absolutely rocked the Customer Satisfaction scores for two years running in our CNC Router Survey.  I knew people really love their Shapeokos!
Why not do a DIY CNC Router from scratch that's much more capable than a Shapeoko?
While it's certainly possible to build a big honking DIY CNC Router from scratch, it's a huge amount of work.  I've done a DIY CNC mill project: I converted an RF-45 to CNC.  It was a full-on effort with servos, powered drawbar, way oilers, flood enclosure, and many more mods.
But dang, it was a lot of work.
I spent close to 2 years doing nothing but working on that mill in my spare time.  Plus, I spent about $6500 on it, all told.  As I was preparing to embark on a spindle upgrade plus tool changer, and bought a Tormach spindle cartridge for the project, I realized I would save a huge amount of time and be making parts sooner if I sold my existing mill and bought a Tormach.  So I did, and I have never looked back.
These days, CNCCookbook has grown considerably and I have even less spare time for a big project.  I don't want to take a year or two building the machine–I want to get it done and do some nifty projects with it!
But, I didn't want to just get a finished CNC Router either.  So, a DIY CNC Router Kit was a good answer–much shorter build time as well as lower cost than finished CNC Router.
My other problem is I don't really have room for a full-sized 4′ x 8′ CNC Router.  I think that's what it would take to seriously outperform the Shapeoko.  I picked the XXL model, which has a large work envelope– 33″(X), 17″(Y), 3″(Z).  It weighs in at 115 lbs.  A full-sized router would be more like 1000 to 1500 lbs for a beefy rigid machine, but there's no way I have room for that.  The Shapeoko XXL is reasonably rigid for a hobby machine and has a large enough envelope for the projects I have in mind.
In the end, this machine killed 3 birds with 1 stone:
Great performance and work envelope in a hobby class machine.
A CNC Router Kit can be built pretty quickly in my spare time.
Great value for the price–easy on my budget!
Speaking of projects, I wrote an article that gives a lot of great examples of what's possible with a Shapeoko CNC Router.  Check it out for even more ideas, but here's one of the most amazing.  Check out this crazy rubberband gun project:
Built with a Shapeoko DIY CNC Router!
Let's get started.
Taking Time-Lapse Videos
I'll be detailing the build with a series of time-lapse videos.  I've always loved them as they're unusual and they do a good job of speeding you through something in an interesting way.
A time-lapse video is a series of still shots taken at a fixed interval and usually from a fixed location.  I'm building the Shapeoko on our dining room table (my wife indulges my odd habits), so I set up a tripod so I can run the camera from the same place each session.
I'm using a Sony Nex 5t mirrorless camera, which I really like.  It's no longer the latest thing, but when I got mine about 3 years ago it was very well reviewed.  A more modern equivalent would be the Sony A5100: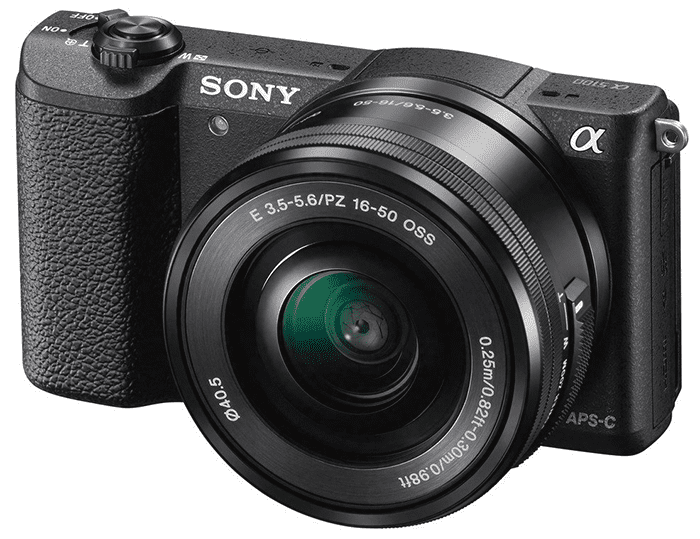 Sony A5100 Mirrorless Camera…
The A5100 is still extremely well reviewed and very reasonably price–$548 with 15-50 zoom lens as I write this.
You're probably wondering why I didn't go with a much fancier DSLR?
I went through the Uber-Camera face back in SLR days.  I have a fancy Nikon and a bunch of expensive glass (that'd be lenses) to prove it.  I took some great photos with it and was deep into photography for quite a while.  Then one vacation I realized I was lugging a whole bunch of gear and I was seeing most of my vacation through a viewfinder.  It suddenly dawned on me that while I liked taking photos, I hated that.  To top it off, the gear was really expensive.
Fortunately, the original Canon Elph came out in roughly the same time frame I was retiring the Nikon.  I loved its compactness and the ability to process images in my "Digital Darkroom" (aka Photoshop).  I was back to loving photography–it was easier, cheaper, less gear to lug, and I could enjoy my vacations again.  I went through a succession of more and more powerful digital cameras, but missed the flexibility of being able to change lenses.  The Sony Nex series was a revelation–best of both worlds!
I could have interchangeable lenses with very high quality in a form factor almost as compact as my beloved "snapshot" cameras.  The real secret of the Sony cameras is they marry a DSLR-quality sensor into that small form factor.  The combination of high quality optics and a killer sensor is amazing.  I can find very little reason to covet a full-on DSLR at this stage.
Getting back to time-lapse photos, here's another thing that's very cool about the Sony.  Normal you need a gadget called an "Intervalometer" to take time-lapse.  There are a few cameras that have a built-in capability, but not many.
Intervalometer for time-lapse photography…
Many of them aren't all that expensive, but it's just another thing to have to carry around, put batteries in, and avoid losing.  Fortunately, the Sony cameras have the awesome capability to download apps.  That's right–there's an app store just like for your phone.
The Time Lapse applet is only $9.95, so I grabbed it.
It has a zillion setting sit can do, but the important one was how long to wait between frames.  It takes a still shot at that interval, and then stitches them all together so you get an AVI movie when you're done.
For my first time-lapse, I used 1 second.
Typical online videos are at 20 frames per second, so taking 1 shot a second is a 20x speed up.
I think it turned out decently and will be great for this project series.
Unboxing the Shapeoko
The first video in the Shapeoko build series is the unboxing.  My Shapeoko XXL arrived in two boxes–a small one and a very heavy (over 100 lbs) big one.  My friendly UPS driver loves to leave heavy boxes at the bottom of my steep driveway.  I think she's afraid she won't be able to turn her truck around at the top.  So, I ran down there with my dolly and I huffed and puffed and humped the box up my hill and into the house.
Whenever I'm opening boxes, I always reach for my handy "TUKK":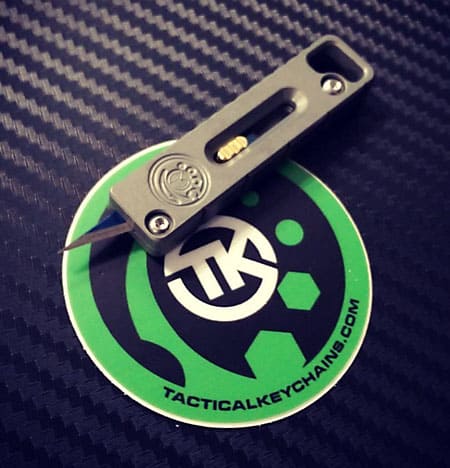 The TUKK is perfect for opening boxes…
The TUKK is made of Titanium, and uses a replaceable X-acto blade.  It's pocket-sized and perfect for opening boxes.  Even better, TUKK's are made by Tactical Keychains, who are a G-Wizard customer, LOL!
Owner Brad is a great guy and I highly recommend a TUKK for your keychain.  Best pocket lint ever, um, I mean, best tactical everyday carry thingey ever!  Sorry, I tease Brad and others about all that "Tactical" gear every chance I get.  Still waiting for a Tactical Titanium Toothpick, fellas!
Okay, enough of all that.  Here's the unboxing:
Dang that zipped by in a hurry, but you get the idea.  Everything is well packed and secure.  There was a 2″ hole in the side of the box (there's almost always some ding in my big boxes), but no CNC Router parts were injured in the making of this film.
I'm going to get started assembling this thing tomorrow (need to attend a friend's wedding today!), and I'll keep you posted via time-lapse videos.
It's going to be a lot of fun having this potent little DIY CNC Router in the CNCCookbook workshop!
Any Shapeoko build hints from owners out there?  Please share in the comments below!
PS  Don't forget to sign up for our weekly email newsletter below.  You don't want to miss the future installments of this build series!
Like what you read on CNCCookbook?
Join 100,000+ CNC'ers!  Get our latest blog posts delivered straight to your email inbox once a week for free. Plus, we'll give you access to some great CNC reference materials including:
Our Big List of over 200 CNC Tips and Techniques
Our Free GCode Programming Basics Course
And more!
Just enter your name and email address below:
100% Privacy: We will never Spam you!