G-Wizard Editor's clock has turned over the 2.0 mark.  There've been a lot of changes and improvements made to it and the product is still growing very rapidly.  The current focus has been on adding a new Conversational CNC Wizard every week, although we added a new FADAL post as well recently.
This week's addition is a Grooving Wizard that can do OD and ID grooving.  Grooves are an important feature for many parts.  What's unique about them is there isn't much room for the tool to work in, so grooves are typically made by plunging the tool straight in rather than sweeping it across the part as in OD Turning.  Here's what our Grooving Wizard looks like: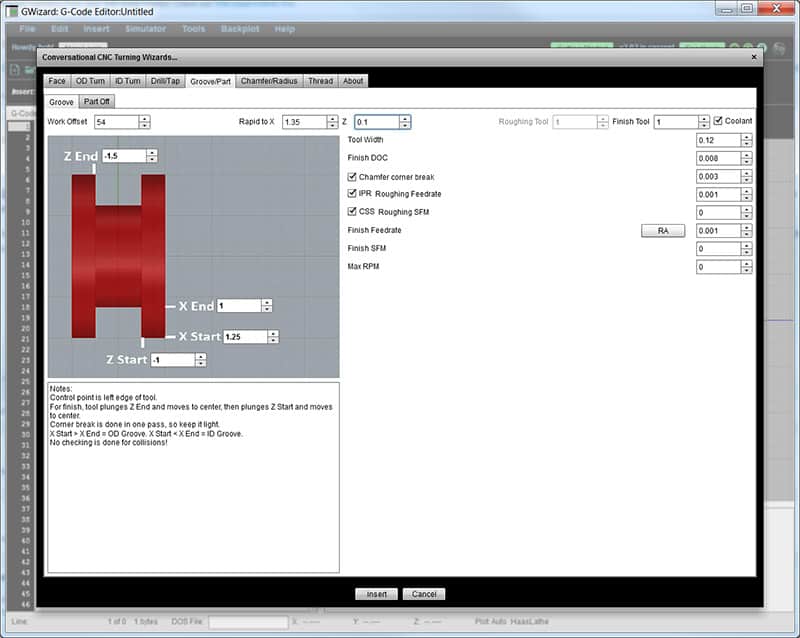 The layout is much the same as the other conversational wizards.  The goal is to fill out the questions left to right, top to bottom, and then press insert to get the g-code.  It's very easy to make simple parts this way, and many lathe parts are especially well suited to Conversational CNC.
Here's a video demonstrating the whole process:
[youtube width="800″ height="540″]http://www.youtube.com/watch?v=-ULbwJnMN9k[/youtube]
I'm just putting the finishing touches on the Parting Wizard, which lives on a sub-tab with Grooving, so that's the next Conversational CNC installment for G-Wizard Editor.
If you'd like to play with the Conversational CNC features, we offer a free 30-day trial of G-Wizard software with all features enabled.  Check it out!
Like what you read on CNCCookbook?
Join 100,000+ CNC'ers!  Get our latest blog posts delivered straight to your email inbox once a week for free. Plus, we'll give you access to some great CNC reference materials including:
Our Big List of over 200 CNC Tips and Techniques
Our Free GCode Programming Basics Course
And more!
Just enter your name and email address below:
100% Privacy: We will never Spam you!