This is the 3rd part of our series on 4th Axis Machining.  In this post, we'll talk about workholding and the 4th Axis.
It should come as no surprise that 4th Axis workholding is pretty similar to workholding on a plain old mill table.  Heck, many Horizontal Mills don't have anything but a palletized 4th Axis Tombstone as their "table".  So, we'll work through the workholding options and they'll seem pretty familiar.  I'm going to order them for familiarity relative to the table, rather than necessarily based on how often each one is used.  We'll talk about the latter as we consider each case.
4th Axis Vise
Since we're working in order of familiarity, I thought we should start with the ability to stick a normal milling vise into a 4th Axis arrangement.  Stallion makes one such:
In fact, the Stallion is a bit more versatile because it isn't just for vises–it's basically a fixturing system:
I've written at more length on Stallion's Trunnion fixtures in another post.  They're very slick, but you need to make sure they solve the problem you need solved for your 4th Axis.  In particular, the access to the part is going to be limited to the access you can get form a vise.  As such, you'd be looking to use a Vise on your 4th Axis largely because it is super easy, familiar, and to gain access to 3 sides of the work rather than just the top in a single setup.
Note that on a big Horizontal Mill tombstone, you may mount multiple vises on 4 sides of the tombstone and even more than one on each side.  That creates a lot of capacity!
4th Axis Tombstones = Mill Table Fixture Plates
Tombstones correspond to Fixture Plates on a mill.  There are many different shapes and sizes of Tombstones available for 4th Axes.  Here's one I've shown before from a big horizontal milling setup:
A 4th Axis Tombstone on a Horizontal Mill…
The vertical mill version is similar, but typically a bit smaller: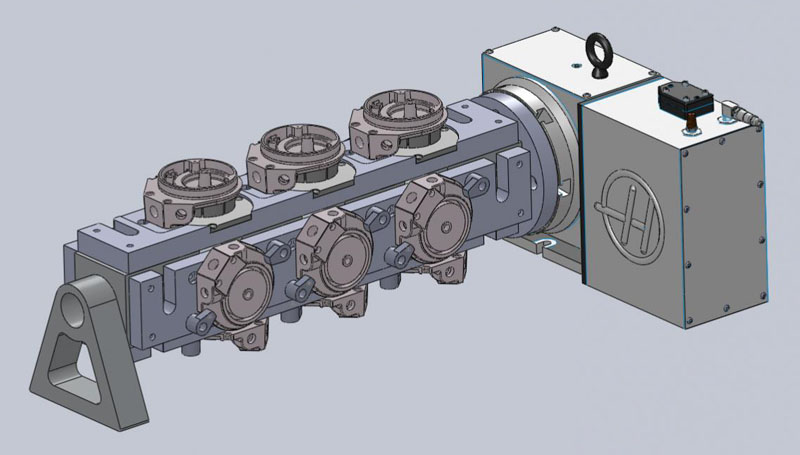 Tombstone on a vertical mill…
The goals with Tombstones are usually to get access to more parts, more sides, and to make swapping many parts into and out of the machine go fast.  You're typically putting parts on or off the fixture plates while the machine is running and as soon as it stops, you swap either the fixture plates or the whole tombstone to get the machine running again quickly.  Depending on the size of the part, you made need an offset arrangement more like the Stallion version pictured above.
4th Axis + Lathe Chucks
For round parts, and for many things that go 'round, lathe tooling is where its at.  After all, it's optimized to do workholding along a rotating axis.  Hence, it's very common to mount lathe chucks on your 4th Axis:
Machining a gear with a 4th axis…
All the same ideas that apply to which chuck to use in a lathe work for 4th Axes on mills.  Years ago, I put together a chart that has been useful to me in turning work and we can refer to it here too:
| | | | | |
| --- | --- | --- | --- | --- |
| Method | Precision | Repeatability | Convenience | Notes |
| 3-Jaw Self-Centering Chuck | Low | Low | High | Common, cheap, simple. Low precision, low repeatability if you remove the workpiece and have to put it back. |
| 4-Jaw Chuck | High | High | Medium | Can be time consuming to individually adjust the jaws, but will result in high precision. Can hold pieces offset for turning cams or eccentrics. Can hold irregular shapes and square or rectangular stock. |
| 6-Jaw Self-Centering Chuck | Medium | Medium | High | Best for thin wall work or to grip finished edges of workpiece. Obviously good for hex stock. |
| Faceplate Turning | Varies w/ Setup | Medium | Low | Great for irregular shapes. Involves clamps like a milling setup. May need counterweights to keep things balanced. |
| Turning Between Centers | High | High | Low | Great precision, allows part to be put back between centers with very high repeatability. |
| Constant Face Turning | High | High | High | The modern alternative to turning between centers. Instead of using lathe dogs, which are kind of a nuisance to set up, the constant face system uses hydraulic or other force to grip and drive the spindle end. You can now buy these systems relatively cheaply on eBay (see seller 800Watt who sold me mine). |
| Collet Chuck | High | High | High | Fast, high precision, high repeatability, grips well, unlikely to mar workpiece, grip spread over a wide area. Expensive chucks and collets. Handles limited lengths. Workpiece must be round and must fit nearly exactly to the collet size. |
| Expanding Arbors | High | High | High | These work from the inside out rather than the outside in but are otherwise much like collets. |
"Repeatability" applies to the ease with which you can remove a part and put it right back into the chuck in exactly the same position so you can continue machining.  It's a big factor to consider, but typically isn't as important for 4th Axis work as it is for turning.  When turning, for example, you often have to swap a part end for end, or you may have to take an existing part and put it in the lathe to rework some aspect.  With a 4th Axis, you will often just stick in a piece of raw material, in which case Repeatability is not a factor.  Hence the ubiquity of the relatively non-repeatable 3-jaw chuck for 4th Axis work.
Turning between centers happens fairly often with a 4th Axis just because you have to make sure you're supporting any part with significant overhang out at the end too.  How much is significant?  I was taught 3 or 4 diameters was about a much as you want to hang off the chuck on a lathe before you start looking for more support.
Collets are really nice for turning work (hence the ubiquity of the old Hardinge Lathes and their 5C collet system).  They get high marks on just about every aspect.  It's no coincidence that the original Haas 4th Axis had a 5C indexer: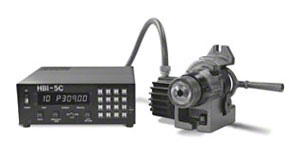 Original Haas 4th Axis incorporated a 5C Collet Indexer…
Perhaps the biggest shortcoming of 5C collets is they only allow for parts of relatively limited diameter.  This can be overcome by turning things on their head.  Consider this setup:
I never would have guessed it, but Geof on CNCZone says the following 4-axis mill set up was able to machine these aluminum bars to length, ensure the faces were square, and drill and tap a hole faster than he could do it in a lathe.  You can imagine each of those 4 parts being a 5C spin indexer and suddenly you fit quite a few more parts on your 4th Axis.
Conclusion
Workholding and Fixturing are always an art that it pays to learn well.  I'm always on the lookup for clever setups and fixtures and you should be too.  The 4th Axis opens whole new avenues for fixturing and setup.  For next week's installment, I want to spend a bit of time talking about 4th Axis work for wood on CNC Routers.
Like what you read on CNCCookbook?
Join 100,000+ CNC'ers!  Get our latest blog posts delivered straight to your email inbox once a week for free. Plus, we'll give you access to some great CNC reference materials including:
Our Big List of over 200 CNC Tips and Techniques
Our Free GCode Programming Basics Course
And more!
Just enter your name and email address below:
100% Privacy: We will never Spam you!