I'm just back from visiting Tormach to play with their new CNC lathe.  I'm involved in their pre-release Beta Test program and am purchasing one of these lathes for my own shop.
What's it like to visit Tormach?
The best word I have for it is "Exhilarating."  Everyone I met there is very bright, experienced, and hugely enthusiastic about Tormach and the mission they are on.  Greg Jackson, CEO, described it to me as bringing CNC to folks who couldn't have afforded it before.  They are pushing the lower edge of that price envelope as hard as they can without compromising quality.  I've certainly heard no end of stories about people who started one man CNC businesses with a Tormach machine, and I think Greg and his people are carrying out their mission extremely well.  Part and parcel of that mission is making CNC easier for everyone.  Towards that end they are always on the lookout to simplify the products and make them easier to use.  They have excellent Technical Support, but they're trying to make products where you don't even have to use the Tech Support because they're so easy.
For example, the new lathe comes with a set of built in Conversational Wizards.  I was able to use them to make a simple part very quickly and with almost no help.  I didn't have to read a page of documentation either.
I spent several hours hands on with the machine as well as many more hours discussing it with the Tormach staff.  It's really an impressive project that they've put a lot of effort into and I am seriously looking forward to getting my hands on my own Tormach lathe.  The only thing I have to compare it to is a friend's Romi Toolroom lathe with Fanuc control and conversational capability.  I approached my sample part much the way I had seen that machine work and was found the Tormach user interface to be easier and more productive than the Fanuc control.  I also really liked Tormach's new LinuxCNC interface for the lathe.
This is a departure for them, since their mill runs Mach3–the lathe runs LinuxCNC.  It comes to you essentially as an "appliance".  Linux is inside all sorts of things you may not have dreamed of, such as your Tivo box if you have one for your TV.  Tormach has packaged up a Linux PC with the lathe and put a very pretty UI on it.  You don't really have to know or care that it is running Linux, it just seems like a dedicated control is built into the machine.
I'll have a lot more to say about the lathe and software after mine is delivered, but for now, here are a few pictures from the trip:
Tormach is located in an idyllic area of Wisconsin near Madison.  This red barn and silo were right across from the Comfort Inn I stayed at.  People in the Midwest are also so friendly!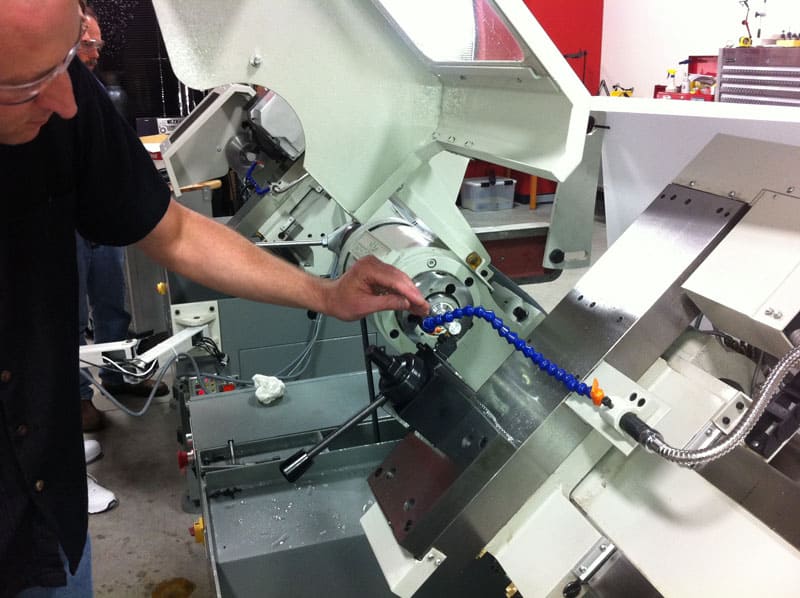 Each of us was assigned a Tormach machinist to be their guide and mentor with the new machine.  Each of our machines had a placard announcing whose was whose.  Here's my mentor adjusting center height on the tool with a 6″ steel rule.   We were just fooling around, but the difference in surface finish between "eyeball adjusted" and ruler adjusted center height was huge.  These machines are capable of very nice surface finish…
I wanted to make what I call a "walk up" part.  No CAM software, just a print or vague idea of what you want.  The kind of thing manual machinists always say is so hard with CNC.  So, using their Conversational Wizards, I faced, did some OD turning, threaded, and chamfered, and within a very short time my "part" was done.  No CAM and I didn't really even need to understand g-code, though I dutifully single blocked and cut some "air" to make sure the programs were good.   This is going to be so handy!
If you push a lathe like this with gang tooling, you can fill a 55 gallon drum with chips in a day pretty easily.   The Tormach has a great chip tray, so it is set up to handle it…
Tormach is doing extremely well, so they're building a campus near their existing offices.  Looks like it's going to be a great facility.  I hope I get to go back some time and see it when finished!
Here's most of the Lathe Beta Test gang getting a tour of the new construction with Greg (in the hat)…
As mentioned, I will have a lot more to say about the lathe once I get it in-house in a few weeks.  Be sure you're getting the email newsletter so you don't miss any of it if you're interested.
I want to go step-by-step through some good projects on it.  I think the first one pretty much has to be a classic machinist's brass hammer since so many machinists build one in their introductory classes.  I think the Tormach lathe should make short work of it with the Conversational Wizards.  More soon!
Like what you read on CNCCookbook?
Join 100,000+ CNC'ers!  Get our latest blog posts delivered straight to your email inbox once a week for free. Plus, we'll give you access to some great CNC reference materials including:
Our Big List of over 200 CNC Tips and Techniques
Our Free GCode Programming Basics Course
And more!
Just enter your name and email address below:
100% Privacy: We will never Spam you!