Just uploaded a new version 3.2 of G-Wizard Editor which has a whole bunch of neat stuff added to the Conversational CNC module.
If you're wondering what "Conversational CNC" is, I'm so glad you asked!
Conversational CNC is designed to make simple work simple.  The idea is to make it quick and easy to produce g-code for simple tasks–quicker and easier than having to do a CAD drawing and run your CAM software. Instead, you just answer a few questions in the Conversational Wizard and it'll generate the code right away.
Conversational CNC makes it super fast and easy to do simple parts just like you would manual machining.  In fact, you'll be able to do a lot of things much more quickly with Conversational CNC than you ever could manual machining and all without ever starting your CAD or CAM software.  We think this capability is so useful and important that we include it free of charge with every copy of G-Wizard Editor we sell.  The combination of a great g-code editor, simulator, and Conversational CNC is a real productivity booster to have in  your CNC toolbox.
In this version, we added 2 major features.
Tool Table Access for Conversational CNC
G-Wizard Editor has extensive Tool Table support.  Go to Setup Tool Crib to view the Tables you pre-define: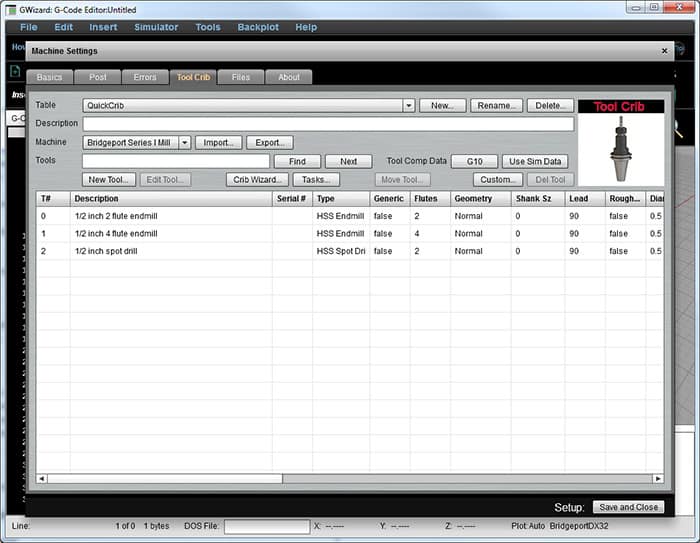 The Tool Crib page in G-Wizard Editor…
You can create multiple Tables in the Tool Crib, and a Tool Table might correspond to what's in your toolchanger for a particular job, your tool inventory, or whatever you like.  You can do a lot of different things with a Tool Table and there is even a Crib Wizard that'll generate tables with standard endmill and twist drill sizes.  What's new in this release is the ability to select the Tools from the Tool Crib in the Conversational Wizards.  Let's try this with the Surfacing (Face Milling) Wizard, for example.  You select the tool in the top section of the Wizard by clicking the button I've highlighted in red: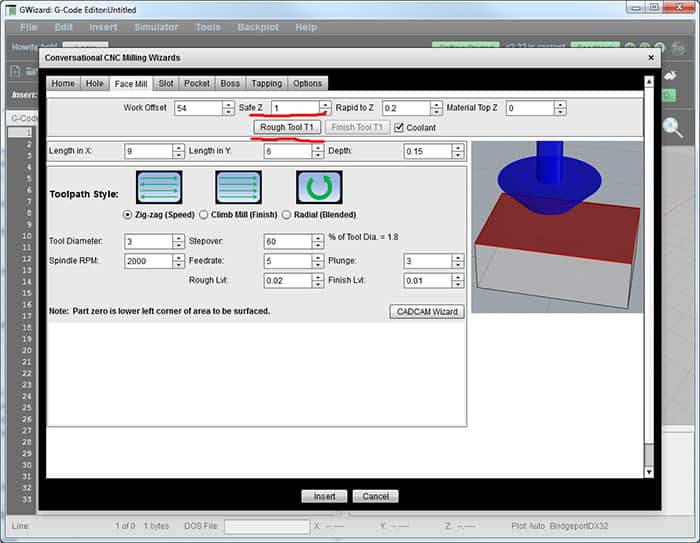 Tool Selector Button highlighted in red…
If you click the button, you'll get a Tool Selection Popup like this: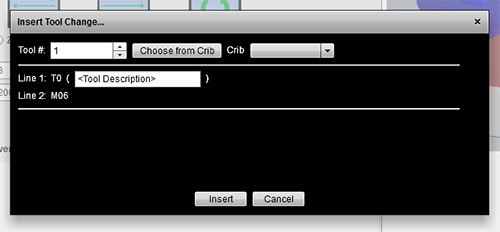 Tool Selection Popup…
You've still got the choice to select the tool by number, but in addition, you can choose a tool from the Tool Crib.  To do so, use the "Crib" dropdown to choose a Crib then click the "Choose from Crib" button: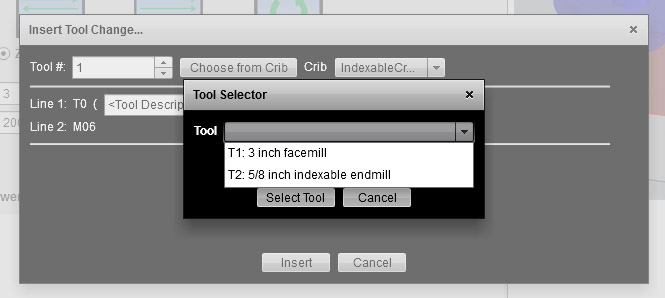 Choosing a Tool from the Crib…
For this example I had a Crib defined called "IndexableCrib".  It had entries for all my indexable mill tooling.  Having selected that Crib from the dropdown, I see the list of available tooling when I click the "Choose from Crib" button.  I want the 3 inch facemill.  Having made that choice, if I hover my mouse over the Tool Selection Button in the Wizard, a popup tool tip tells me what tool was chosen: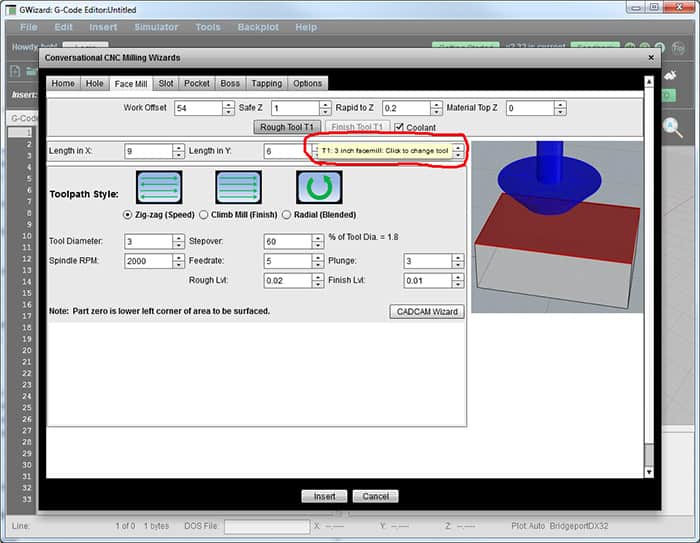 Tool Tip highlighted in red identifies which tool is selected from the Crib…
When the Conversational CNC Wizard generates its code,  you'll also get a comment in the code identifying the tool.
Customizable Posts for Conversational CNC
The other big news is a bunch of new options on the "Options" tab for the Conversational CNC Wizards: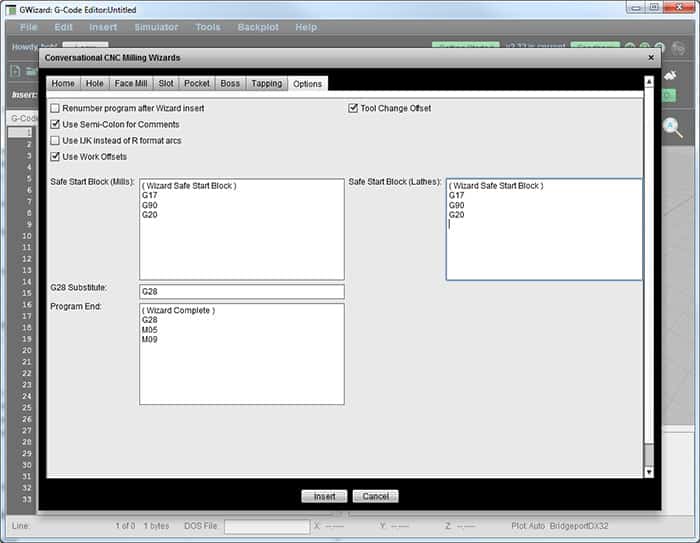 Conversational CNC Options…
These Options let you customize what the code coming out of the Conversational CNC Wizards looks like.  Here's what the Options do:
Renumber program: This will cause new "N" numbers to be generated according to whatever options are currently set in the Tools Revisions Renumber command.
Use Semi-Colon for Comments:  Use ";" instead of parenthesis for comments in Conversational CNC g-code.
use IJK instead of R Format arcs:  Pretty self-explanatory.  Personally, I prefer R format because it tells me something useful when I read the code, but some controls only support IJK.
Tool Change Offset: Tells whether to include the 2 digit tool offset number on the "T" word.  Not all controls want this.
Safe Start Block:  Enter whatever code you want to use for a safe start block.
G28 Substitute:  Use this code instead of G28 on tool changes.
Program End:  Enter whatever code you want to use at the end of a Conversational CNC program.
This gives considerably more power for folks to get their Conversational CNC g-code to come out the way they like it.
If you've never tried Conversational CNC or G-Wizard Editor, have a look at our free 30-day trial.  G-Code is complicated, but G-Wizard Editor will make it seem a lot easier to deal with.
Like what you read on CNCCookbook?
Join 100,000+ CNC'ers!  Get our latest blog posts delivered straight to your email inbox once a week for free. Plus, we'll give you access to some great CNC reference materials including:
Our Big List of over 200 CNC Tips and Techniques
Our Free GCode Programming Basics Course
And more!
Just enter your name and email address below:
100% Privacy: We will never Spam you!