Update:  Just finished the section on Controllers: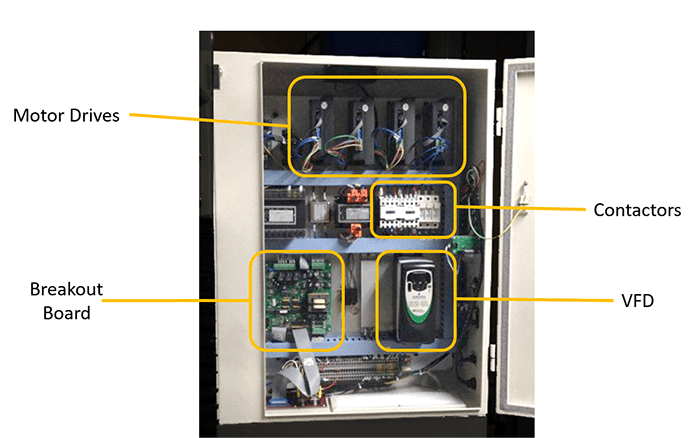 Our CNC Milling Machine Parts Guide has been hugely popular, I'm so glad I undertook putting it together!

But it's big in order to be detailed and complete, so it's not all finished yet.​​  This week, I'm launching the CNC Controller Guide.

It walks you through the software, drivers, and electronics that go into a CNC Controller.  In many ways, the CNC Control is the most important part of your machine–it's definitely the brains at any rate.  

Get a bad control and the machine is going to be miserable.  Probably unreliable and lackluster in performance.  ​​​​
I just finished the final edits on the CNC Controller section of our CNC Milling Machine Parts Guide.  It walks you through all the details of what the control does, what the individual electronic components do, how it all fits together, and how to go about choosing the best controller for your DIY CNC project.
Check it out here:
Next up: I will be filling out the accessories section with articles on accessories such as coolant systems, way oilers, and powered drawbars.  Be sure you subscribe to our weekly newsletter so you won't miss any installments!
What is the CNC Milling Machine Parts Guide?
If you're a DIY CNC'er, and particularly if you're a beginner just starting to look at building a machine, this new Guide is for you.
I've always loved exploded diagrams and modular articles that let you drill down from the big picture to the most intricate details.  They help you build a framework for how all the pieces fit together.  Having that framework in your head makes learning and understanding so much easier.  The mind wants a pigeonhole for everything and everything in its place for optimal thinking.
We've done that sort of article in the past.  Most recently with my "Beginner's Step By Step How to Make CNC Parts" series.  We've got way over 2000 articles on CNCCookbook, so having these visual maps of the content really helps.
This latest Guide breaks down a CNC Milling Machine into its individual components, explains what each component does, and goes on to tell how to spec out the best one for your CNC Project.
The CNC Milling Machine components are broken down along these lines:
CNC Milling Machine Parts Guide…
At this stage the Frame, Table, Spindle, and Axes sections are all there.  What's left are the Controller and Accessories.  I'll get on to those in the coming week or two.  For now, check out this great new resource:
And if you like it, be sure to scroll down and sign up for our email newsletter so you don't miss any future installments!
Software that will make anyone a better CNC'er
Get Better Tool Life, Surface Finish, and Material Removal Rates Fast.
It's that easy. You can install and get results in a matter of minutes.
Like what you read on CNCCookbook?
Join 100,000+ CNC'ers!  Get our latest blog posts delivered straight to your email inbox once a week for free. Plus, we'll give you access to some great CNC reference materials including:
Our Big List of over 200 CNC Tips and Techniques
Our Free GCode Programming Basics Course
And more!
Just enter your name and email address below:
100% Privacy: We will never Spam you!