Author: Frank Kovalchek, powered by Flickr.com. Under the copyright of their owners.
Note: I am bumping this back to the top of the articles for another week as I'd like to get more participation in the survey (see below). If you've tried one of these services, please tell us about your experiences in the survey.
What's a Manufacturing Marketplace?
We've all used online marketplaces that were designed to hookup buyers and sellers. Ebay is a great example as is Amazon or Kickstarter. A Manufacturing Marketplace puts people looking to have parts made together with Manufacturers. The emphasis is often on making it easy to get quotes. Here are a few examples: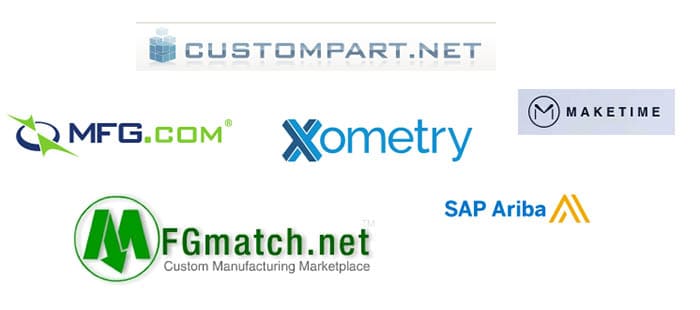 There are related companies, such as ProtoLabs, Plethora, and eMachineShop that make it easy to get online quotes quickly, but the difference is they do the manufacturing themselves. With a true Manufacturing Marketplace, you can sign up to do some of the manufacturing on quotes you win. In other words, they're a source of sales leads for your business, and that's where the controversy starts.
How Come They Seem a Bit Controversial?
Bring up the topic of Manufacturing Marketplaces and you'll get a polarized discussion going in a hurry. It's not quite as bad as asking whether people should learn manual machining before CNC, but it's close!
You'll get one group that swears they've gotten good results from Marketplaces and another that swears up and down they're a ripoff. There's usually not an awful lot in between.
Why so much passion? Right now, I can only speculate, but from the look of it, there's one group that spent a lot of money joining a marketplace and then never won any successful business. That's the sort of thing that will make anyone unhappy! The other group joined and was able to win some good business.
Those that didn't win any good business are probably wondering what manner of cheat was necessary and whether those claiming to have won are real or just schills.
Here's the thing to remember about any marketplace: they magnify competition in exchange for providing access. If you thought a bunch of RFQ's with fat profit margins were going to start rolling off the conveyor belt and into your lap, that was probably a misplaced expectation. Think of eBay or Amazon–they don't exactly seem like places for fat profit margins, do they? Yet, they can drive volume or make it possible for you to relatively efficiently sell something you wanted to get rid of anyway.
So how do you win on a Manufacturing Marketplace?
That's a complex question that I'm not going to try to answer in any great detail here. Rather, what I want to do is launch a survey so we can all get smarter about them. If you've ever used one of these marketplaces, that is, if you paid their feeds and bid on some jobs, tell us what your experiences were–good and bad. Our survey is short and it won't take you long.
Once we've collected enough answers, we'll analyze the results and share them with you. I'll also be following up with some guidelines to help you get better at quoting and winning business, whether it's on one of these Marketplaces or being done in some more traditional way.
Like what you read on CNCCookbook?
Join 100,000+ CNC'ers!  Get our latest blog posts delivered straight to your email inbox once a week for free. Plus, we'll give you access to some great CNC reference materials including:
Our Big List of over 200 CNC Tips and Techniques
Our Free GCode Programming Basics Course
And more!
Just enter your name and email address below:
100% Privacy: We will never Spam you!
Recently updated on March 16th, 2023 at 02:51 pm
Bob is responsible for the development and implementation of the popular G-Wizard CNC Software.  Bob is also the founder of CNCCookbook, the largest CNC-related blog on the Internet.