The next installment of our Conversational CNC Wizards is available with G-Wizard Editor version 1.93.  Conversational CNC is a quick way to do simple jobs without resorting to creating a CAD drawing or running a CAM program.  For all those times when you would turn to a manual machine instead of a CNC because the overhead of the CADCAM cycle was going to mean you could do it faster manually, this is a better way.  Now you can stick with the CNC and do the job even faster than the manual, even for one off parts.  The key is simplicity.  Lathes are particularly well suited to Conversational CNC, because many round parts are fairly simple.
This week's Drill Wizard seems simple enough: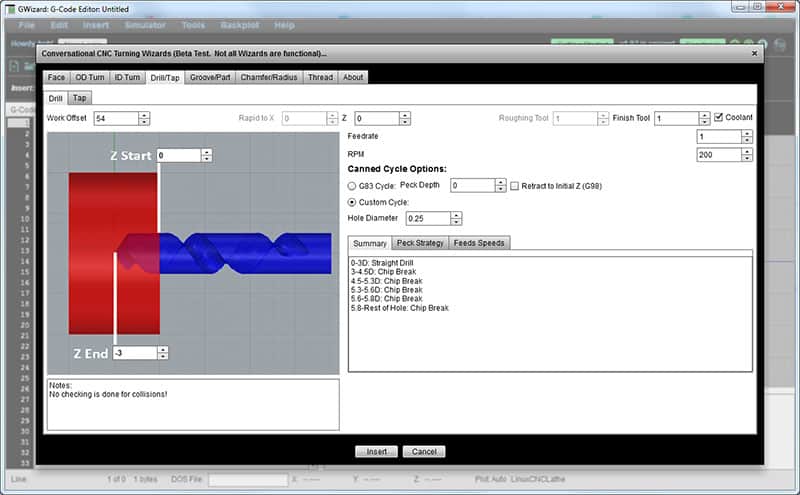 Conversational CNC Drilling Wizard…
It's so simple you might even wonder why you'd need it.  After all the parameters for a G83 peck drilling cycle are not all that hard to remember.  The thing is, there's more to life than G83 when it comes to making holes.  
G-Wizard's Custom Drilling Cycles can be really useful for two reasons.  First, they can be faster than standard peck drilling cycles because they can finely tune exactly when to start pecking and by how much instead of pecking for the worst case (deepest part of the hole) throughout the entire cycle.
 Second, when it comes to drilling Deep Holes, and that's any hole that's more than about 4 or 5 diameters, it is really helpful to use a hand tuned cycle where you have much more control over exactly what's happening.  There are tricks of the trade.  
For example, partial pecking, just enough to break chips can be done for most of the hole, but eventually you need to help haul the chips out by retracting more.  A problem with many canned peck cycles is they retract the tip clear of the hole.  That's just an invitation for coolant to wash chips back down the hole.  
Running into hard chips from a tough or work hardening material at the very bottom of a deep hole is just not a happy thing for an intrepid twist drill.  By using a custom cycle like this, you can make the poor drill's job that much easier.
If you'd like to try out the Conversational CNC Wizards, it's easy to do.  Just download our free 30-day trial of G-Wizard Editor and check them out.
Meanwhile, let me walk you through a quick tutorial on the feature with this video from our G-Wizard University series:
Like what you read on CNCCookbook?
Join 100,000+ CNC'ers!  Get our latest blog posts delivered straight to your email inbox once a week for free. Plus, we'll give you access to some great CNC reference materials including:
Our Big List of over 200 CNC Tips and Techniques
Our Free GCode Programming Basics Course
And more!
Just enter your name and email address below:
100% Privacy: We will never Spam you!