We just got in our Rostock Max v2 3D Printer kit from SeeMeCNC the other day, so I want to chronicle what it's like to build one.  Here's the contents of the big box delivered to our door: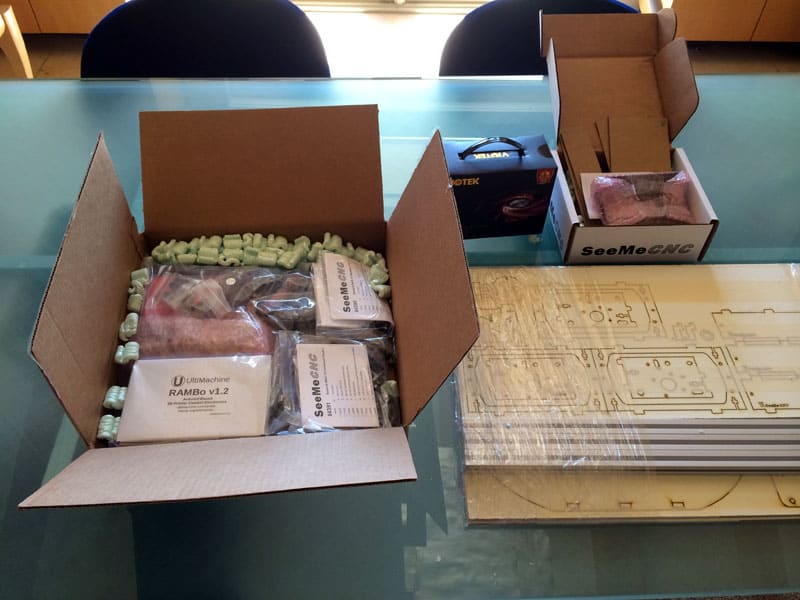 Related parts are individual bagged into parts kits.  Printer structure is laser cut melamine…
The parts are neatly divided into individually bagged sets of related components plus the laser cut melamine that makes up the bulk of the printer's structure except for the vertical rails.  The manual needs to be downloaded from the site, which is nice, because you can scan through the manual ahead of time to see how hard it looks to build the kit (a finished albeit slightly smaller work volume version is available for a few hundred dollars more).
The first step after unpacking is to get the melamine parts punched out of the big sheets.  They're held in place with masking tape and a layer of masking paper that protects the melamine from the fumes and burning debris form the laser cutting process.  The whole thing smells pleasantly of burnt wood, kind of like a campfire, while you're peeling off all that tape and getting the parts organized.  The laser cutting was done very well.  The manual warned that we might have to use an Xacto knife to free some parts, but all of ours popped out very easily.  These melamine parts go together with a tab and slot construction.  It doesn't take very long to conclude that their second-generation version has probably gone through considerable refinement.  The manual has been complete and detailed to this point and everything was very easy to assemble.  They estimate 20 hours to build the kit and we took about 3 1/2 hours to get to our first stopping point, which was through page 50 out of 250 pages in the manual.  I'd say their estimate is pretty decent and that most people who are at all handy at building things will get it done in a reasonable length of time.  We're just at the first stage, so there may be more challenge ahead.  If so, we'll report on it.
After getting the laser cut melamine parts ready, our next step was to assemble the lower base: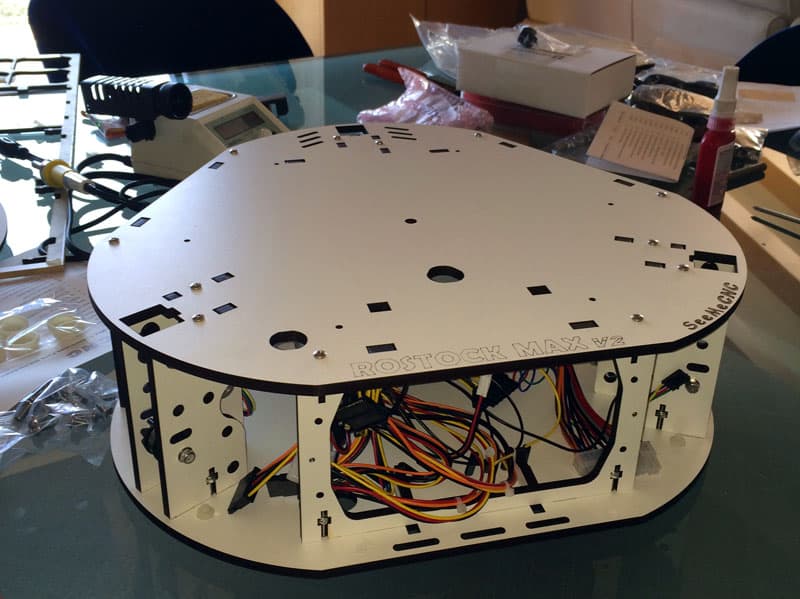 3 1/2 hours later, the base is more or less finished…
Construction is tab and slot with bolts into captive nuts holding everything together.  As is typical, things seem flimsy until you get it bolted together and then they're a lot more rigid.  Here's what I mean by captive nuts and bolts: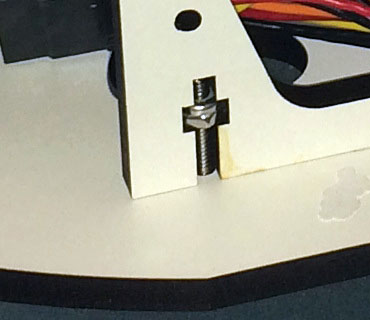 Captive nylock nut and bolt…
Inside the base is a standard PC power supply and three little stepper motors with cog belt pulleys and belt tensioning ball bearing idlers.  This all goes together very easily.  The most challenging thing, and its not very challenging if you do much wiring at all, is to remake the wiring harness for the power supply with the appropriate connectors to power the needs of the 3D printer.  Basically this means cutting some of the wires lose from standard PC power supply connects and installing some crimp-on spade connections and a screw-terminal connector for the RAMBO controller board used by the Rostock.  No biggie.
The kit has been very straightforward so far.  We didn't even bother bringing up a bunch of tools from my garage shop.  Just a couple of screw drivers, a Leatherman (!), and my wiring toolbox for the wire cutters and crimper were all that we've needed so far.  The most time-consuming part of this first phase was peeling off all the masking paper from all those melamine parts.  Hopefully the second part will go faster.  I recommend getting the whole family involved peeling off that masking paper.  It's really no big thing and just takes a little fingernail effort to get it started.  A few extra hands will make that work go a lot faster.
I'll report on phase 2 next week, and I'll also try to include a few more photographs of the work on the next phase.
Software that will make anyone a better CNC'er
Get Better Tool Life, Surface Finish, and Material Removal Rates Fast.
It's that easy. You can install and get results in a matter of minutes.
Like what you read on CNCCookbook?
Join 100,000+ CNC'ers!  Get our latest blog posts delivered straight to your email inbox once a week for free. Plus, we'll give you access to some great CNC reference materials including:
Our Big List of over 200 CNC Tips and Techniques
Our Free GCode Programming Basics Course
And more!
Just enter your name and email address below:
100% Privacy: We will never Spam you!