Looking for help with deep holes?
Not surprising–they're hard!
Any hole more than 5 diameters deep is considered a deep hole.  There are a variety of techniques available to ensure your success when faced with a deep hole.  Here's a handy table to help you understand which techniques to use for your situation: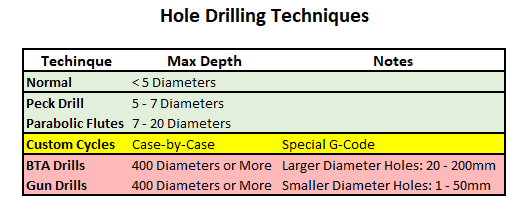 In addition, I've put together 2 detailed guides to walk you through the techniques.
Deep Hole Drilling With Twist Drills
This Deep Hole Drilling guide covers 3 important techniques:
Peck Drilling with Canned Cycles
Parabolic Flute Drills for deeper holes
Custom G-Code Cycles to save time and push the envelope
The latter I think you'll find particularly useful.  A custom g-code cycle dynamically varies the pecking strategy based on hole depth.  We've built the ultimate Conversational Programming Tool for generating such cycles.  Even if a standard canned drilling cycle would work, you'll save a lot of time with a custom cycle in many cases.
Gun Drills and BTA Drills
These fascinating devices are the ultimate tools for making the deepest holes.  Gun Drills were originally created for making rifle barrels that were straighter and more accurate than other methods.  BTA Drilling can go 5-7x faster than Gun Drilling if the hole has a large enough diameter.
Be sure to check out our guide to Gun Drilling and BTA Drilling to learn more.
Conclusion
Deep holes are hard.  When you need this information, it's never that easy to find.  I wanted to condense it down and make it easy, so be sure to bookmark these two gems for future reference.
Like what you read on CNCCookbook?
Join 100,000+ CNC'ers!  Get our latest blog posts delivered straight to your email inbox once a week for free. Plus, we'll give you access to some great CNC reference materials including:
Our Big List of over 200 CNC Tips and Techniques
Our Free GCode Programming Basics Course
And more!
Just enter your name and email address below:
100% Privacy: We will never Spam you!